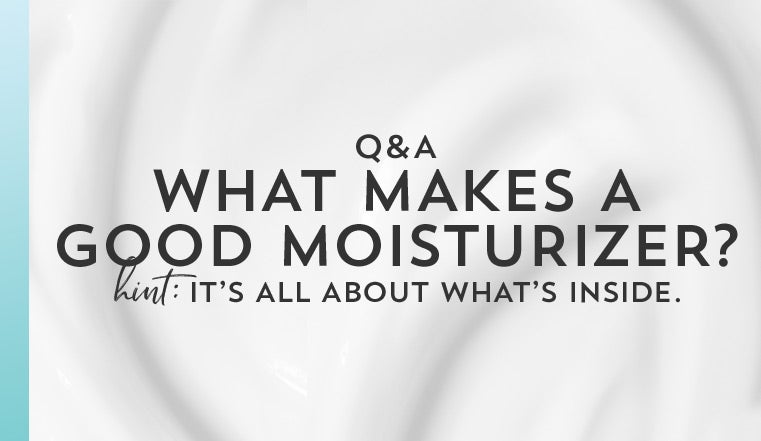 Moisturizer makes the difference
With so many moisturizers on the market (and so many skin types, seasonal changes, must-have ingredients, personal preferences…you get it), it can be a whirlwind to figure out which products actually work for you. So, we put together a list of the most common moisturizer questions to help demystify the whole process…and finally shed some light on what exactly should be on your shelf.
What should I look for in a good moisturizer?

It all starts with a good ingredient list. Both dry and normal skin tend to benefit from the same basic group of things: a balance of water (our skin absolutely craves it; we are over 80% water, after all) and other hydrating elements. Think good-for-you elements like fluffy-smooth shea butter, creamy-rich cocoa butter, soothing aloe or intensely-moisturizing hyaluronic acid. Each ingredient works a different type of magic (hit those links for more info about each of them), but the right combination can work absolute magic.

My skin is normal. Do I still need moisturizer?

You do. You might just find that you prefer a lighter formula or don't need to apply as often. Look for a body lotion that soothes and smooths without going too heavy on ultra-rich ingredients. You'll get all the benefits of a good moisturizer without any of the greasiness.

What's best for dry skin?

If your skin feels itchy, flakey or tight, we recommend an ultra-luxe body cream, preferably with ingredients like super-rich cocoa butter, creamy shea butter, nourishing coconut oil or soothing aloe. Plus, ours keeps you moisturized for a heavenly 24 hours, so you can go about your day without the annoying flakes.

But here's a quick tip: skin can be naturally dry or experience occasional dryness due to outside elements, like changes in the weather. If that's the case for you, keeping a few types of body cream and body lotion on your shelf (or in your bag) can work wonders.

Speaking of weather…do I need different moisturizers for different seasons?

This is totally a personal preference, but we love adding a richer moisturizer to the mix when winter rolls around. While you might be fine with a lighter body lotion during the summer months (when there's more natural humidity), winter's super-cold, super-dry air can leave even normal skin feeling slightly parched. And bonus: new seasons are the perfect time to swap the scents in your daily rotation.

Do I need to moisturize my lips?

Yes…and we're so glad you asked. This piece of the skincare puzzle often goes forgotten in the quest for the perfect body moisturizer, but it's beyond important. Your lips aren't as resilient to the elements (scorching summer sun or winter winds, anyone?), so they'll often be the first to feel any seasonal dryness or chapping. We recommend keeping a good lip balm on hand all year round; it's a best way to keep your lips smooth and soft, especially if yours is packed vitamins and shea butter. Plus, it adds a little bit of no-effort shine on those dashing-out-the-door days. Trust us: your lips will thank you later.

Should I use a separate hand cream?

We highly recommend it, especially if your hands are prone to dryness or cracking. And not to be biased, but we love our hand cream. They're filled with vitamins, butters and amazing scents (of course), and they're small enough to stash everywhere: your purse, your car, your carry-on, your desk. These small tubes pack a powerful, fast-absorbing punch, for intense moisture wherever you are.

Help! My feet are dry!

We've got you. The path to softer, smoother feet starts with regular exfoliation (think foot scrubs or pumice stones) to get rid of dry, dead skin. Then it's all about a good foot cream to lock in hydration. Just let it absorb for a second before slipping on shoes or socks.
Need more moisture in your life? Explore our new arrivals for the latest and greatest in skincare.