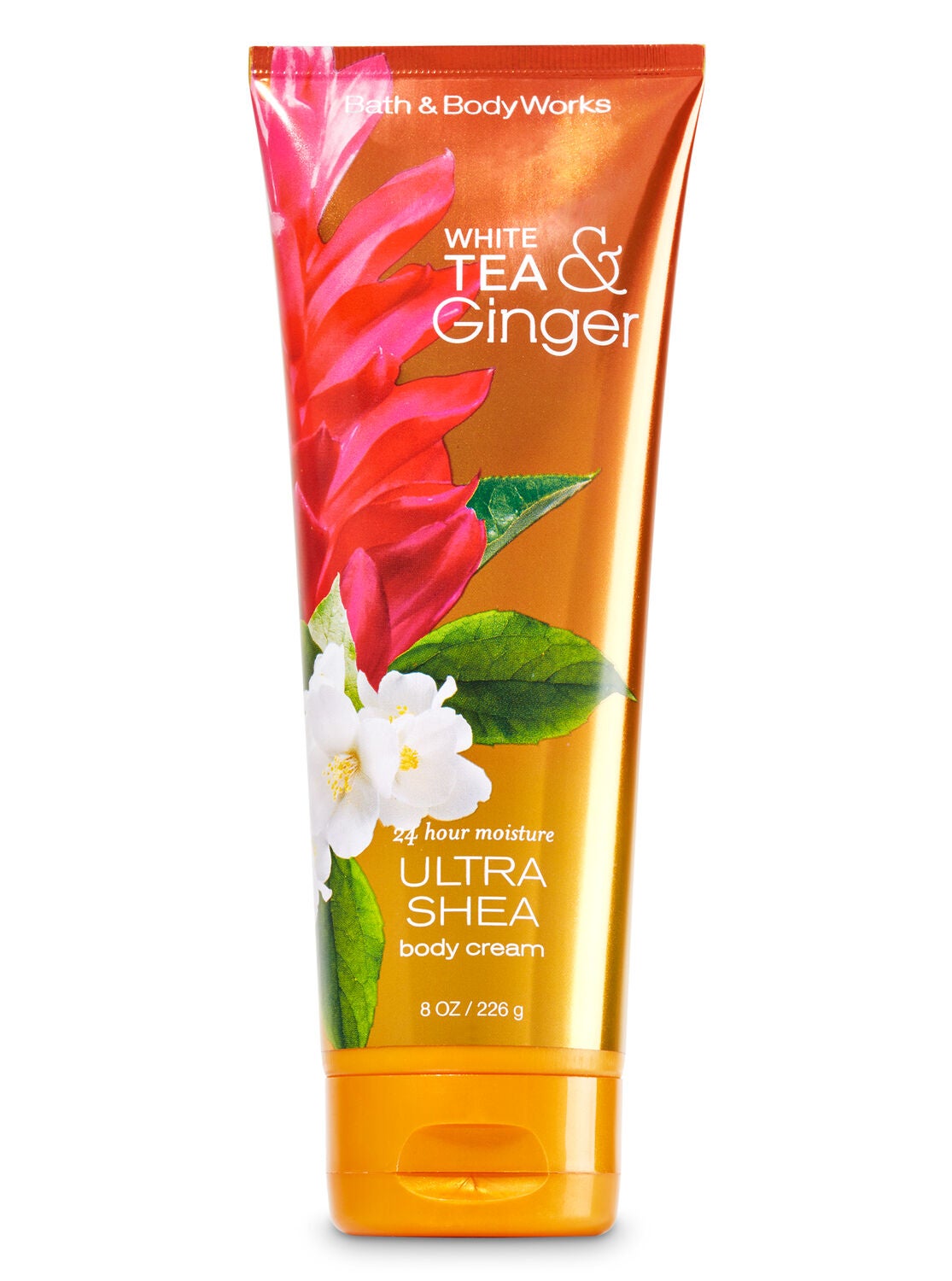 Signature Collection

White Tea & Ginger

Ultra Shea Body Cream

https://www.bathandbodyworks.com/p/white-tea-andamp-ginger-ultra-shea-body-cream-022757750.html

8 oz / 226 g
Fragrance
Take a sip of crisp, sparkling white tea & ginger

Key notes: White Tea Leaves, Sparkling Yuzu, Fresh Bergamot, Geranium Petals, Hint of Ginger
Overview
Infused with luxuriously rich Shea Butter, our New Ultra Shea Body Cream provides 24 hours of nourishing moisture to soften even the driest skin. With soothing Aloe Butter, pampering Cocoa Butter and more Shea than ever before, our non-greasy formula melts into skin to provide beautiful fragrance and all day, all night hydration.
Rated

5

out of

5
by
luvbeaches
from
My favorite
Out of all the fragrances, this is probably my favorite scent. I wish this was available year round.
Date published: 2018-11-19
Rated

5

out of

5
by
PamelaGrace
from
Best B&BW fragrance
I have tried many, many fragrances at Bath & Body Works over the years, and I am fond of so many of them. However, this is the one that makes me inhale and say "ahhhh" every single time I use it. Not only that, I have had more people ask for the name of my fragance when wearing it than with any fragrance ever. in fact, I had bloodwork done today, and the lab tech was asking about the fragrance and googled it as I left because I told her it was retired. Love, love, love White Tea & Ginger and this body cream has the most lasting fragrance of the line.
Date published: 2018-11-18
Rated

5

out of

5
by
Frugal Frannie
from
A classic
Light subtle fragrance. Wish it were available in stores
Date published: 2018-11-16
Rated

5

out of

5
by
TX2424
from
Love this fragrance
Clean smelling, love the body lotion and body spray
Date published: 2018-11-11
Rated

5

out of

5
by
stellaeo
from
One of B&BW's best
This is one of my all time favorite scents and I use it year round. I hope they never discontinue it! This is a soft, sexy scent, not too strong, but enough that it lingers. A bit more sophisticated then the other scents. I can wear this one without perfume.
Date published: 2018-11-07
Rated

5

out of

5
by
StylingRC
from
All time favorite!
This is such a clean refreshing smell!! I love it!! An all time fave!!
Date published: 2018-11-05
Rated

5

out of

5
by
IslandPJ
from
Nice Combination of Scents
I fell in love with this fragrance a long time ago, so I keep ordering it. It's a nice balance between tea and ginger, very clean and soothing.
Date published: 2018-11-01
Rated

5

out of

5
by
Roni_Nica
from
Lasting scent!!
Even though this is not my favorite BBW scent it's definitely on top! Why? Well the scent really lasts! It's not a strong annoying scent, but you can definitely smell it through out the day. It's quite pleasent and just like most BBW creams it moisturizes...so what's not to like!
Date published: 2018-11-01
Rated

5

out of

5
by
Babbz
from
Simply the best!
My preferred fragrances have always been light and fresh, although I love to change it up too. Once I discovered BBW 20+ years ago, I stopped going anywhere else. I've used their body cream everyday since and haven't found anything that compares. This is in my top 4 BBW scents of all time. My others: Pearberry (20+ years), White Citrus (tied with White Tea & Ginger for favorite of all) and Brown Sugar & Fig for winter. They're all wonderful. I try new ones every year and these remain my faves!!!
Date published: 2018-10-19
Rated

5

out of

5
by
jleeu
from
Great Scent
One of my all time favorite scents. Not too heavy and the combination of tea and ginger makes it truly unique.
Date published: 2018-08-20
Rated

5

out of

5
by
BBW Mama
from
Fresh and clean!
I purchased this retired scent online because it was on sale. I have never before seen or smelled this particular scent until it arrived but WOW! I LOVE IT! The fragrance is so fresh. I love the tea and ginger mixture. I bought the body spray, bath gel and lotion. I highly recommend that this scent be UN-retired.
Date published: 2018-08-03
Rated

5

out of

5
by
Erin Grant
from
Such an intriguing fragrance!
I'm not sure what I expected from this fragrance, but WOW. It's amazing! Fresh ginger, blended with the slightly green and astringent fragrance of tea... Very refreshing and quite unique! A great fragrance for summer. The body cream itself is an excellent moisturizer. It soaks in quickly and it really lasts a long time.
Date published: 2018-07-30
Rated

5

out of

5
by
blrtpa
from
smells wonderful
this is such a light and not overpowering smell, and you know it is good when people ask what it is and that is smells so good. i use it at work , after i wash my hands , and spread it on my arms , my desk area smells so so good
Date published: 2018-05-17
Rated

5

out of

5
by
DAWNBABI84
from
EXQUISTE AND DEVINE
THIS PRODUCT HAS SUCH A LONG LASTING SCENT. IT MAKES YOU FEEL LIKE YOU ARE ON A DESERTED ISLAND. THE SCENT IS SO WELCOMING. I BOUGHT TWO OF EACH. ONE OF MY FAVS!!!
Date published: 2018-05-11
Rated

5

out of

5
by
JARGEO
from
New Favorite Scent
For years after Sheer Freesia was discontinued, I have been trying lots of different scents trying to get a new favorite and this is it. The hint of bergamot and the fresh scent is wonderful. The Shea body cream really is softening without being heavy.
Date published: 2018-05-07
Rated

5

out of

5
by
kailee
from
Unique
I really, really enjoy this product. It smells very and fresh and it's super calming. However it is not the smell for everybody, so if you want to purchase this online I recommend if possible to smell this at a store first.
Date published: 2018-05-06
Rated

5

out of

5
by
Crazy over this scent
from
UNBEATABLE!!!!
You can not beat this scent. It is so unique, its my favorite scent of all. PLEASE, PLEASE BRING THE CANDLES BACK. I would probably buy a case in this scent if I could get my hands on one. Please bring it back.
Date published: 2018-02-13
Rated

5

out of

5
by
Ashleypaige
from
Deliciously soothing!
The most soothing scent ever created! I'm just so upset they never brought this scent back in a candle! They had it a few years back it's was a light blue wax and a see through packages... TO DIE FOR PLZ BRING BACK THIS SCENT IN THE CANDLE!
Date published: 2018-01-30
Rated

5

out of

5
by
Babs0115
from
FAVORITE B&BW SCENT!
This scent cannot be topped. It's unique, for sure, but that's what I love about it. It is exceptionally refreshing and not overwhelming. I love that it doesn't smell artificial - it's crisp and light and very soothing. Of course the formula is wonderful as well. This is my favorite product from B&BW hands down!!
Date published: 2017-12-25
Rated

2

out of

5
by
lanai
from
Very strong scent - different from mist
The ginger is extremely overpowering in this body cream, which doesn't gel well with me personally. If you're thinking about buying it because you like the mist, be cautious. I love the mist because it's light and subtle, plus the mix of white tea with ginger is great! Can't smell any hint of tea in this cream, sadly. But if you really like the smell of ginger - and I mean REALLY like it - go for it. It smells ok from the bottle, but once you put it on the scent hits you really unexpectedly. It's so strong. I really tried to like it, but I always ended up washing it off after awhile because it gave me a headache.
Date published: 2017-12-16
Rated

5

out of

5
by
hdizzleduh
from
The Epitome of Soothing Relaxation
I've tried all of the retired scents and I have to say that this is the epitome of zen! The scent is strong on my skin but in a pleasant way. It's very calming and soothing. Perfect any time, especially after a shower. Fresh, clean, zen. Reminds me of something you'd apply at a spa. It's just a lovely scent - not too girly, not masculine, just nice and neutral. The scent is pleasant and I can't imagine it would offend anyone's senses. 5+ Stars! Please keep this one around!!!
Date published: 2017-12-13
Rated

2

out of

5
by
Andie99
from
Underwhelmed
To begin with, there's not much of a smell when just smelling the product in the bottle. Okay. Put some on my arm, tried to get a better inhale. Still the same. So I put more on. Still the same... If you just want a body cream with moisture and minimal scent, this may be for you. But this body cream was just plain disappointing for the price tag, being someone who loves B&BW's unique and brilliant scents. This was just plain and underwhelming.
Date published: 2017-11-30
Rated

5

out of

5
by
MadGunsMom
from
Refreshing
This fragrance is so light and refreshing. It smells like spring and reminds me of a breezy spring morning. Aaaahhhh :-) Lots of compliments when I use this. I smear on some lotion and my coworkers come by my office door and sniff the air and comment on how good it smells. So.. if you want that reaction, this is one scent that will get it for you!
Date published: 2016-12-23
Rated

4

out of

5
by
GeminiSkye
from
Surprisingly pleasant
I was very scared to smell this because tea and ginger just does not sound like an appealing scent to me. However, I thought I would give it a try just to try something new. Well the verdict is in, I love this! It definitely smells like ginger, which sort of overpowers everything else, but it is nice. It also smells a bit peachy in my opinion. I drink tea everyday and I can attest that this smells a bit like my ginger teas. I don't drink white tea though, mostly green. Still, it's a refreshing and earthy scent. Would be perfect to wear out in the garden or when drinking tea. ;)
Date published: 2015-12-09
Rated

5

out of

5
by
Danyella22
from
Relazing
I have always loved White Tea and Ginger. I love to spray it in the bedroom and bathroom. It is sooo relaxing! I was super excited to see they brought it back AND made a body cream! I put this on before bed and it's like an aromatherapy scent. Love it! Thanks BBW!
Date published: 2015-06-20
Rated

5

out of

5
by
Flobaby
from
At Last--A Body Cream
This is one of the few scents on line that did not make a body cream available (along with "Juniper Breeze") and I am so pleased to see one in this new version of the scent. I love "White Tea and Ginger" because it is soothing, and simple and not overpowering. I hope it finds a new popularity because of this recent push. 5 stars!
Date published: 2015-06-18
Rated

5

out of

5
by
ShayBae
from
Prefer This To The Mist
The mist was a bit too bitter I think due to the ginger, but the lotion seems more toned down. It is a bit sweeter and nicer to enjoy. It is very sensual and calming if you ask me. It moisturizes very well and leaves my skin lightly scented and not too strong.
Date published: 2015-06-18
Rated

5

out of

5
by
kate0145
from
Zen in a Bottle
I had a bottle of body cream in the old packaging that I was hoarding, so when I saw that White Tea and Ginger was being brought back in the body cream form I was beyond excited! The product didn't disappoint - lovely tea, slight spice, gentle florals, such a relaxing scent. And the body cream itself is awesome! I much prefer the body creams to the lotions - I just wish that they had the shelf life of the lotions so I could stock pile. As it sits, I did make sure I have a few of these on backup in case I don't get the chance to get them again. Thank you Bath and Body Works for bringing this beauty back!PS - I also adore the packaging. All around win!
Date published: 2015-06-17
Rated

5

out of

5
by
Shelala
from
Tea&Flowers
I actually like this,I get a dominant scent of tea with aloe and floral notes in it,very fresh,not sweet but a unique scent like no other..
Date published: 2015-06-15
Rated

5

out of

5
by
GracieK
from
Clean and Fresh
Pairs great with the shower gel, not too much combining and by itself, it' just a clean, fresh "out of the shower" scent.Won't compete with perfumes but why use any with it...?
Date published: 2015-06-09
bvseo_sdk, dw_cartridge, 17.1.0, p_sdk_3.2.0
CLOUD, getReviews, 37ms
reviews, product