Images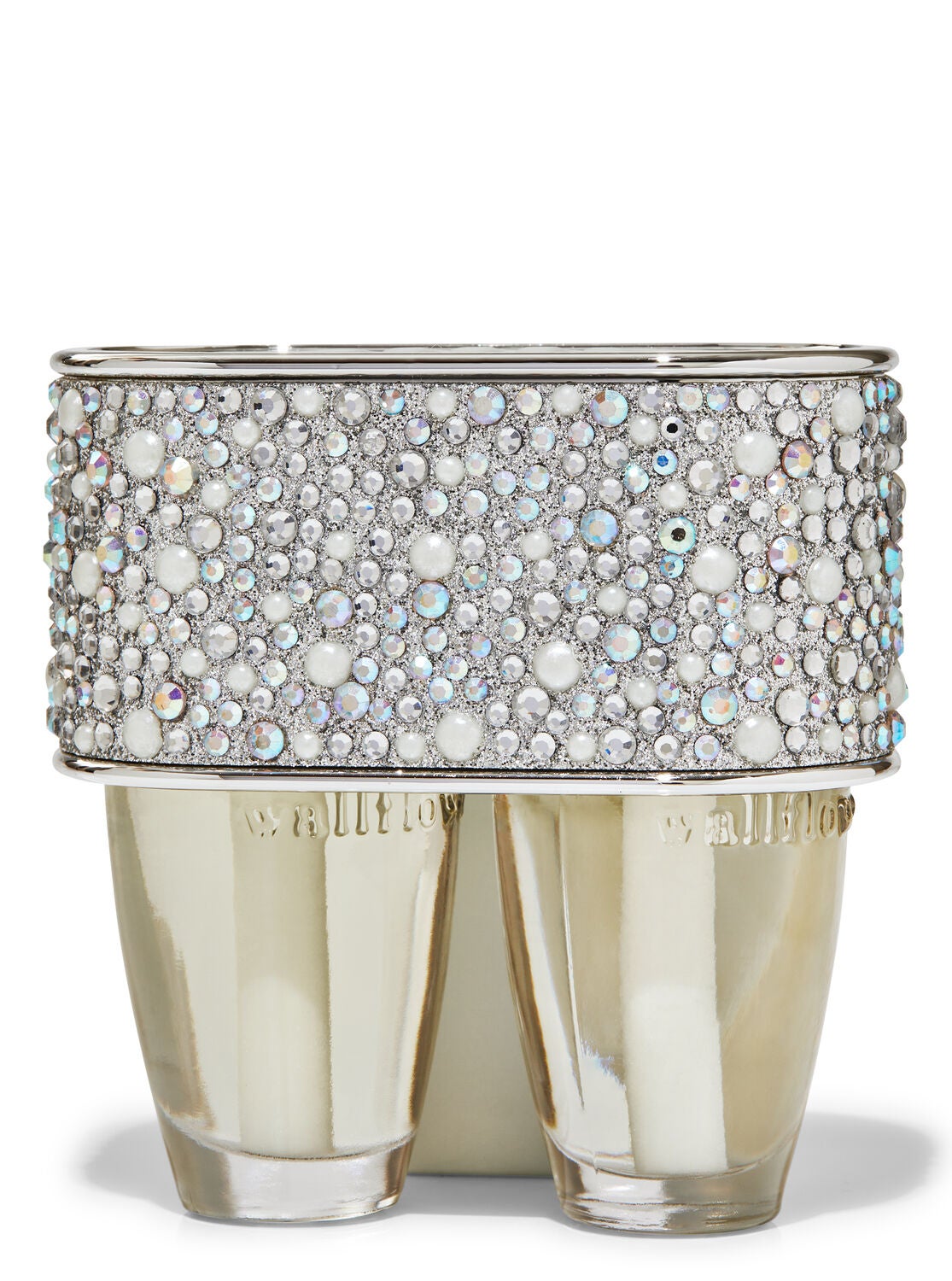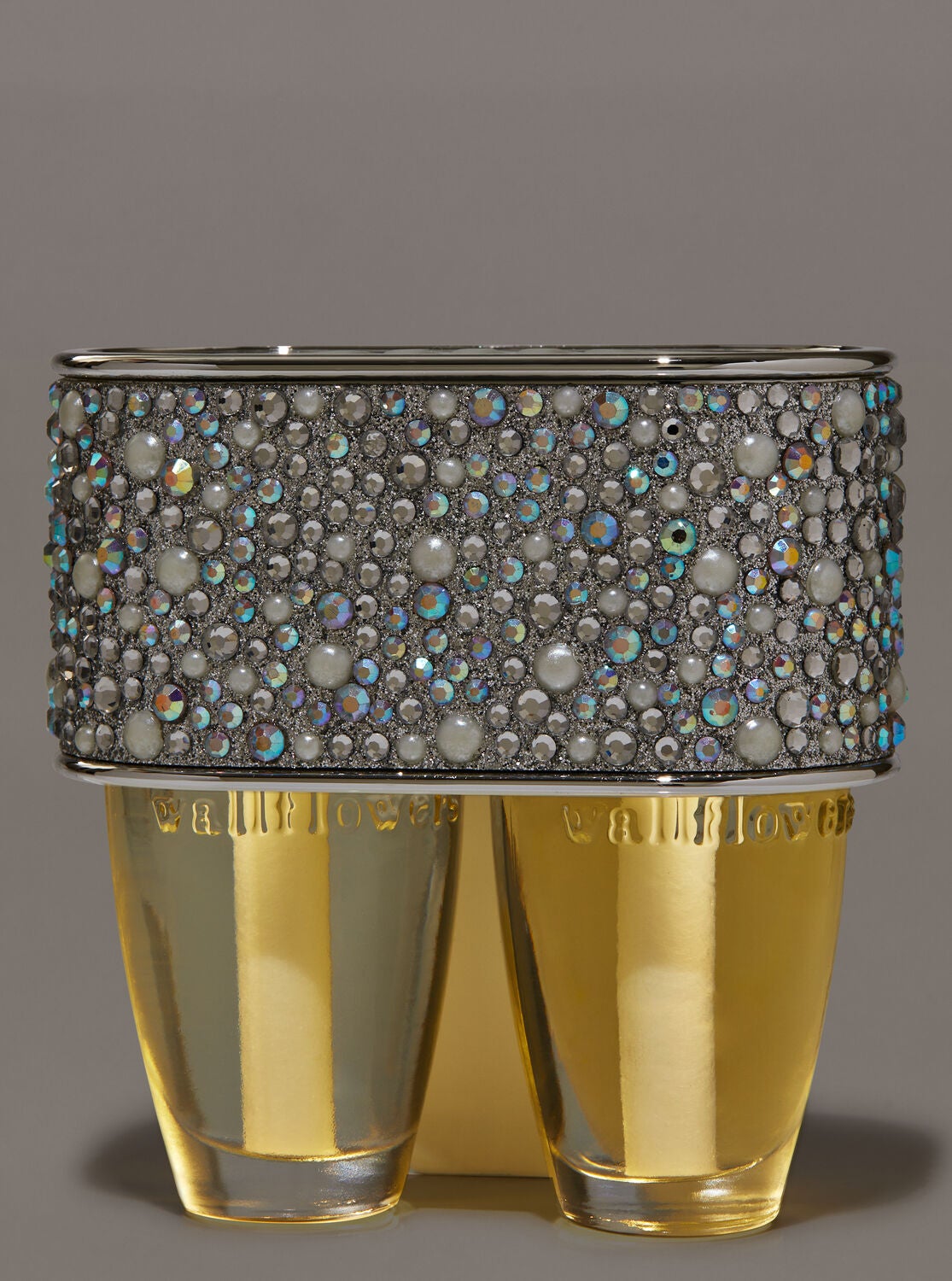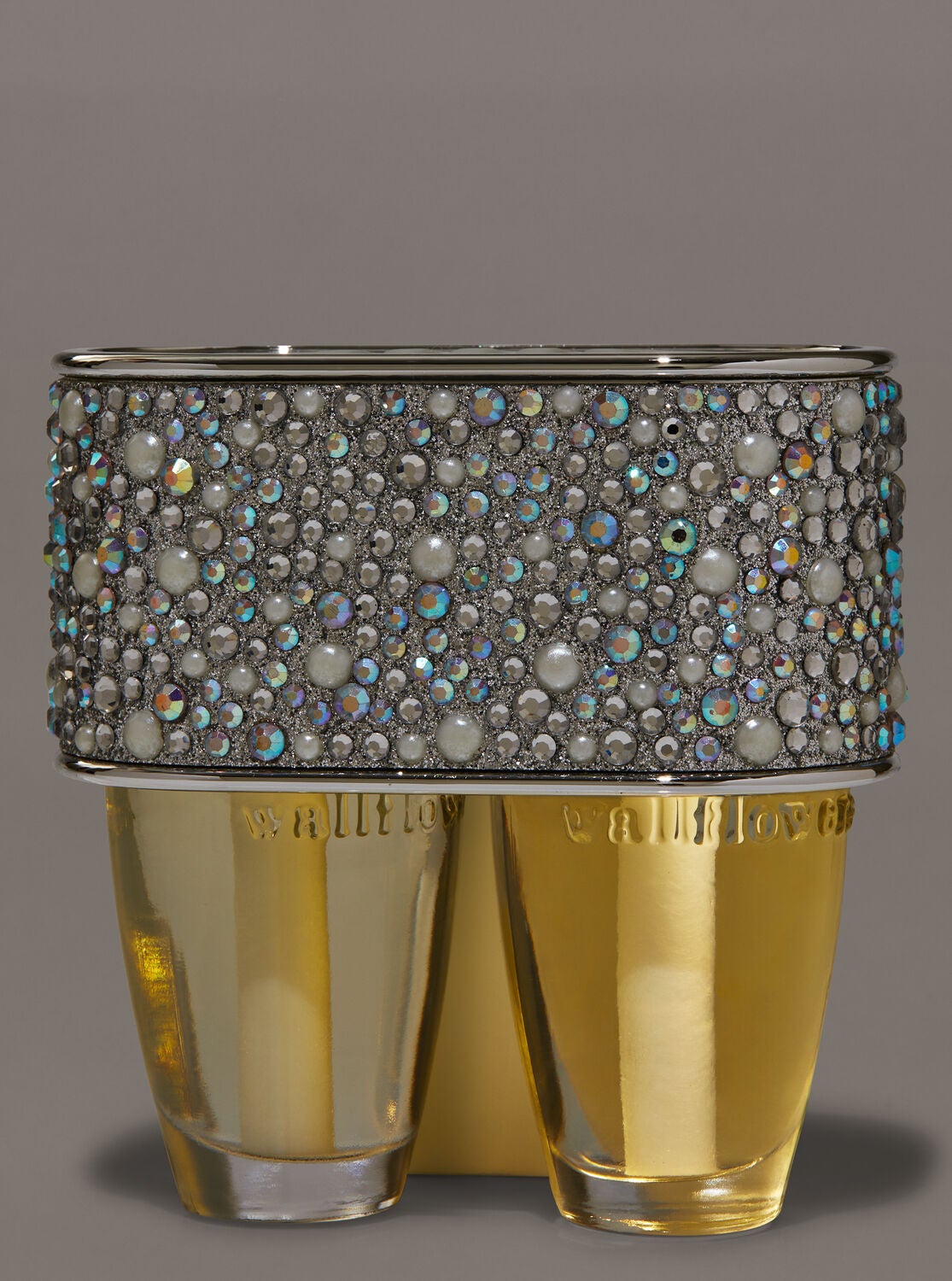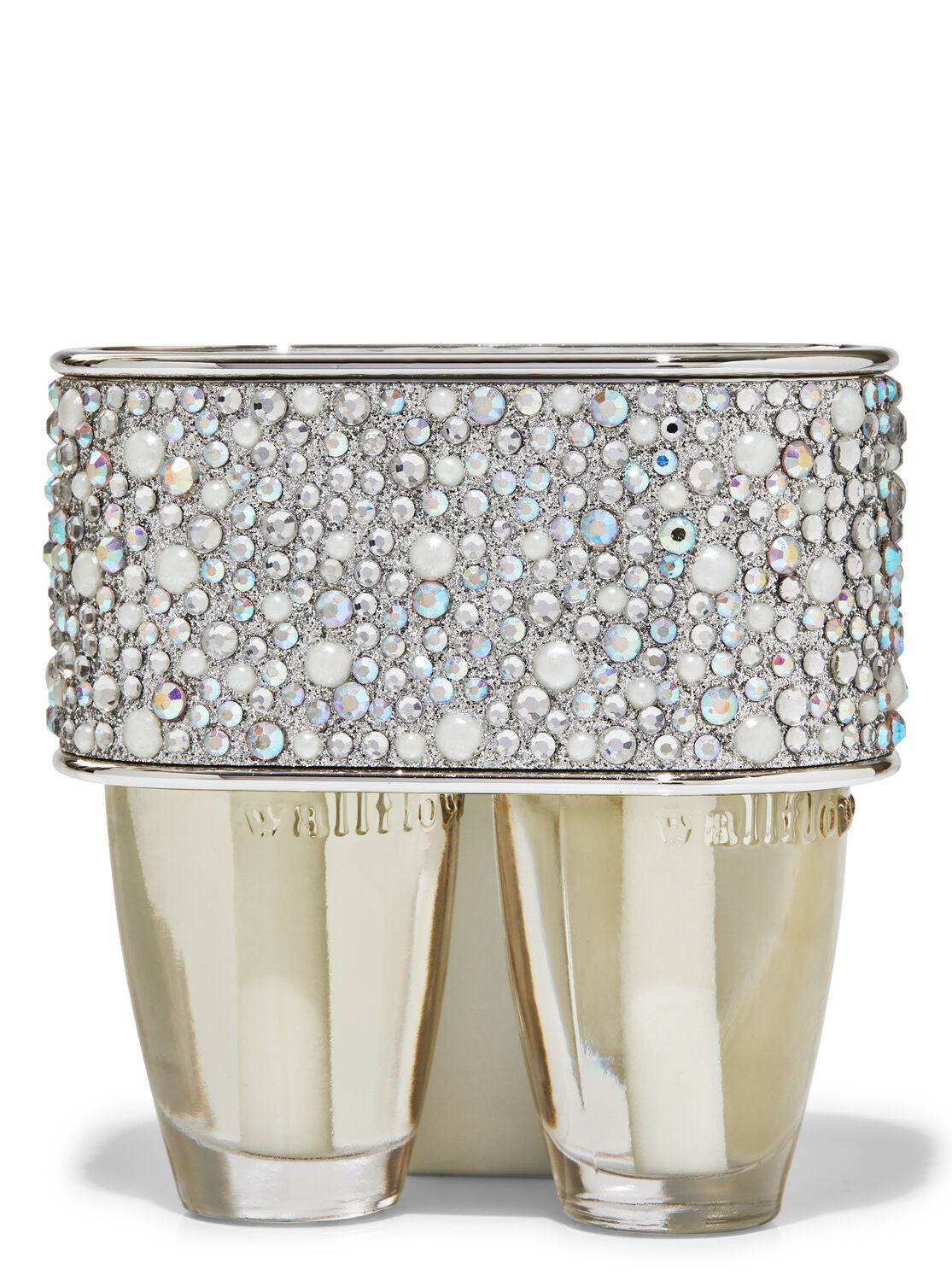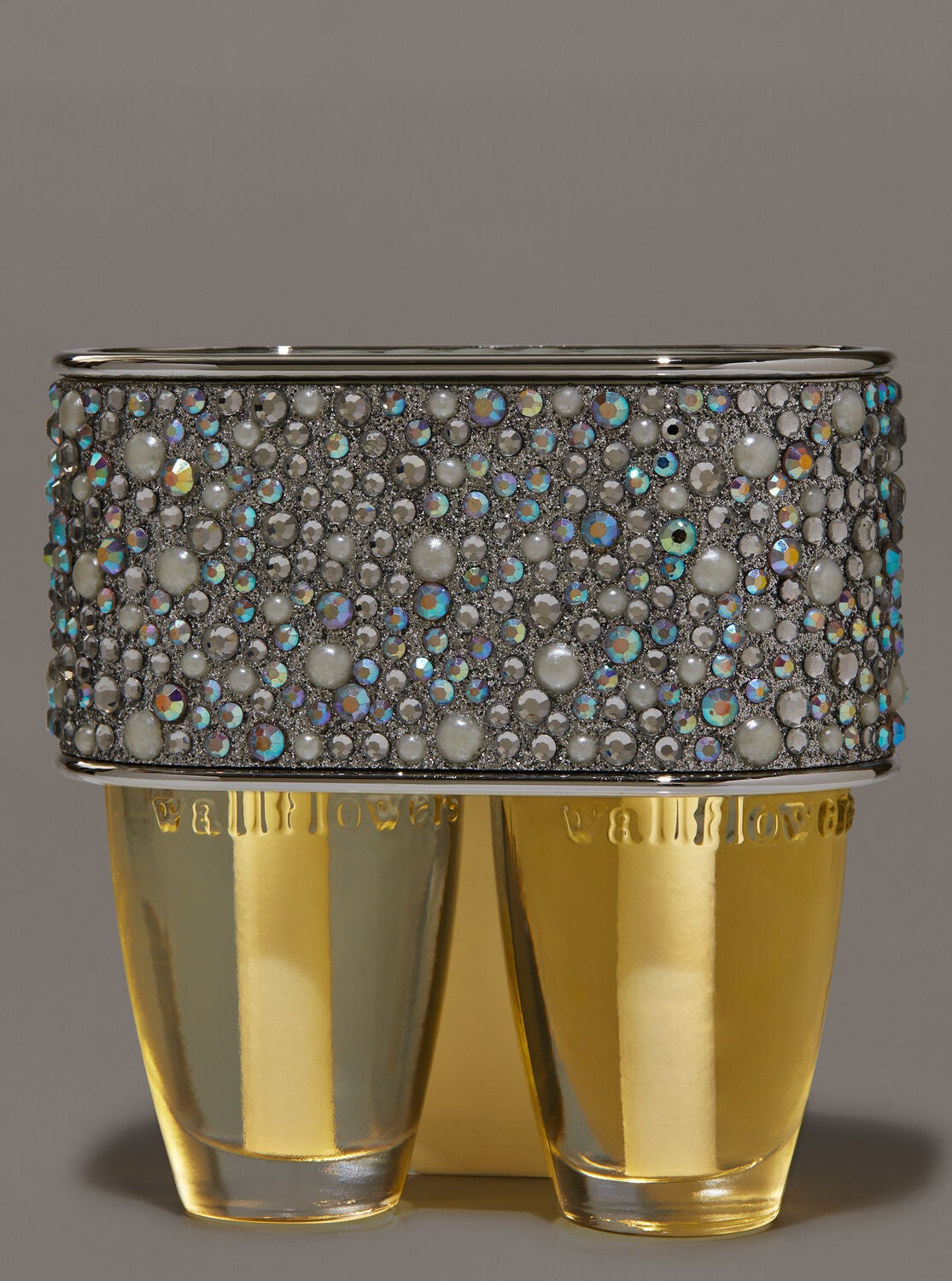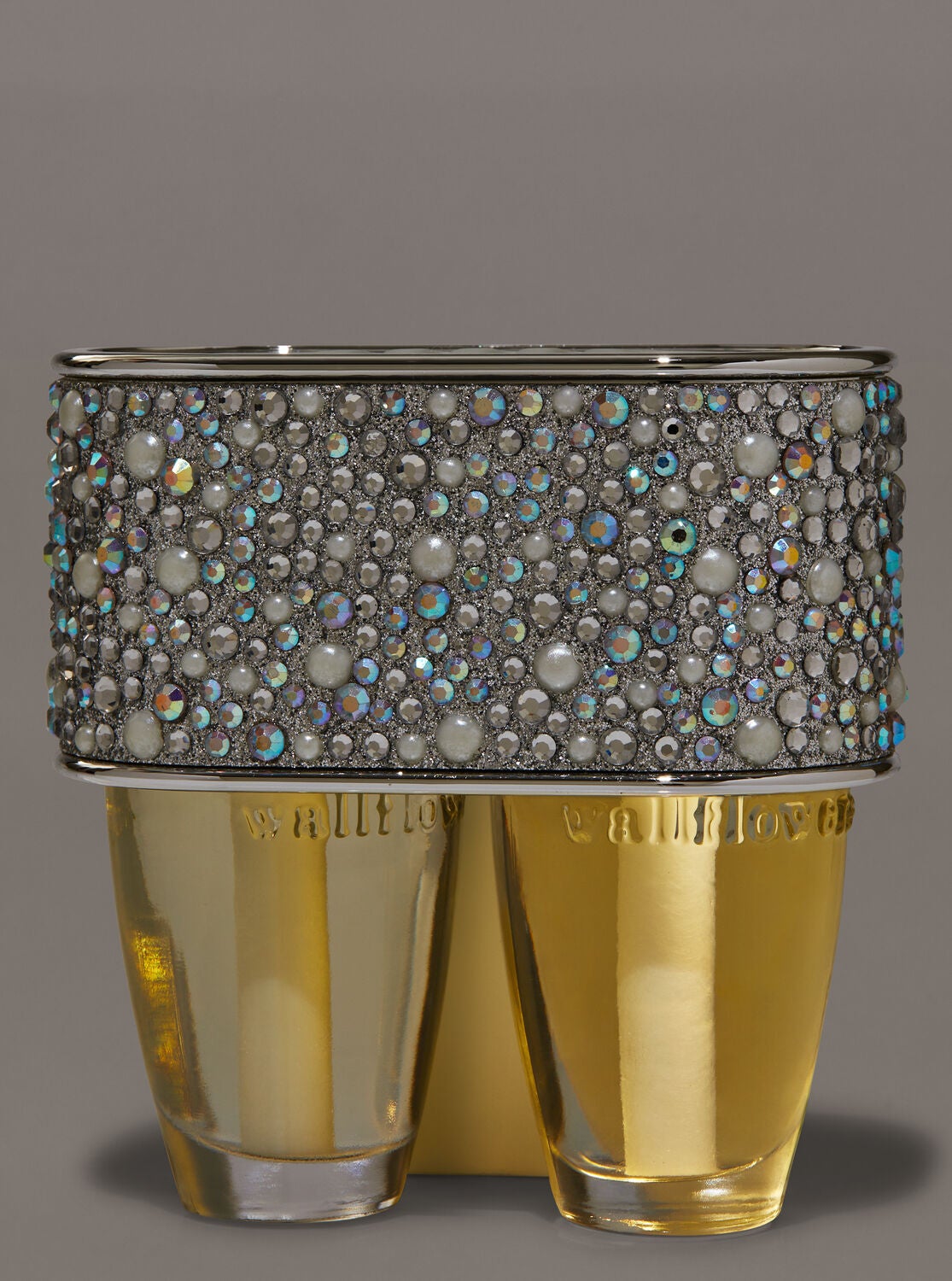 Pearly Gem Nightlight
Scent Switching™ Wallflowers Duo Plug
https://www.bathandbodyworks.com/p/pearly-gem-nightlight-scent-switchingandtrade-wallflowers-duo-plug-023583680.html
Overview
Our Scent Switching™ Wallflowers Duo Nightlight Plug, wrapped in pearly gems and sparkles, will bring a little bling to your room while letting you alternate fragrance approximately every 2 days. Why a duo? Alternating every 2 days prevents fragrance fatigue, so your home is filled with fragrance that's always fresh and always noticeable. The indicator light illuminates to let you know which fragrance is currently in the air. Plus, it gives any space a soft glow! Pair with your favorite Fragrance Refills, sold separately, for fragrance that welcomes you home for weeks and weeks. Learn more about Wallflowers Air Fresheners.
Usage
Twist left (counter-clockwise) to attach Fragrance Refills to Plug. Always keep your plug in an upright position. It's easy! A quick twist of the rotating plug lets you choose a vertical or horizontal outlet. Maintain 12-inch clearance above unit to avoid damage to surrounding surfaces.
More Info
Nightlight glows continuously when plugged in for around-the-clock illumination. Includes fuse to prevent overheating. Plugs should last at least 2 years. Happiness guaranteed or your money back.
Rated

5

out of

5
by
Cass6_xo
from
Beautiful!
This is the most beautiful plug ever! I love the fact that it switches between 2 fragrances!
Date published: 2018-04-27
Rated

4

out of

5
by
Missie
from
Beautiful
Matches my decor perfectly!!!!
Date published: 2018-04-25
Rated

5

out of

5
by
2 picky for just 1
from
Instant Uplift!
This beautiful double wallflower plug ads bling and an instant wow factor to a bathroom needing an uplift. I love that it switches scents and i am pleasantly surprised when the scents change (even tho i know its coming). This is a great way to enjoy 2 different wallflower refills when you can't make up your mind, because you can enjoy 2 favorites! Very happy with this product. Understated elegance and a touch of class in an ordinary day.
Date published: 2018-04-24
Rated

5

out of

5
by
BathBodyWorksFan04
from
Best product ever made!
PLEASE Bath and Body Works... NEVER discontinue this product! The quality is excellent! It works like a charm! I love the fact that the light is on the scent that is currently being used. The scents are as strong on day 30 as they are on day 1. The Wallflower refills also last longer with this plug. I like the fact that after 48 hours, it switches the wallflower refills and lets them spruce up so the scent can be smelled just as good as when it was first put on. 11/10 this is a great quality product! Will be purchasing another in the near future! Very happy with this product! Well worth investing in one... or five LOL!
Date published: 2018-04-23
Rated

5

out of

5
by
LilliaJade
from
Great Idea
The Pearly Gem Scent Switching Wallflower Duo Plug is such a smart idea. I have loved wallflowers since they first came out but I realized that within a few days of plugging it in that I no longer noticed the scent. It's the same principle of how you don't notice your own perfume five minutes after applying it. Anyway, this duo is genius because it switches scents every forty-eight hours so now I always get to enjoy my yummy wallflower scents. And to top it off, the the pearls and rhinestones on the duo plug are an adorable fashion statement for your room. Brilliant!
Date published: 2018-04-20
Rated

1

out of

5
by
perfectionist
from
Does not Alternate Fragrance as Advertised
Promoted to alternate fragrances between the two bulbs, but this did not. Appears to be just like the original ones that just provided for using two bulbs instead of one. I purchased this on sale; glad I did for it sure is not worth the money. Will not re-purchase.
Date published: 2018-04-18
Rated

5

out of

5
by
flbearsfan
from
Beautiful and fun
I like that Bath & Body has upgraded to allow switching scents. Bought this lovely plug to go in my dinette area and the fact that I can have 2 scents I love in there makes it even better! Very happy.
Date published: 2018-04-18
Rated

5

out of

5
by
ChristieJ
from
Love this!
Love that it switched scents and it lasts for more than a month
Date published: 2018-04-18
Rated

1

out of

5
by
bbsugar
from
Very Disappointed
This product and wallflowers really fall short of their advertisement. This unit doesn't provide anymore coverage than the single unit. It is pretty to look at but that's about it. I am moving away from wallflowers and the warmers because they continue to disappoint
Date published: 2018-04-18
Rated

5

out of

5
by
Kelben17
from
Great use for plug fanatics
I love this plug in. I like to stock up on wallflowers and have a hard time deciding which scent. I love that it switches ever 2 days it has made my house smell so fresh.
Date published: 2018-04-17
Rated

1

out of

5
by
Tammy from SC
from
not worth the $
this is pretty & provides a soft nightlight but I can not smell the wallflower fragrance any better then the original ones, much less tell that it 'switches over' to a new scent. I am overall displeased at how weak the wallflowers preform over the past few years & have purchased less & less of them, I was hoing this would regain my faith in them but not the case
Date published: 2018-04-03
Rated

4

out of

5
by
WP78
from
Good wallflower duo plug!
This is a good wallflower duo plug! However, it took three days for my plug to change over to the left side.
Date published: 2018-03-13
Rated

3

out of

5
by
Jlynn
from
24hr scent change
Was just about to return mine as every 48hrs it appeared to be on the same scent. Luckily I noticed that mine changed every 24hrs. Not as described, but works.
Date published: 2018-03-11
Rated

3

out of

5
by
Jaded
from
5 for color
Definitely 5 for looks but 3 for how it works. Not a horrible thing but this states that the scents last for 48 hrs each. Mine stay for 24 hrs or so each. Just wish it was accurate on the description.
Date published: 2018-03-09
Rated

1

out of

5
by
Clk5
from
Wish it worked
Just returned one today because only the right side was working. They seemed shocked at the store. I was going to get another one to try but they were out of the pearly gem one. Came one website to order new one but after seeing the same problem on several ones I will pass
Date published: 2018-03-08
Rated

4

out of

5
by
shell4577
from
Beautiful and such a great idea
I was so excited to try this wallflowers plug but thought maybe I did something wrong since the light was only staying on the right side. I had to switch the refills myself since one side was emptying faster than the other. The light has switched to the left side one time since I plugged it in 2 weeks ago but only stayed on that side for just a few hours. Will try to exchange it and hope that the new one works.
Date published: 2018-03-06
Rated

5

out of

5
by
Rachel J
from
Awesome idea!
I started using one of these 3 weeks ago. I love it SO much I ordered another duo plug. I may go to duo plugs only! Awesome idea BBW! More designs please!
Date published: 2018-02-24
Rated

3

out of

5
by
Jami
from
Love hate relationship
Love love love the sparkly pearly look!!! It's so beautiful. Love that it switches the fragrances and that it lights up so you know which one it is on. However, the light is much brighter than an "indicator light" and it definitely is too much for a bedroom. :( It is more like a nightlight. Great for around the house where the brightness doesn't matter however.
Date published: 2018-02-20
Rated

3

out of

5
by
Amandaamariexo
from
One side works great, other side not at all
I bought 2 of these to try out. One in the living room, one in the bathroom... i love that they light up to show which side is on, and I love that they switch every 48 hours... However, only the right side on both of them work. I put brand new scents (4) in both of them. The right side of both are almost empty, and the left side on both are still completely full. I love the idea of them, and the looks/lights, but they're pointless since only one side burns the smell. I thought maybe I got one that malfunctioned, but since I got two different ones and they're having the same issue, I assume it's just a product issue.
Date published: 2018-02-20
Rated

5

out of

5
by
Dee357
from
LOVE IT!!
I love love love this wallflower!!!! I've purchased 2 and they both work perfectly now instead of changing my scents everyday I Change them once a week and I use both in one room my bedroom!! Anyways I LOVE THEM!!
Date published: 2018-02-18
Rated

1

out of

5
by
ACO1979
from
doesn't switch
Has not switched scents since I plugged it in, which was on February 10th. Returning it today.
Date published: 2018-02-14
Rated

5

out of

5
by
MJCan
from
LOVE THIS and LOVE that it LIGHTS UP!
This is so pretty and I LOVE THAT IT LIGHTS UP. The indicator that tells you which side is currently in use is a soft light that gives this such a pretty glow and ambiance. I love the added beauty it gives and love that it switches scents every 48 hours. I went back and bought two more!
Date published: 2018-02-12
Rated

3

out of

5
by
JEMSL
from
Super cute, but...
I really do like this plug, it's cute and I love the idea of it switching scents. However, no where on the packaging does it say it lights up like a night light. It does say in the online description that there is an "indicator light", which i would imagine to be small and hardly noticeable. Nope; it lights up bright on one side at a time. That makes this adorable plug not so great in my bedroom when I'm trying to sleep and there is a light in my eyes. I'd still recommend it, but not if you do not like your plugs to light up. I hope they remake this product and either remove the light or enable it to be turned off.
Date published: 2018-02-02
Rated

4

out of

5
by
Wallfl0wer
from
Read about online first!
While it looks nice and I'm seeing how well it works, the stores and associates do not tell you it lights up!!! Kind of disappointed because one lady in the store today asked if they did light up and was told no. I do not like my wallflower plugs with lights but was never informed it contained them. Just a heads up!
Date published: 2018-01-31
Rated

1

out of

5
by
Cd24711
from
Bad marketing
Now I like the idea of switching fragrances every other day - but don't market it as to avoiding fragrance fatigue. How about you make the wallflowers like you used to and there will be no fragrance fatigue. I can barely smell the new scents I have, and these are with brand new plugs!
Date published: 2018-01-30
Rated

5

out of

5
by
Nique2018
from
I love the look it is so beautiful
I love how it looks and I like that it change the smell every 2days this was perfectly made and I LOVE IT ON MY WALLS
Date published: 2018-01-30
bvseo_sdk, dw_cartridge, 17.1.0, p_sdk_3.2.0
CLOUD, getReviews, 9ms
reviews, product