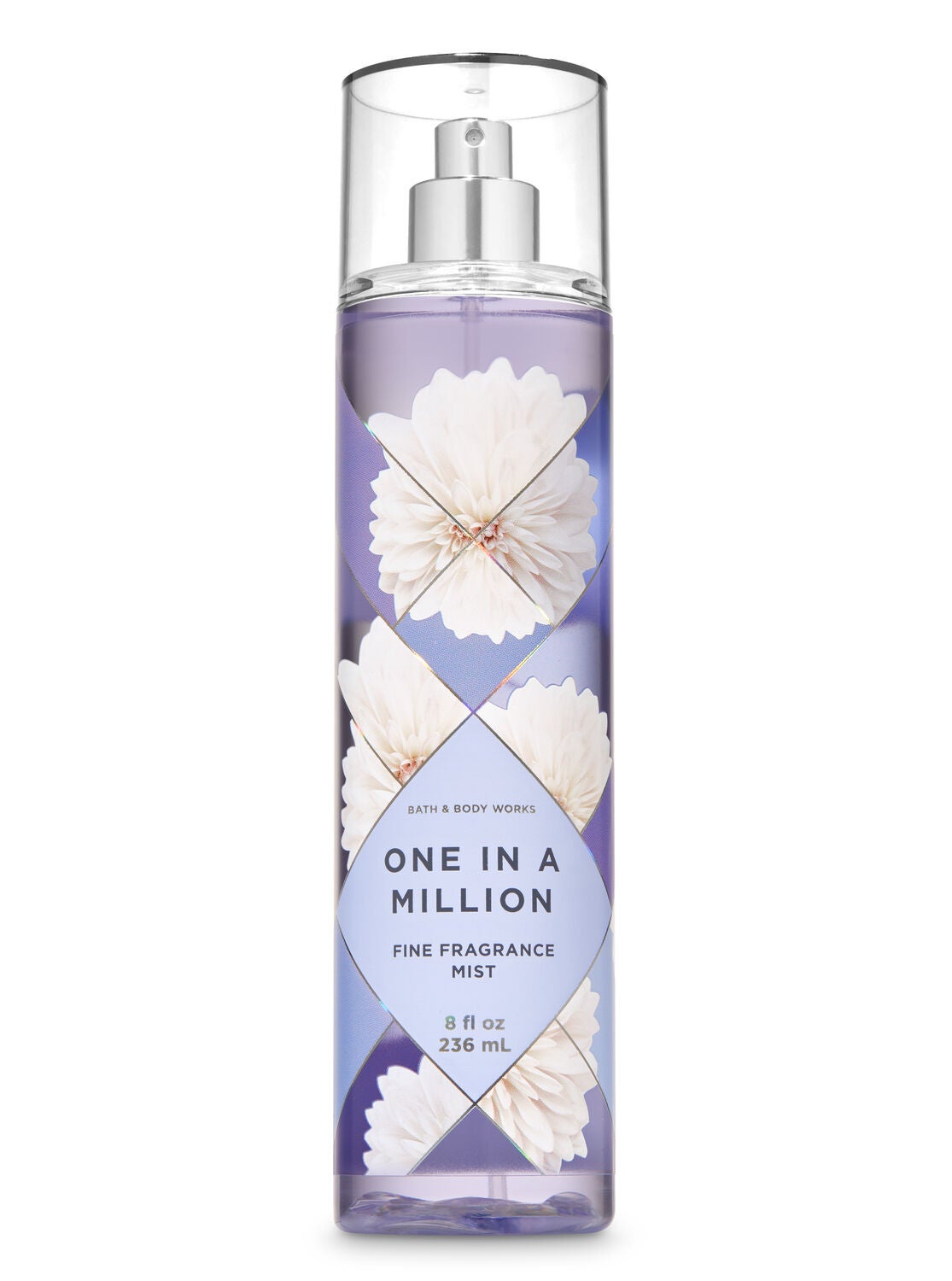 Signature Collection

One in a Million

Fine Fragrance Mist

https://www.bathandbodyworks.com/p/one-in-a-million-fine-fragrance-mist-023831342.html

8 fl oz / 236 mL
Fragrance
Delicate. Feminine. Romantic. One in a Million is a modern twist on a timeless white floral. With notes of jasmine extract, tuberose oil, white gardenia, pink pepper & cashmere musk.
Overview
Created by our master perfumers to make you truly feel like one in a million. Lavishly splash or lightly spritz, either way you'll fall in love at first mist. Our carefully crafted bottle and sophisticated pump delivers great coverage while conditioning aloe mist nourishes skin for the lightest, most refreshing way to fragrance.
Rated

5

out of

5
by
Roman57
from
Love this so much
This is the best mist ever. It smells super floral and a hint of sweetness. If you love flirty floral and slightly sweet scents then this would be for you. This is very nice and smells like an expensive perfume. It is long lasting and it has really beautiful packaging. I just love it. Thank you
Date published: 2019-03-02
Rated

4

out of

5
by
Grayson
from
An Impeccable Scent for Spring
When I first saw this in store as a novel, feminine scent for Valentine's Day, I knew I had to try it! I bought this one for an excellent price and I may just have to purchase the lotion in the future. "One in a Million" has a soft, dainty aroma that reminds me of being at church in the spring time with my friends listening to the preacher's sermon. It reminds me of blue skies overhead as I look out my downtown street on a clean Sunday morning. It's pure and pleasant. You can smell the Jasmine extract, especially when you first spray it. There's a white floral scent to it, that is for sure. It's youthful, ladylike, and sophisticated. And the packaging? Absolutely exquisite.
Date published: 2019-03-01
Rated

5

out of

5
by
KayBBW84
from
One in a million
I got this as a gift with the cream for Valentine's day this year .... I love it!!!! Its a very soft scent
Date published: 2019-02-28
Rated

5

out of

5
by
Kristia118
from
Love this scent!
I am in love with this scent! It smells like flowers but not too strong. The scent will literally last you all day and it's a nice smell to wear in the spring time. The packaging and design is so cute and unique. Definitely my new favorite scent.
Date published: 2019-02-27
Rated

5

out of

5
by
ekreed94
from
New Favorite Scent
I smelled this in store and immediately fell in love. I came home wearing the lotion and my fiance immediately asked me what I was wearing because it "Smelled incredible." So I went back the next day and bought it. Normally I avoid overly floral scents, but this isn't too heavy or "old lady". It smells so fresh, feminine and sexy!
Date published: 2019-02-27
Rated

5

out of

5
by
GabbyNycole
from
Lasting scent!
I am more into sweet berry scents. When I smelled this one, I almost instantly fell in love. I used the lotion in store and kept smelling it to see if I absolutely loved it. It was the perfect floral scent to add to my collection. I bought it the next day. The compliment that I get on a daily basis throughout the day is that I smell good. For all body mist I spray away. It's not overpowering like perfume and if you spray your entire body, the scent stays with you the entire day. I spray my hair and over my clothes. To make the scent last longer, I have been advised to use the shower gel and the lotion. I've never had any problems with any bath and body works products regarding the scent not lasting.
Date published: 2019-02-24
Rated

5

out of

5
by
TMeeks
from
Floral Heaven!
If you love florals, this scent is for you. I'm hoping B&BW will come out with something mainly jasmine. I agree with others that it's mainly gardenia. But I still love it! It's feminine and floral and lovely.
Date published: 2019-02-24
Rated

5

out of

5
by
Susieq_fromMaine
from
My new favorite scent!!
I'm so in love with this scent! I love florals and this has it all! I'm afraid it might be too much for some people so I try not to spray too much when I'm going to be around a lot of people because so many people are sensitive these days! But when I'm at home I spray myself as much as I want!! I spray my pj's and my sheets!! :-) I will be stocking up on this one before it disappears!! I want it in everything! Lotion, shower gel, I want air freshener for my car too! Lol
Date published: 2019-02-23
Rated

5

out of

5
by
ODP67
from
Love this new scent
Not sure if it is new but it's new for me. A manager at one of my stores got me to try it and I am hooked. It's so feminine and springy. The scent seems to last for a long time. I wish BBW would make a candle out of this scent. I would buy it in a heart beat.
Date published: 2019-02-23
Rated

2

out of

5
by
Britt33
from
Not for me.
bought blindly online when they had a buy3 get 3. The scent is long lasting it was still on me the next morning. I couldnt smell it but my husband did. I can see why some people like it but not for me.I was looking for a feminine soft mature smell. It did match what I was looking for but it was to mature, Like my grandma mature. Its does smell good. Not what I like though. Im a fruit and flower girl. When i went to exchange in store they let me switch with out blinking a eye lash.
Date published: 2019-02-22
Rated

5

out of

5
by
justrosieinsa
from
Bees & Wasps are following me!!! LoL
I love this scent, reminds me of my mom and aunt. But it's true this smells so authentically like Gardenia's that I have been followed by little critters at least on 3 occasions!
Date published: 2019-02-21
Rated

2

out of

5
by
JerseyJac
from
Fades Away!
I'm not a floral fan, but I do like jasmine and wanted to give this one a try. I was surprised how much I did like this one on me! I get more jasmine than gardenia, so I was enjoying the scent. Very pretty and pleasant to the nose. Once again, unfortunately, the scent did not last! This has happened with 3 out of the 4 new fragrances that recently came out. I was ready to buy more than just the mist in this scent. In less than an hour the scent disappeared! I'm very disappointed in the body care products as of late! There now seems to be batch differences in every product actually. I wish I knew why this is happening.
Date published: 2019-02-20
Rated

5

out of

5
by
MissME
from
Authentic Gardenia
Wow, this is so authentically white flower, and specifically gardenia! It smells expensive and I love it. I have BBW's other gardenia fragrances, and those were a take on the scent that was more artificial. I still love them, but I'm elated to have a real gardenia scent. Just beautiful!
Date published: 2019-02-19
Rated

5

out of

5
by
Nurse Mandy
from
Great floral scent
Smells a LOT like Issey Miyake L'eau D'issey. One of the best scents from BBW, in my opinion. Goes on strong, but fades decently. Highly suggest for adults, not for kids.
Date published: 2019-02-19
Rated

5

out of

5
by
Gina 12
from
Wonderful fragrance
Just received my fragrant mist and I'm in love. The smell of Jasmine and gardinia took over my house. My spring and summer fragrant for sure.
Date published: 2019-02-19
Rated

5

out of

5
by
Denette
from
Almost velvet tuberose
I'm happy that b&b FINALLY came out with something very close to velvet tuberose. I was longing for that scent to return. I purchase 3 bottles an I'm glad I did because this smells so amazing, I live in the Bahamas an I literally order 4 times a year that's how much i love b&b. I got so many compliments with this one.
Date published: 2019-02-18
Rated

5

out of

5
by
FarmersWife
from
Cozy, clean floral
I ordered One In A Million as a Valentine's surprise for my teenage daughters without sampling it first based on the listed scent notes. I sprayed some on my hand as soon as I opened the box which got my attention immediately. It smells beyond wonderful! I have always loved gardenia and that note is very nice. But the tuberose and the clean musk drydown are what make this scent so unique. It lasts and lasts if you layer. They absolutely love it as do I. Our house smells so good!
Date published: 2019-02-17
Rated

5

out of

5
by
Mahoganie
from
Whew Chile!!!!!!
I smell a new favorite scent!!!!!!! I love the smell . It smells like a very warm spring day where you have on the perfect outfit and you meet the nicest person and you go on a spontaneous date that same afternoon . It smells like youthfulness on a summer night . I think I'm in love .
Date published: 2019-02-17
Rated

5

out of

5
by
Yessy
from
Beautiful scent!
If you love jasmine or gardenia you'll love this one!! I feel this smells very similar to one of my favorite perfumes, Michael Kors Glam Jasmine!! It is lovely! This one will forever be one of my favorites!
Date published: 2019-02-12
Rated

5

out of

5
by
Carol L
from
Totally love this fragrance.
I was in the store getting wallflower, and used my free travel size coupon. I smelled thus new One In A Million and was hooked. I'm a die hard Moonlight Path lover and now I have thud new scent. My husband loves it! He grabbed the body cream today and put it on. I was like "you did what?". He said he didn't care he liked it. He went to the dry cleaners to get some sport coats altered, the lady said he smelled nice and he told her what he did. There was another guy in there and he confessed he did that with his wife VS. I don't think it's dated, my 24 year old daughter likes it also. I'm stocking up. Be aware that lotions only have a two year shelf life after opened. I've had some go bad. I got a stock pile with this sale and will get more later.
Date published: 2019-02-12
Rated

4

out of

5
by
Katz
from
Nice
Its a nice sent. I got two sprays, two body washes, and both kind of lotions. Im not disappointed. Its a very strong, pretty, and clean smell. Every once in a while though I get a whiff of a hospital, realizing it is the spray lol. Gardenia Is VERY strong in this one. I got them while they were $5.50 though, cant beat that price!!
Date published: 2019-02-11
Rated

3

out of

5
by
KeeteeFL
from
Not for me
I was excited from the reviews and I love anything with musk and/or pink pepper. However, all I smell in this is gardenia and jasmine. If you are a fan of these 2 flowers, this is the fragrance for you! The scent lasts for a long time and a little goes a long way. It just wasn't for me.
Date published: 2019-02-11
Rated

5

out of

5
by
JadaMama
from
Love this
So i went to my local store today and picked this one up. I LOVE it! Smells so good and it's not too floral, it's just right. Smells like an expensive perfume.
Date published: 2019-02-11
Rated

5

out of

5
by
kayelle
from
Soft and sexy yet a beautiful and noticeable scent
This product is mature, soft and fragrant. Absolutely my new favorite scent!
Date published: 2019-02-10
Rated

1

out of

5
by
Julesinatl
from
It's a no for me
I came very close to blind buying this because of the description and the reviews. Sooo glad I thought better of it and went into the store to test it. This fragrance says nothing but "old lady". It's not fresh or modern at all. Most seem to love it, but it's just not for me.
Date published: 2019-02-08
Rated

5

out of

5
by
HeatherBinTx
from
Love!
I absolutely love this scent! It is very light and delicate. I need more of this...please make soaps and wallflowers!
Date published: 2019-02-04
Rated

5

out of

5
by
SweetnSassy79
from
One in a Million truly is a beautiful scent!
I wasn't sure i was going to like this..i smelled it in the store recently but the scent got "lost" because of smelling so many other scents but when i sprayed it at home after ordering online it blew me away!!..i LOVE gardenia..always have..i've looked for the perfect gardenia fragrance and One in Million is it!!..not too strong..very soft and feminine..it is perfection!..LOVE IT!!!..thx BBW for this beautiful scent!!
Date published: 2019-02-02
Rated

4

out of

5
by
Nenita
from
Beautiful floral
If you love florals this is for you. I'm not huge on florals but this is one I would rank among the top florals I have smelled. There is a strong gardenia scent that reminds me of a childhood garden. Tuberose is also strong. It reminds me of Easter too. I wouldn't wear this daily but I def think it's worth trying.
Date published: 2019-02-01
Rated

5

out of

5
by
Bnporter81
from
Very Nice!
I just picked this up today after reading the reviews. As soon as I sprayed it I knew the scent was very familiar. After a while of sniffing and thinking I realized that, to me, this smells nearly identical to Red Door...my mother's favorite perfume from the 90s. After a couple of hours it does seem to settle down into more of a musky floral scent. To me the fragrance is quite heavy but it does smell really good. All in all I love it!
Date published: 2019-02-01
Rated

5

out of

5
by
Arielsmeriel
from
Not what I expected but I LOVE it!
The scent is floral and sweet, Kind of creamy and familiar, probably due to the chashmere musk and jasmine. It's not a bad floral that reminds you of your grandma like Moonlight Path or ROSE . It's a lot more of a perfume scent then a fresh clean body mist. It's sophisticated and romantic. There's a bit of a zing to it ! Almost like a spice or what I refer to as "salted" scent. (This is probably not a great way to describe something ... ) I almost get a hint of maybe a warm coconut/ vanilla esc ... it really makes me think of something I've smelled before, like a perfume my mom might have used at one point. I absolutely love it and will probably re-purchase once I run out.. that is if it stays.
Date published: 2019-01-30
bvseo_sdk, dw_cartridge, 17.1.0, p_sdk_3.2.0
CLOUD, getReviews, 41ms
reviews, product