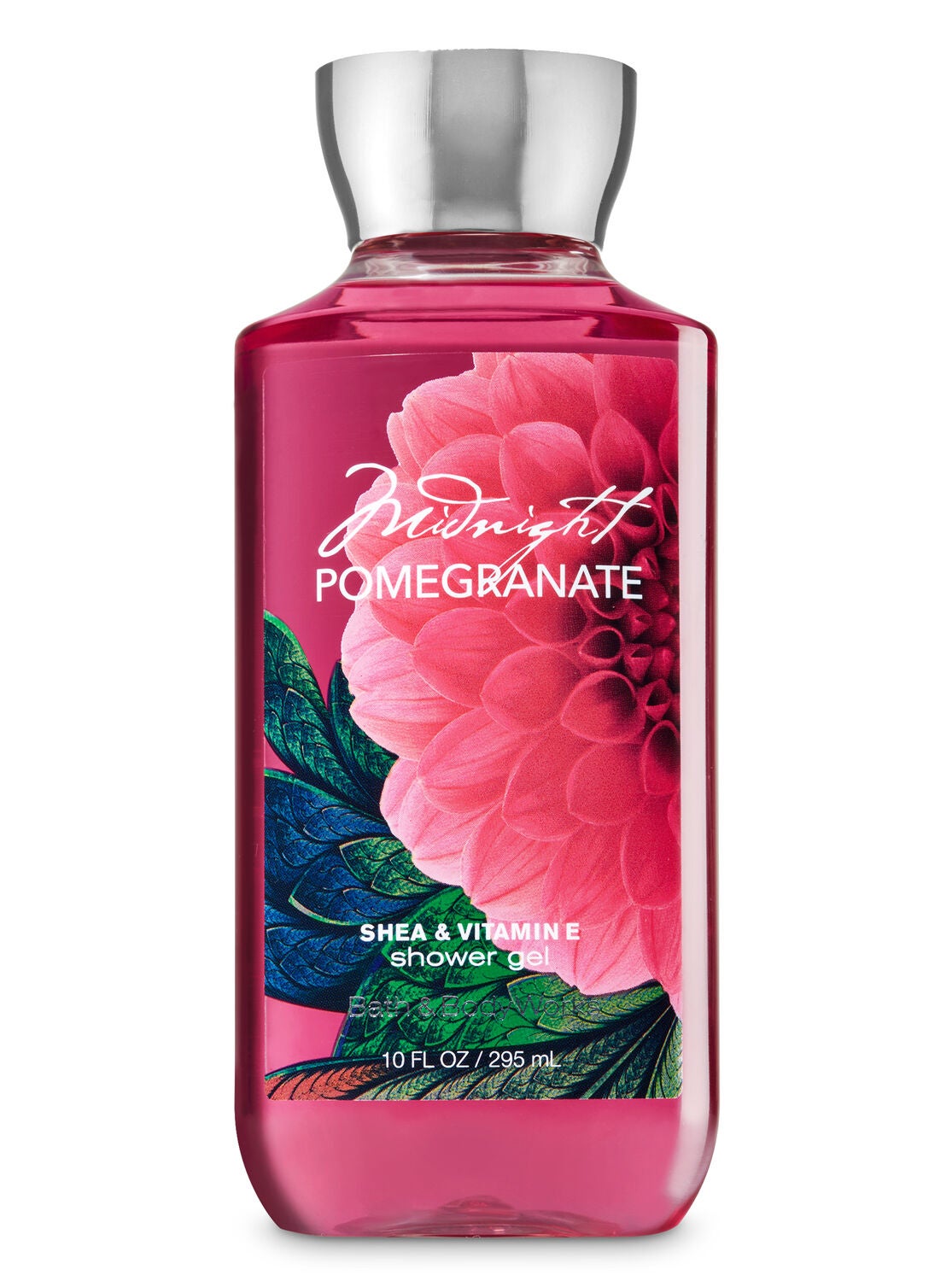 Signature Collection

Midnight Pomegranate

Shower Gel

https://www.bathandbodyworks.com/p/midnight-pomegranate-shower-gel-022845423.html

10 fl oz / 295 mL
Fragrance
A fiery blend of ruby red pomegranate, blackberry spice & sparkling cassis

Key notes: Ruby Red Pomegranate, Sparkling Cassis, White Jasmine, Blackberry Spice, Patchouli
Overview
Wash your way to softer, cleaner skin with a rich, bubbly lather bursting with fragrance. Moisturizing Aloe and Vitamin E combine with skin-loving Shea Butter in our most irresistible, beautifully fragranced formula!
Rated

5

out of

5
by
z7749
from
Beautiful.
Beautiful. I really like pomegranate scents.
Date published: 2019-04-20
Rated

5

out of

5
by
Oceans11
from
Ahmazing!
I love this product and will continue buying it! Please don't take it away!
Date published: 2019-03-26
Rated

5

out of

5
by
Shroon
from
My ALL TIME FAVE!
This has got to be the most amazing smell ever! I haven't been able to find it in years and finally looked online and BAM there it is!! I'm so so excited to be getting it !!!
Date published: 2019-03-04
Rated

5

out of

5
by
Shaysbenz
from
Great fragrance I pray it stays
I really love this product and have been wearing this scent for years. I really hope this fragrance dont retired. I like the lotion better than the cream.
Date published: 2019-02-25
Rated

5

out of

5
by
Emke
from
I absolutely love this stuff!
This is normally the kind of scent that I tend to stay away from as I'm more of a floral person. I'm so glad that I finally decided to try it a few years ago. It's a dark fruity and spicy with a bit of musk and a hint of jasmine scent. It's my go to for fall and winter. Men adore it. Complete strangers will turn around after I walk by to wonder where that scent is coming from. My male friends have been more forthcoming, actually asking what it is and telling me how it make them feel. ;) Please don't ever stop making it!
Date published: 2019-02-10
Rated

5

out of

5
by
ann13
from
Great scent
Love the product, great scent.
Date published: 2018-11-16
Rated

5

out of

5
by
Tara123
from
Amazing Smell!
I love love love this scent and I wish it was still available in stores. Very grateful it's still available online it's my favorite scent from Bath and Body Works!
Date published: 2018-11-01
Rated

5

out of

5
by
Dra2218
from
Amazing product!
I just love pomegranate! But this is the best one out there!
Date published: 2018-11-01
Rated

2

out of

5
by
MISS TINA
from
Very spicy
Very spice scent, doesn't last long I use it for bubble bath, great lather.
Date published: 2018-09-21
Rated

5

out of

5
by
Tess77
from
I wish I had bought more!!
This fragrance is amazingly luxurious. It fills up the whole room and lasts for hours on your skin.
Date published: 2018-08-07
Rated

5

out of

5
by
GloriaP
from
Please don't retire this!
I wasn't sure about it when I bought it, but I like pomegranate so I gave it a try. After using it a few times, I realized that I was in love. It is a fresh scent that doesn't smell too sweet. I look forward to using it. I was sad to see it on the retired fragrance list, so I stocked up when it came back on a sale.
Date published: 2018-08-03
Rated

5

out of

5
by
SweetnSassy79
from
Best smelling shower!!
I LOVE Midnight Pomegranate shower gel!..it smells amazing of course..rich and slightly sweet..it creates an AWESOME shower experience!..lathers up great!..always a staple in my shower! :)
Date published: 2018-07-07
Rated

5

out of

5
by
Rolexqueen
from
Yes yes yes
Sweet smells very good must have
Date published: 2018-05-18
Rated

5

out of

5
by
LisaMarie63
from
Smells amazing
It doesn't dry my skin out and the scent lasts all day
Date published: 2018-05-17
Rated

5

out of

5
by
akaur
from
Strong scent!
lovely scent that stay with you all day
Date published: 2018-05-06
Rated

4

out of

5
by
SmellYaLater
from
Earthy Pomegranate
This is a pleasant shower gel, but it didn't smell like I thought it would. There is a strong, but nice earth scent to this that really makes it unique. Although the bottle doesn't list it, someone else said that tobacco is a note in this fragrance. I believe it, because that's what it smells like (not like a cigarette/cigar though. More like dried tobacco or even incense.) The fruity pomegranate scent is more dominate, but other than that all I smell is the earthy aroma. I enjoyed using this shower gel (I used the whole bottle), but it's not necessarily something I'd buy again. This smelled nice on my shower pouf but I really ended up enjoying the way it made my bathroom smell after my shower. I wouldn't recommend this for everyone, but I can see how some people love Midnight Pomegranate. It's a more mature fragrance and is almost reminiscent of a red wine.
Date published: 2018-04-28
Rated

5

out of

5
by
Brit792
from
Long lasting!
I love this product because it smells so good! It's a rich, yet not overpowering smell. My boyfriend loves it so much even he issues it! I highly recommend this scent.
Date published: 2018-04-25
Rated

3

out of

5
by
OttersRUs
from
Candy
Someone mentioned Twizzlers, I thought it smelled like gummies. It's not necessarily bad, but it's a bit short lived to want to have a small scent like that on. I don't mind smelling like candy, I just want it to stay on me.
Date published: 2018-04-20
Rated

5

out of

5
by
Kimbrielleeee
from
Nice Smell.
Smells Nice. Use On A Daily Basis.
Date published: 2018-04-19
Rated

4

out of

5
by
markie
from
Midnight Pomegranate
I was scared to try this. It has a weird fruity smell at first but it's not to strong and has a great mixture of pomegranate. If you like fruity scents, this one is for you.
Date published: 2018-01-14
Rated

5

out of

5
by
madilynh
from
I found it!
I first tired out this product when I was little and quickly grew to love it. When it disappeared from shelves I was disappointed that my favorite scent was gone. Thinking I would never see it again I grew attached to many other fragrances, but now that I've found it again I couldn't be happier to reconnect with something that always made my day!
Date published: 2018-01-14
Rated

3

out of

5
by
Tampa snowflake
from
Twizzlers
Am I the only person who thinks this shower gel smells like Twizzlers? You know, the strawberry licorice-type sticks? I really wanted to love this because of the glowing reviews, but to me it's just...twizzlers.
Date published: 2017-11-29
Rated

4

out of

5
by
mmga
from
Nice
This is a nice gel I like to switch up my main 2 with. I enjoy the fragrance, I'd repurchase it, and I'd maybe pick up a lotion too.
Date published: 2017-11-20
Rated

5

out of

5
by
stkelsiej
from
I stole my first bottle from my mom
Yeah, I took it right out of her bathroom after smelling it. She had gotten a whole gift set of it and hated it. I took it. The lotion, body wash and spray. I have no regrets. I have purchased many replacement bottles of each and love this scent. It also opened me up to pomegranate scents in general. I currently use this shower gel as a body wash and shampoo and the scent last all day.
Date published: 2017-01-27
Rated

5

out of

5
by
TerrificTerrell
from
The best mistake that started the M.P love affair!
M.P is my BAE! I remember opening my first BBW online order and seeing this shower gel and being upset that i accidentally got it due to the weird notes (vanilla tobacco & nutmeg had me nervous but cinnamon being the worst as BBW cinnamon scents smell like straight up capsaicin). But that one day I dusted off M.P and hit the shower was INSTANT love so much that I HAD TO get the other products!! This scent is used when I want everyone asking what is it I'm wearing and drooling over the smell of me. This is scent is when I'm getting my grown and sexy/sultry on like date night with Bae when I want the date to "end early". Or I'm going to a ball/concert/banquet/birthday/wedding/meeting with my ex or crush who I want to rue the day....getting off track. The point is this scent strong (not for sensitive noses but NOT headache inducing/overbearing) and is the right amount of good spicy, soft sweetness, citrusy and earthy amazement that transports me to a starry night in the heart of Spain with my steely eyed lover holding me in a warm embrace as we dance the Pasodoble then ride of into the sunset on black horses. The best thing about this scent is this S.Gel is concentrated so a tiny amount suds up great and lasts an AMAZINGLY long time even on my skin that absorbs scent rapidly and you can use it alone still getting great scent for hours and thats without the layering of the other products. M.P is my #1 and if I only had the option to use one scent from BBW M.P is the choice without hesitation. I love the packaging too.
Date published: 2016-02-28
Rated

5

out of

5
by
PerfumeyPandora
from
Tried It On A Whim and It Is Wonderful!
This is my favorite scent besides the New York Big Caramel Apple Shea Lotion! Bring that back! That is my favorite scent. This one however is the soap I look forward to using in the shower. I got it because a dry note was tobacco and it intrigued me. The smell reminds me of a light fruity oil, very calming and great to use at night. If you like cold showers this a great scent to wake you up to! I definitely would recommend this if you like a light whimsical woods with fruity trees at midnight smell. Not to mention, a little goes a long way if you use a shower poof! It isn't like that really watery soap either. It doesn't leave yucky residue like some soaps do.
Date published: 2016-01-29
Rated

5

out of

5
by
MyhotStylist2015
from
Strong Unique scent!
This shower get packs a huge punch and has incredible staying power. I love it when a shower gel lingers after rinsing it off. Midnight Pomegranate is a special scent because its the only one BBW offers with a tobacco base note. (Dont worry, it doesnt smell like a cigarette) It smells more like dark fruits combined with earthy tones. For some reason it makes me think of going to a masquerade ball with masks, corsets and black nail polish. This scent is super addictive and definitely one-of-a-kind! Everyone I have gifted this scent to has loved it!
Date published: 2016-01-18
Rated

5

out of

5
by
mrsbecmiller
from
One of the Best Fragrances
Midnight Pomegranate is definitely one of my all-time favorite fragrances EVER. I forgot just how much I loved it until it was brought back. (Thank you, thank you, THANK YOU, Bath & Body Works!!!) It's a strong scent that is a combination of spices and richly scented pomegranate. It's perfect for late fall and winter. It makes me think of the holidays, but I will be using this into the winter, too. This is a sophisticated scent that I am so grateful is back! The shower gel is richly scented and lasts long on the skin; use it with the FFM and the body cream! :) :)
Date published: 2015-11-19
Rated

5

out of

5
by
Flobaby
from
Wonderful Fruit and Spice
This is a unique scent that I was sad to see leave the stores. It has great staying power for a fruity scent but it is not too overpowering for daytime use. Love the gorgeous new packaging for this fragrance. Great for Fall. 5 stars!
Date published: 2015-10-22
Rated

2

out of

5
by
leahjay1990
from
Very Unique Scent
This is definitely a very unique scent that either you love or you don't. It's smells like pomegranate with a twang. It reminds me a lot of cranberry juice. Kind of a spicy fruity scent.
Date published: 2015-09-22
bvseo_sdk, dw_cartridge, 17.1.0, p_sdk_3.2.0
CLOUD, getReviews, 11ms
reviews, product