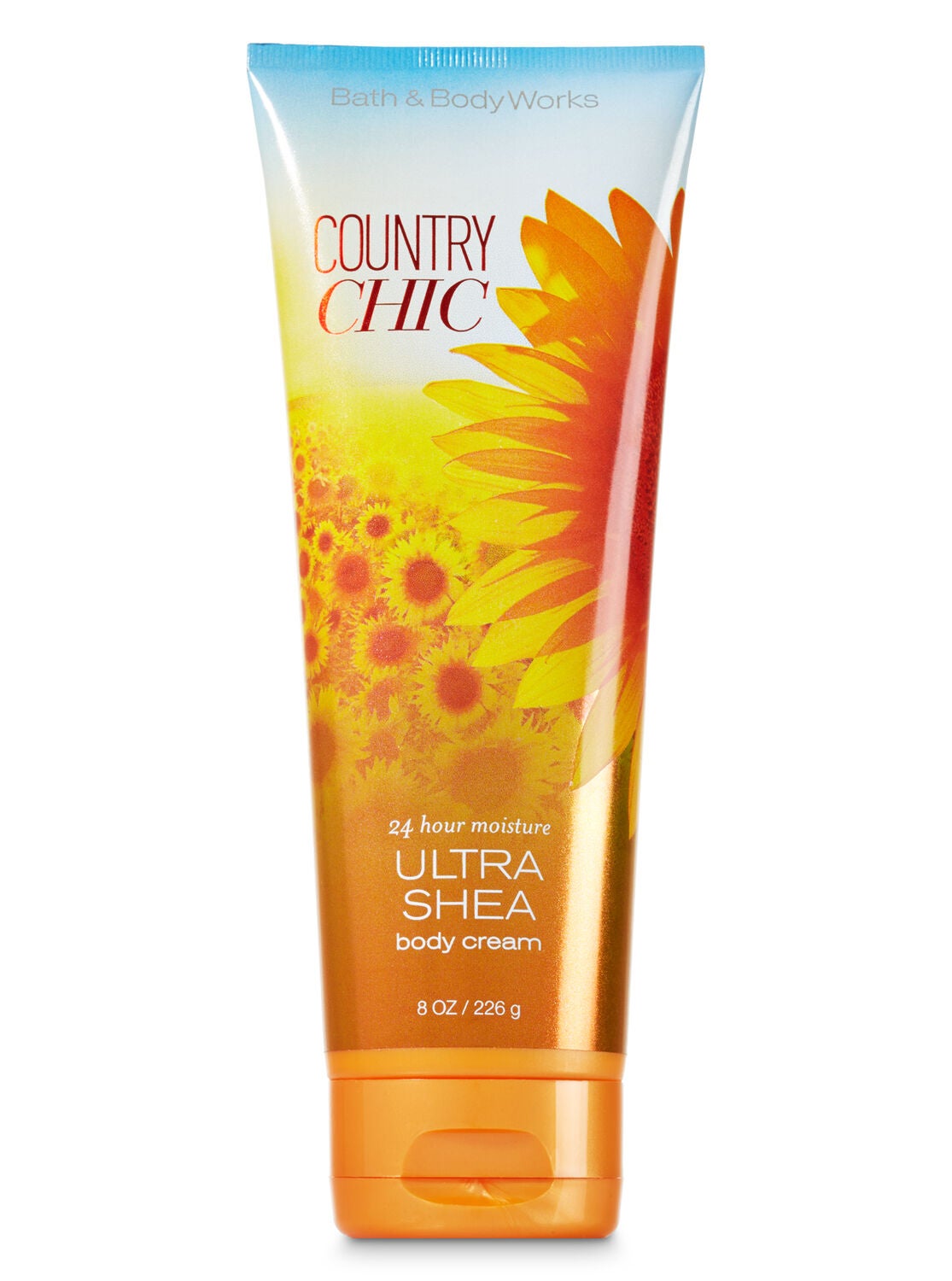 Signature Collection

Country Chic

Ultra Shea Body Cream

https://www.bathandbodyworks.com/p/country-chic-ultra-shea-body-cream-022550105.html

8 oz / 226 g
Fragrance
A breath of fresh air! Inspired by the natural beauty of the countryside, Country Chic is a carefree blend of wildflowers, wood & citrus
Overview
Infused with luxuriously rich Shea Butter, our New Ultra Shea Body Cream provides 24 hours of nourishing moisture to soften even the driest skin. With soothing Aloe Butter, pampering Cocoa Butter and more Shea than ever before, our non-greasy formula melts into skin to provide beautiful fragrance and all day, all night hydration.
Rated

5

out of

5
by
GrandMaNan
from
My Signature Scent!
I am sometimes very sensitive to some fragrances. I can tell very quickly if one will be what I call, "headakey". Country Chic is my absolute favorite B&BW scent! It is a sunflowery, citrusy breath of fresh air that I am THRILLED to get more of during this promotion of retired products being re-released. I love the Ultra Shea Body Cream because it fully absorbs into my skin, leaving it soft but not greasy at all. I hate lotions that leave a residue behind, but these thicker ones from BBW never do. The only thing that lingers is the most beautiful smell in the world... aka "country sheep"... hehe
Date published: 2019-05-01
Rated

4

out of

5
by
Deeyo
from
Too Floral For Me
I like the scent, but the floral tones are too heavy for me. I just cleaned my bathroom with bleach and no gloves after trying it on (and washing my hands again with another scented hand soap), and the scent is still very strong. Contrary to other reviewers, I smell almost no citrus, just lots of floral notes that remind me of the 90s. Side note: I mixed this with Lemoncello,which I also just got and am not super crazy about, but they work really well together. Downside to that is I'll have to go heavier on the Lemoncello, and it is not an ultrea shea. Side side note: if comparing this to Love and Sunshine, LaS is more of a citrus/berry scent with a lighter "attack".As far as moisturizing power, it's definitely one of the most effective. If you like the wildflower smell, maybe go lightly with this one.
Date published: 2019-05-01
Rated

5

out of

5
by
Kaaay
from
Happy it's still around!
I used to buy this scent in stores years ago, I'm happy it's made it to the retired fragrances sections so I can still get it. Smell is flowery and bold without being overwhelming and the body creams feel great.
Date published: 2019-04-25
Rated

4

out of

5
by
ketomommy0924
from
Floral scent
I truly like the one but it is too strong. Although, it keeps my skin really soft and i can smell my arms all day long
Date published: 2019-04-24
Rated

5

out of

5
by
hlgarc20
from
Top Fave
Clean but flowery smell and the body creams are also always the best!
Date published: 2019-04-22
Rated

5

out of

5
by
kaelasmith0427
from
Great scent
This product feels great and smells great.
Date published: 2019-04-21
Rated

5

out of

5
by
Chubbs77
from
LOVE IT!!
I wasn't sure I was going to like it, thought if I don't I can gift it BUT OMGOSH it smells soooooo wonderful.... I love how soft my skin is ALL DAY!!
Date published: 2019-04-18
Rated

5

out of

5
by
Sunshine74
from
Fresh and invigorating!
After trying this scent for the first time, I fell in love! I had to go back for the matching 24 hr body cream. The scent is so fresh and uplifting. And this product only enhances the effects of the fine fragrance mist while leaving my skin soft and smooth all day long. Love it!
Date published: 2019-04-17
Rated

5

out of

5
by
PugGirlCa
from
AMAZING!!!
I am SO glad I tried this, I'm OBSESSED!!! All of the notes are bright, and it is beautiful! My sister had this, and I tried it, I was hooked! My favorite of all time, and I have been doing reviews for many years. 5+ Stars!!!
Date published: 2019-04-02
Rated

5

out of

5
by
StealthySloth188
from
Clean and refreshing scent.
One of my top favorite BBW scents and I am disappointed to see its retirement. It is a subtle fresh scent and not overbearing or too strong. Just a lovely scent overall.
Date published: 2019-02-01
Rated

5

out of

5
by
chashzi0922
from
My very first BBW fragrance love!
I love this fragrance. Bought this and several others online. Of the lot, this was my favorite! I eventually bought the rest of the set. I'm more of a woodsie scent lover, so the lemon surprised me.
Date published: 2018-12-27
Rated

5

out of

5
by
LoraBeth
from
Love the thick, smooth Cream!
This cream is thick, and goes on smooth. I use it after taking a shower using the Country Chic Body wash and body mist. I stay fresh smelling for hours.
Date published: 2018-11-18
Rated

5

out of

5
by
Morganne1990
from
Best scent!
I always buy this scent when it's available! It's so refreshing!
Date published: 2018-11-17
Rated

5

out of

5
by
sun61
from
Lovely Scent!
My go-to favorite - absolutely love this body cream and scent! It's been a favorite of mine for years. A fresh, clean scent. I use it every morning after showering. It really keeps skin smooth, not greasy, even during the dry winter months. I hope they never discontinue this one!
Date published: 2018-10-31
Rated

5

out of

5
by
Anna137
from
Memories!
This product is one that i have used for years! I can never get enough of the scent, it is so wonderful. It smooths and nourish your skin and creates great moisture for your skin. One of my absolute favorites.
Date published: 2018-10-30
Rated

5

out of

5
by
Elle99
from
One of my Favorites!
The smell is amazing and long-lasting. The product last a long time as well. The scent is not too powerful to be overwhelming, but people have noticed the room smelling better whe I was in wearing this!
Date published: 2018-09-07
Rated

5

out of

5
by
Lilcarmelita86
from
Beautiful scent!
I love this body cream because it makes me smell so good especially after taking a shower. I use it every single day. It's a retired fragrance but I always go online and order. Apparently it's seasonal. I think it should be available in stores all year long :-) it's my go to scent!
Date published: 2018-08-17
Rated

5

out of

5
by
Achitwood
from
Love the smell
This is a great smell!! I would buy it again
Date published: 2018-08-13
Rated

5

out of

5
by
VICKI G
from
Love it!
I never ordered this item before and I'm glad I did! I love the fragrance and it's not too overbearing. I love how it keeps my skin soft and smooth
Date published: 2018-08-03
Rated

3

out of

5
by
SmellLover7672
from
Could use year round.
This cream worked great, I just got bored of the scent & gave it away. It is fresh & summery & clean. There was something about it that gave it a slight warmth, which was nice w/ the lemony freshness. Over time I just got bored of it & moved on. Not bad at all though.
Date published: 2018-07-12
Rated

5

out of

5
by
ashley1397
from
Great Product!
This product works great and has a fantastic scent. I use it almost everyday to keep my skin hydrated.
Date published: 2018-04-23
Rated

5

out of

5
by
Leesha
from
Long time user
I love this scent along with A Few others but this one is so unique one of my favs!!!
Date published: 2018-04-18
Rated

5

out of

5
by
Andie99
from
It Suites Her!
I bought this for my spunky "Country Chic"-like friend. The body cream seemed like a perfect gift to give her! And it was! She's in love with the fragrance! She has bought more body creams, and other versions of this scent. She was that impressed! Definitely recommend this to anyone that wants some country nostalgia.
Date published: 2017-12-12
Rated

5

out of

5
by
SmellYaLater
from
Fresh, Clean, and Lovely!
I received this as a gift from a friend, and I absolutely fell in love with it. When you first apply this cream, you definitely smell the lemon; it comes out strong, but isn't overwhelming. After a while, the lemon dies down and you start to smell the wood and floral scents. I personally think this combination is beautiful, but I can see how the combo of lemon/wood can be reminiscent of a cleaning product to some people. It is a fresh, bright, and clean scent for sure. I'm normally not a person who likes to wear lemon-based fragrances, but this one is unique. I love wood fragrances (and some florals) as well, so that might be why I like this so much. If you don't like wood or floral smells, this one may not be for you - the wood and floral notes definitely stand out on dry down. Overall, I give this five stars for fragrance and five stars for longevity. Country Chic is well-balanced and is a perfect spring/summer fragrance, but it's also one that I feel could be worn year-round.
Date published: 2017-11-19
Rated

4

out of

5
by
Kelmic
from
More concentrated than the lotion
I love the BBWs Ultra Shea creams. They leave my skin silky smooth and moisturized. I purchased this one after trying the other products in the fragrance line. The scent appears more concentrated. Although I have never tried to use it without the mist, I believe it could stand on its own. It's a pleasant, unique scent- citrusy, slightly peppery, with a woodsy undertone. It's great for the cold days of winter, or a refreshing change in the summer. I rated this 4 stars because although I don't love the scent, I really like it.
Date published: 2017-01-02
Rated

5

out of

5
by
prettyinpink94
from
This smells sooo good!
Country Chic smells sooo good! I love it! It's a great spring/summer scent!
Date published: 2016-02-25
Rated

2

out of

5
by
Mandikat97
from
Smelled like
Absolutley disgusted. :/I bought this really hoping to like it. This is the first BBW scent I don't like.I think truly, (based on other reviews) that this might just be my body chemistry, but it smelled like Lemon Pepper Zesty chicken! Ugh! The performance of the moisturizer is a hands down 5 stars. But the scent for me was just...Ugh!
Date published: 2016-02-15
Rated

5

out of

5
by
KMC1990
from
Lemony Fresh
I love Country Chic. I think it works for Spring, Summer AND Autumn! It's bright, fresh, clean and has a lemon zest, but there's also a woodsy undertone. I think this is a great scent that really evokes the countryside.
Date published: 2015-10-13
Rated

5

out of

5
by
Shelala82
from
Love the uniqueness!
It took me a while to give in to this one but I absolutely love it..I love the unique woodsy and lemony fresh scent.It reminds me of Fall yet Spring because it is sultry yet light..LOVE!
Date published: 2015-09-03
Rated

3

out of

5
by
Glasper101
from
All I smell is lemons and citrus
At first I was enjoying this scent; however, I do not know if I wore it too much or simply put too much on because after a week all I could smell was lemons and citrus. This is a good scent to wear every now and then to throw in a different smell in your but not on a daily basis. It reminds me of lemonade on a hot summer day and sunflowers. If you are into the lemon, citrus, floral scents give this a try.
Date published: 2015-07-24
bvseo_sdk, dw_cartridge, 17.1.0, p_sdk_3.2.0
CLOUD, getReviews, 246ms
reviews, product