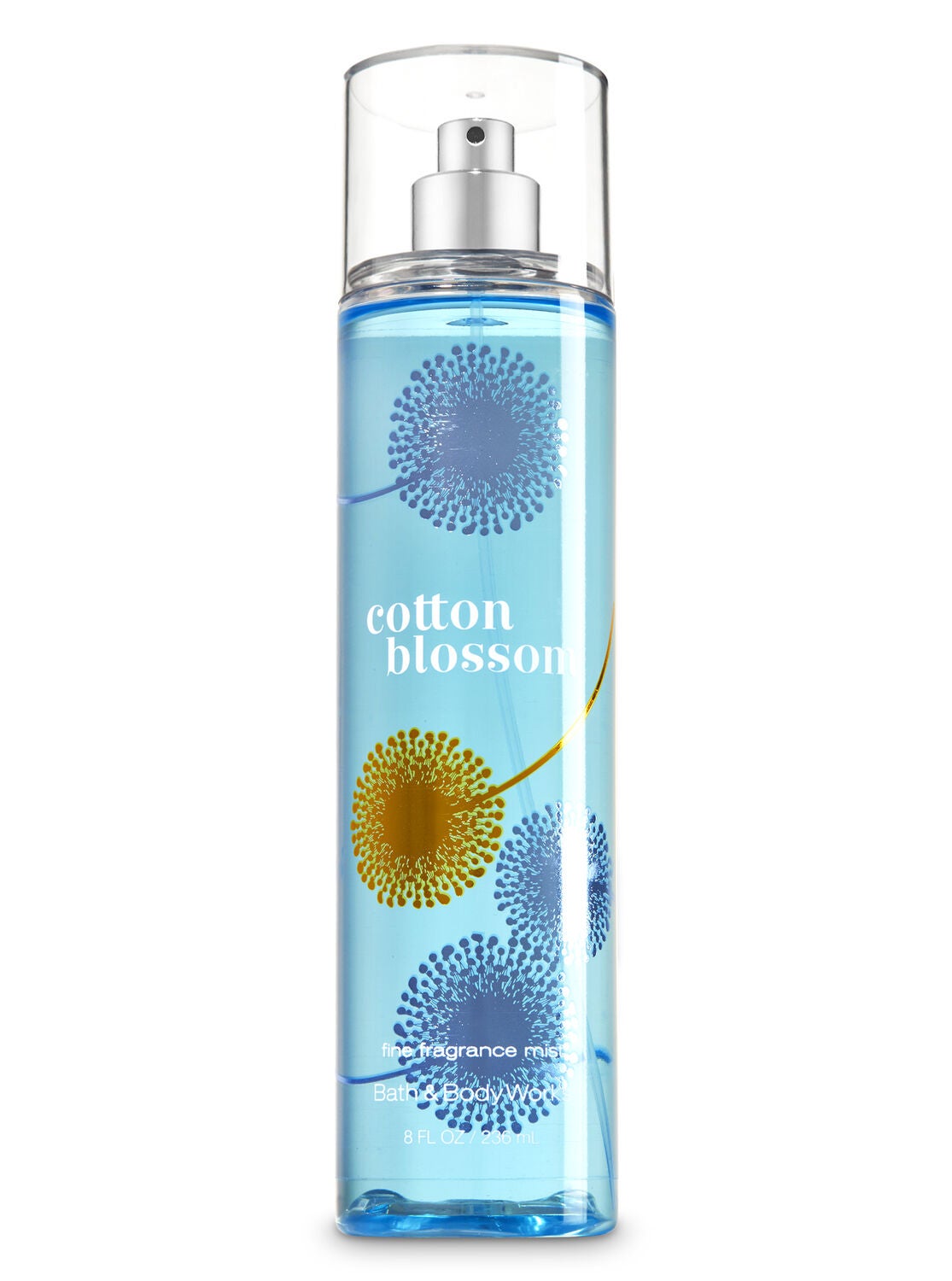 Signature Collection

Cotton Blossom

Fine Fragrance Mist

https://www.bathandbodyworks.com/p/cotton-blossom-fine-fragrance-mist-023112627.html

8 fl oz / 236 mL
Fragrance
Breathe in the crisp summer breeze with fresh cotton blossom fragrance

Key notes: Cotton Flower, Crisp Air, Soft White Musk
Overview
Lavishly splash or lightly spritz your favorite fragrance, either way you'll fall in love at first mist! Our carefully crafted bottle and sophisticated pump delivers great coverage while conditioning aloe mist nourishes skin for the lightest, most refreshing way to fragrance!
Rated

5

out of

5
by
PrettyNpinkk
from
Nice clean smell
It has that nice clean, fresh, after shower smell I love.
Date published: 2018-12-23
Rated

1

out of

5
by
Cynthia00
from
Disappointed
I've always wanted to try Cotton Blossom and finally ordered it, only to be disappointed. It smells exactly like Sea Island Cotton, which is a scent I out grew. I can't tell the 2 apart that's how much they smell alike. I will be sending it back there's no need for to have 2 different fragrances with the same scent. Bring Deep Aqua back please.
Date published: 2018-12-22
Rated

5

out of

5
by
bluebird
from
Great fragrance!
This fragrance has been around for a long time. This is one of my favorites. I continue and use it!
Date published: 2018-11-25
Rated

4

out of

5
by
Roni_Nica
from
Long lasting!!
I always wear this fragrance mist whenever I put the Cotton Blossom body cream on and let me just say the scent stays with me ALL DAY! Which I don't mind.
Date published: 2018-11-20
Rated

5

out of

5
by
bgh6720
from
Amazing, fresh scent!
This scent is amazing! I have been wearing this for years... love it! Why? I have had dozens of strangers, yes strangers, come up to me and compliment this scent. They are very complimentary on how "good" I smell and the "freshness". I haven't worn perfume/cologne in years since discovering Cotton Blossom products... no need to! I am saddened this is on the retired list and not always available for sales. Love Cotton Blossom!
Date published: 2018-11-15
Rated

5

out of

5
by
Momma2_5bratz
from
Reminds me of my teen years and I love it!
I first smelled this scent 16 years ago when I was a teenager by hanging out with a friend who was wearing it. I smelled it and asked what perfume are you wearing it smells great. She told me Cotton Blossom from bath and body works. Needless to say I ended up buying several bottles of body sprays, lotions and shower gels. Eventually I went through all of my bottles and not sure how long it took but I recall going in to buy more and being told it was discontinued. I was so disappointed but they suggested the sea island cotton which admittedly did smell close to as good and nearly the same but just a tad off. I found it again a year ago on the website and I literally bought 8 body sprays 6 lotions and 3 shower gels. To me it sort of smells like fresh linen scents but more floral and sweet. It does not make me smell like I rubbed laundry detergent all over myself but it does smell sort of like it with more floral and sweet notes. I hop they never take it away forever because my lot will not last a lifetime. Love it so much and my 3 daughters love it too. Wish they still had in in the wall flowers. Definitely a great one to use on its own but I sometimes mix it by spraying a bunch of cotton blossom and a few sprays of vanilla bean Noel. They bl nd great together and it's adds a creamy touch to the sc t.
Date published: 2018-11-01
Rated

5

out of

5
by
Robbins45
from
So Fresh and Clean
This is one of my favorite scents of all time along with Sea Island Cotton. This scent is so fresh and clean smelling. This is my go to daily scent. I find this scent to be so comforting and I always get compliments at my office when I wear it. If you love fresh scents you'll love Cotton Blossom.
Date published: 2018-10-31
Rated

5

out of

5
by
Elle99
from
Great scent
This is a great scent anyone would love. Family always requests it!
Date published: 2018-09-07
Rated

5

out of

5
by
Rquarius
from
My Hands Down Scent!!!
Cotton Blossom is one of my hands down favorites and it's a crisp, clean, soapy, powdery, and fresh floral scent. Everybody compares CB to Sea Island Cotton and differences between two are SIC is a little softer and lighter cotton scent, whereas CB is much more crisp+ sharp and slightly floral. I enjoy both of them but I like CB a little better! (especially l love the shower gel!) Nothing but love for CB but I prefer the old packaging though!!!
Date published: 2018-08-24
Rated

5

out of

5
by
Byefelicia
from
Great smell
I love this product. It stays on all day and it's fresh and clean.
Date published: 2018-08-21
Rated

5

out of

5
by
Tcdancer
from
Clean and Fresh!
This is another one of my favorites! I love the clean and fresh smell of this one. Please bring this back in the 3-wick candles!
Date published: 2018-07-12
Rated

5

out of

5
by
Kat383
from
I need this back in stock
I love this product!!!! Please notify me as soon as it comes back on the shelf
Date published: 2018-06-05
Rated

5

out of

5
by
Shellybell
from
Nothing But Complements
I'm a dedicated true blue fan of Cotton Blossom! I work in the medical and academic world, and I must tell you that everyone, EVERYONE, loves this scent! Students love the smell, and patients love the smell. As long as this continues to be sold, is as long as I will be a loyal customer. The smell is not offensive yet instead it's inviting. Very clean and light just the way I like it.
Date published: 2018-06-03
Rated

4

out of

5
by
CowgirlScentLover
from
Fabric Softener?
This scent has always reminded me of fabric softener. Probably because it reminds me of line-dried laundry on a spring afternoon. Great refreshing scent!
Date published: 2018-05-07
Rated

5

out of

5
by
Honesty832
from
Just as I remember
I was a little reluctant to buy this again as it's been over 15 years since I've last used it. I'm so happy I decided to make the plunge. It's such a fresh and clean scent that lasts throughout the day. It's the perfect base scent to layer with a high end perfume or just wear alone. This is my go to scent. Thanks for making this available online.
Date published: 2018-03-10
Rated

1

out of

5
by
Step4er
from
Bring Back the "ORIGINAL COTTON BLOSSOM"
For some reason this isnt the exact same smell wise as the original cotton blossom that you originally had manyyy yearsss agooo I dont like this much! I got it and though it was the exact same.....please bring back the original one
Date published: 2017-06-11
Rated

5

out of

5
by
ES2460
from
Light&Fresh
This scent is light and fresh, yet no less delightful. I bought this when inspired by one of my favourite candle scents, cotton laundry, and was not disappointed with my purchase. The scent is crisp in a 'hygge' kind of way, reminding me of simple pleasures and happy days o,r better yet, a sweet baby power nostalgia. It's not overpowering nor does the scent . dissipate immediately like others I've tried. Overall very good and would purchase again.
Date published: 2017-06-06
Rated

4

out of

5
by
alucero505
from
Clean linen and powder
This is a very strong linen type scent. I feel SIC is a bit of a lighter scent than this one, which I feel is heavier.It smells fresh and clean, with a powdery scent in there as well as the musk. Nice scent for the warmer months for a fresh and clean smell. Straight out of the bottle it is too strong for me but dries down rather quickly. Something in it is just too strong and can give me a bit of a headache if I use too much or try to layer this one. On dry down on my skin, it smells like a clean linen scent and powder. I just do not care for this one as much as I do the SIC. That one I find airier and cooler smelling and I like that better. Cotton blossom, on the other hand, smells very good and I really like it but think I prefer using it on my bedspread and towels as a linen spray. I spray down my bed just about every night and it is very comforting and fresh. It is fresh and clean smelling and I do like it but I personally probably will not repurchase this one in the fragrance mist or moisturizers, maybe just the body wash.
Date published: 2017-01-07
Rated

5

out of

5
by
I dont know
from
The perfect fresh scent
Its the perfect fresh scent Totally love it
Date published: 2016-09-28
Rated

1

out of

5
by
Chezzy
from
Reissued fragrance
Cotton Blossom was one of your best fragrances when it was originally introduced years ago. When I saw it on the website I jumped for joy since I hadn't been able to find it for several years. After receiving the purchase, I was horribly disappointed, this fragrance didn't even remotely resemble the original scent. I just couldn't believe how different it was. I can't recommend this fragrance to anyone, it's simply too weak and indistinguishable from the original fragrance.
Date published: 2016-08-18
Rated

3

out of

5
by
GeminiSkye
from
Cotton Blossom
Smells just like laundry detergent/baby shampoo or powder. A very nice, relaxing scent to make you feel at home. I prefer to use it on my bed sheets or around the house personally, it is even nice to spray clothes straight out of the dryer for a longer lasting fresh scent. It is not something I would put on to go out however, like on a date or a concert. Definitely more of a cozy, indoor scent. When the scent does down though it smells a bit like old baby wipes and a tiny bit like sunscreen, lol. Just my opinion though, still not a bad scent. Just average to me.
Date published: 2016-08-02
Rated

5

out of

5
by
MarDal
from
AMAZING!
I finally got hold of this after it was out of stock. It is the first time I have tried it and it is incredible! It smells like fresh laundry! I love putting it on after my shower. It is quite long lasting so I find a little goes a long way. I wish this was always available as a SIGNATURE scent.
Date published: 2016-07-30
Rated

5

out of

5
by
village mouse 13
from
Fresh!
Cotton blossom is a very pleasant fresh, clean scent. Similar to sea island But cb has a touch of a floral note that I pick up which makes is quite different from sea island cotton. I enjoy this scent a little more. Although great to wear anytime I enjoy it after a long day outside, its relaxing yet refreshing and uplifting. Very nice!
Date published: 2016-07-25
Rated

5

out of

5
by
cutecat
from
Pleasantly Surprised
I was pleasantly surprised with this fragrance. I usually do not like "cotton" scents, they usually have a component that turns my stomach. Not this one! It goes on strong with a floral smell, again usually not me, but I liked this one. What I especially liked is the die-down fragrance: light, fresh, and pleasant. The die-down lasts and lasts. It lasts at least 24 hours on me.
Date published: 2016-06-25
Rated

5

out of

5
by
Flobaby
from
Cotton Blossom Fine Fragrance Mist
This fragrance is for those who love the smell of "clean." Yes it is sort of a fresh laundry type smell, but personally I love that. I was so afraid that this was completely going away, and I am so glad that they repackaged it and brought it back. The new design and color are lovely, but I loved the old style too. 5 stars PLUS!
Date published: 2016-06-17
Rated

5

out of

5
by
GMEOW23
from
* Cotton Blossom *
This is the Scent i smelled at The SAS haul and I absolutely love it! It smells similar to Sea Island Cotton ( which is my favorite scent if you care)This scent is great and should definitely be part of the SIGNATURE COLLECTION!!!!!!!!
Date published: 2016-06-16
Rated

5

out of

5
by
Lala32
from
Soapy clean powdery scent!
I love this scent! Like my title says, it has a very clean soapy scent, like you just came out of the shower scent. When I first tried this on I thought it smelt exactly the same as 'Sea Island Cotton', but not quite. 'Sea Island Cotton' practically smells like glass cleaner. I will definitely be purchasing 'Cotton Blossom' again the scent lasts all day long as well.
Date published: 2016-06-15
Rated

5

out of

5
by
T A G
from
~cotton blossom~
this fragrance is very similar to 'sea island cotton', but there are differences, the most noticeable being that CB has a crisp linen scent and SIC smells more like soft cotton. CB is softer in scent strength, 'feels' more feminine and i notice the musk, whereas SIC has the added notes of salt and vanilla that i notice more. this fragrance did cheer me up in that it reminds me more of 'sheer cotton & lemonade' than SIC. there is also a very pleasing 'sweet' type scent that seems to waft from CB that is somewhat similar to vanilla that i really enjoy. both are excellent and will just come down to personal preference. on a side note, both CB and SIC, in the ffm's, are both useful for freshening up laundry or dry-cleaning that smells a bit faded.
Date published: 2016-06-10
Rated

5

out of

5
by
Lexa1221
from
love love love this fragrance
I have used this particular scent for over 15 yrs and it still smells amazing, crisp and fresh. It always makes me feel good when I spray it on. I still to this day get compliments on its scent on me. I have tried the Sea Island Cotton but it does not smell as great as the original. I love this fragrance!
Date published: 2016-06-06
bvseo_sdk, dw_cartridge, 17.1.0, p_sdk_3.2.0
CLOUD, getReviews, 246ms
reviews, product