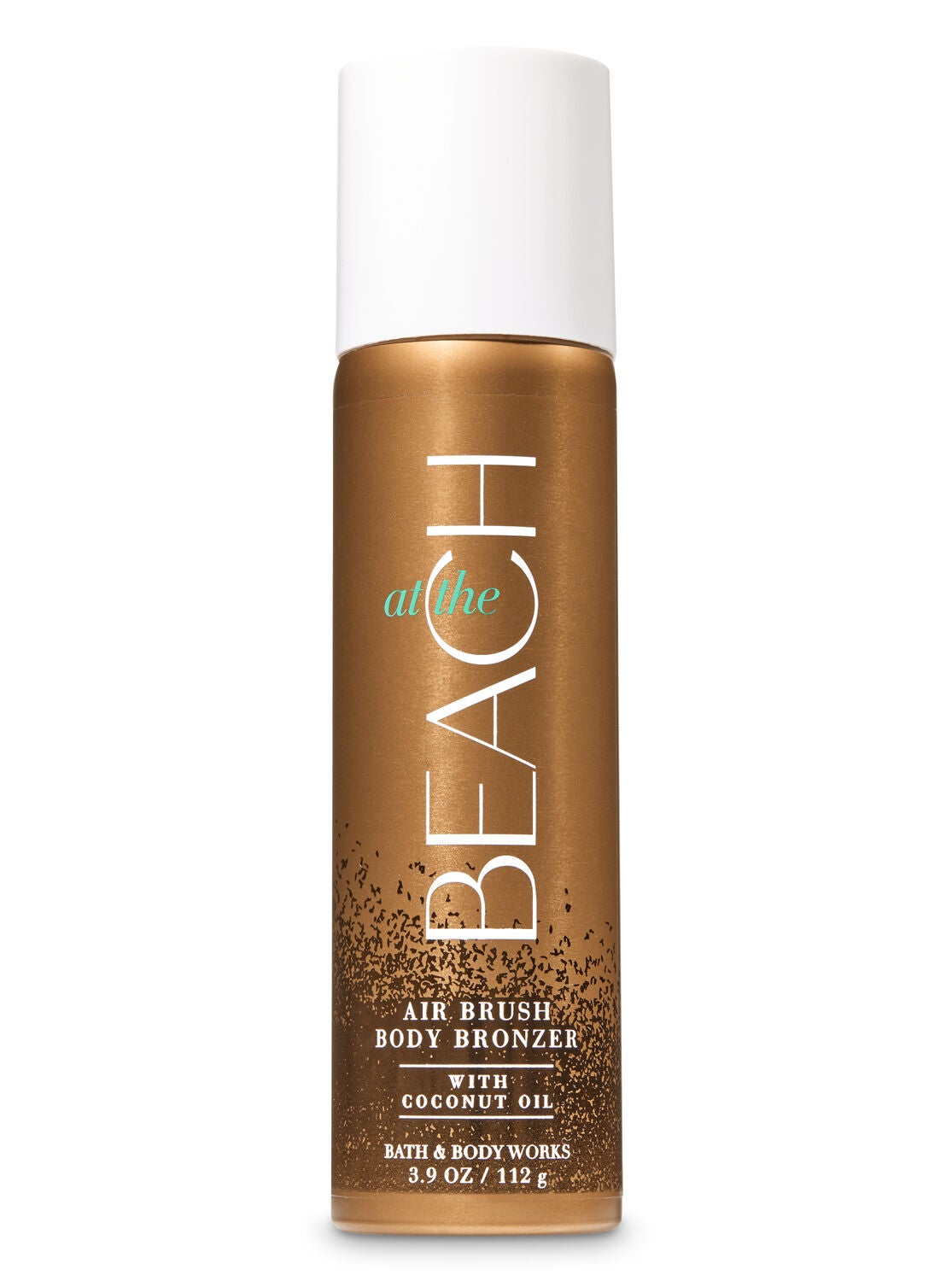 Signature Collection

At the Beach

Air Brush Body Bronzer

https://www.bathandbodyworks.com/p/at-the-beach-air-brush-body-bronzer-023354204.html

3.9 oz / 112 g
Fragrance
A refreshing, vacation-ready blend of white frangipani, toasted coconut & bergamot waters essenced with a cool, saltwater breeze
Overview
Give your skin an effortless, beach-worthy tan! Infused with nourishing coconut oil & soothing aloe butter, our sheer formula leaves skin with a perfectly bronzed glow.
Rated

5

out of

5
by
ViviPdx
from
Sparkly Bronzed Goddess!
As someone who has olive/tan skin, this product looked amazing on my skin tone. I live in the PNW and we finally saw the sun for a few days. I sprayed this on my legs for a touch of color and it left them looking airbrushed with a nice not over powering sparkle. I didn't mind the smell either as it dissipates. Will def be purchasing more.
Date published: 2019-03-26
Rated

1

out of

5
by
Nick name
from
Does nothing
Do not waste your money- this product does not bronze your skin. NOT like the spray tan from true blue. This is false advertising. Just a little glitter but no tan AT ALL. Not right away, not hours later. Sprayed one leg and not the other and both remained pasty white. Very strong chemical smell. Couldn't breath in my bathroom for a half hour even with the fan on. 0product needs to be discounted. Reviews shouldn't be regulated. Third time changing my review to get it approved. Lost trust.
Date published: 2019-03-09
Rated

5

out of

5
by
SNH413
from
Love this!
I love this product. It gives a great shimmery glow. I used it all last summer and will be getting more!
Date published: 2019-03-07
Rated

5

out of

5
by
Karen23
from
Love this bronzer
it goes not nicely and smells fantastic. Only down fall is i run out of it quickly. But I will be ordering this again for summer.
Date published: 2019-02-18
Rated

1

out of

5
by
TRiser82
from
mostly glitter
it smelled awful, left streaks, way too much glitter!!!
Date published: 2019-02-01
Rated

1

out of

5
by
Court83
from
Okay if you like glitter
I bought this because I am a huge fan of all the "At the Beach" products. If I had not used my "other secret" self tanner, than I honestly don't think I would look as good as I do. The glitter is just awfuL! It gets all over the place! This is basically glitter bronzer mixed with air. I've used it only 2x and it is half gone already! I only sprayed my upper body yesterday too. It smells horrific! Nothing like the beach smell. Will NOT buy again. BBW, I really hope you dump this product and find something worth $$. This is garbage.
Date published: 2019-01-29
Rated

1

out of

5
by
EricaB1989
from
JUST AIR AND STREAKS
I was so excited to get home and try this....and it just made my whole house stink and made a FEW streaks..it waa mostly just air :( SO DISAPPOINTING...DO NOT WASTE YOUR MONEY
Date published: 2019-01-01
Rated

1

out of

5
by
Airel12
from
It's just a glittery mess
So um....all this does is put glitter everywhere lol. If that's what you want then this is the product for you but it is in no way a "bronzer" or "tanner" I sprayed this on me in my bath tub because I knew it would make a mess (it did) and I was coughing and choking from the aerosol I guess? The only plus to this is that it smells good lol.
Date published: 2018-12-30
Rated

1

out of

5
by
Tessy88
from
Glitter Junk!
This is not a self tanner at all its like an orange brown mist full of so much glitter nothing like the spa blue stuff that was great! Doesn't matter how it smells if it doesn't preform the way it should so way overpriced too!
Date published: 2018-11-25
Rated

3

out of

5
by
Mamoo
from
Amazing smell!
I bought this for the summer. It is ok. It didn't make me tutn orange which is s plus.
Date published: 2018-11-13
Rated

5

out of

5
by
Alexa S
from
Great product
I love every product created in this fragrance. Although it is named beach, it is a beautiful smell that could be all year in my opinion.
Date published: 2018-11-04
Rated

1

out of

5
by
Brittleigh
from
does not give good color
AWFUL! True blue spa self tanner was the best! I am fair skinned and nothing worked better than true blue spa :( I am so disappointed that Bath and Body Works discontinued it and didn't replace it with something compatible.
Date published: 2018-09-24
Rated

3

out of

5
by
emmaleighiva
from
Not my favorite
I was thinking it would make.me bronze.but it was more.glittery than I wanted.my.fake tan to be lol
Date published: 2018-08-26
Rated

1

out of

5
by
Goldcl
from
Not as good as....
I tried this product after the True Blue line was discontinued. The True Blue Strike Gold had such a great scent and color, I expect more from a replacement product. The smell was ok, the color not so good.
Date published: 2018-08-03
Rated

1

out of

5
by
Coach Kim
from
Zero Stars
I can't even begin to describe my disappointment. After YEARS of using the sunless gel w/bronzer, (now discontinued), I was leery about this. On two levels, I can't believe this passed marketing. First, the smell is awful. Secondly, I used FIVE times on my legs, can empty. By use three, the can clogged. Basically, it's spray on glitter. EPIC fail, and I ordered/paid for 3 cans. HIGHLY disappointing! Bring BACK the stuff that works!
Date published: 2018-07-17
Rated

5

out of

5
by
sunandthetrees
from
Glowing!
I was skeptical at first to buy this product. I wanted to purchase something that would add a little bit of glow to my skin and didn't cost over $50. I loved it! I have tan skin and it adds justness the right amount of tint and sparkle! Will definitely buy again!
Date published: 2018-07-17
Rated

1

out of

5
by
Terrormisu
from
Not what I expected
Okay, so the at the beach is my favorite scent. But this product is terrible. The bronzer was entirely too dark for a fair-skinned person like me. And its nearly impossible to spray evenly. There is a shimmery glitter in the bronzer, which emphasizes how artificial the color is. Also, there is no point wearing this to the beach or the pool, as when it gets wet, the product will come off in splotches making your legs look dirty and patchy. I would not buy this product again and I am upset I bought it to begin with.
Date published: 2018-06-21
Rated

5

out of

5
by
Kiss My Melanin
from
For the Melenated Too
I had great experience with this product as a woman of Melanin. I also enjoy the benefits of a great bronzer. This bronzer added the gold flecks to my melanin rich chocolate skin. Loved it.
Date published: 2018-06-21
Rated

5

out of

5
by
Slick5276
from
Don't be afraid to try this!!
I bought this to try and while, I agree that the first time you spray, you might not get it just a you'd like it but a few sprays and I was golden! (Pun intended!) I love the light sparkles that glisten in the sun. I liked it so much, I went back and bought my nieces some to take on a cruise and they love it! It adds a hint of color and golden sparkles. Very 'beachy' and summery, in my opinion. Yes, it will wash off.
Date published: 2018-05-17
Rated

5

out of

5
by
Lovesummer7
from
This stuff is amazing!!!
I love this stuff! I was SO RELIEVED when I saw that they brought it back again from last year, and in the same scent! I used this last spring on my legs/arms/chest any exposed areas to give me that much needed color before I got REAL color from the sun. It works perfectly and honestly helps hide the bits of cellulite that I have on the upper backs of my thighs. Every time I spray it I get TONS of compliments and my husband always floats into the room asking what smells so good. I highly recommend!
Date published: 2018-05-08
Rated

5

out of

5
by
GirlyGirl404
from
love it
Spray then rub, that's the secret. I don't know any spray bronzer that applies evenly. Its easier to use than others because it takes a few seconds to dry, which is great for rubbing and blending in.
Date published: 2018-05-04
Rated

4

out of

5
by
Shelby H
from
Nice product
I love the smell and the glow and shimmer it gives in the summer time. The color is there it takes a few tries to figure out how to apply the product.
Date published: 2018-05-04
Rated

1

out of

5
by
Jamie80
from
Smells great! That's about it....
I really loved the scent of this spray. The can says it applies evenly, but that isn't true at all. Doesn't matter if you hold the can close or far away, you end up with splotches and very uneven. It is very glittery too.
Date published: 2018-05-01
Rated

2

out of

5
by
Faith22
from
Decent
The bronzer smells amazing! A+ in that department. Adds a nice shimmer and sparkle. But if you're buying this to make you appear tanner or "bronzed", don't. Its very hit or miss with the color.
Date published: 2018-04-24
Rated

1

out of

5
by
Jodi321
from
AWFUL
Splotchy, glittery, uneven. What happened to the True Blue tanning/bronzing lotion. Such better results.
Date published: 2018-04-22
Rated

3

out of

5
by
drea_morris80
from
Smells great!
This product smells great. If you like shimmer/sparkle, you'll love it. As for the color, it's hit or miss. splotchy.
Date published: 2018-04-16
Rated

1

out of

5
by
Kylizzle555
from
It is splotchy
I bought this product expecting a great tan and all I got was sparkles I am not a fan although it smells great that's all I like about it.
Date published: 2018-02-18
Rated

4

out of

5
by
Steff
from
Love smells amazing!!!
I really love this product.. I go tanning regularly so I bought this to kind of just even out some of my areas. It has tiny glitter specks in it so I like to spray it on my legs during summer to get a nice shimmer.. And when I do my makeup I spray a little on my neck and chest to match my face and body, it works very well. Sometime I spray a small amount on my wrists and neck just as perfume because it smells that good. I wouldn't use it to actually tan my entire body because I feel like it doesn't work well for that.. But for little areas to add to your glow definitely!
Date published: 2017-11-20
Rated

1

out of

5
by
tay1109
from
Uneven tan
I was anxious to try this product from Bath & Body Works because I loved their last tanning product called Strike Gold - this was a major disappointment compared to SG!! The air brush application was messy - my entire bathroom had a film of self tanner on it and the spray was not even on my legs or arms. It has a nice color, but I had to jump in the shower right away to scrub it off because it was streaky. Didn't last long in the water either! I wish they would come out with something more similar to Strike Gold.
Date published: 2017-09-23
Rated

4

out of

5
by
Scent Inhaler
from
What is all the fuss? I liked it!
I am a mature woman and sprayed on forearms and chest. The color is soft natural bronze with sparkles. I spread with my hand due to uneven spray, but no big deal. All day looked and smelled great on arms and v neck tee. Nice glow!!!
Date published: 2017-04-14
bvseo_sdk, dw_cartridge, 17.1.0, p_sdk_3.2.0
CLOUD, getReviews, 9ms
reviews, product