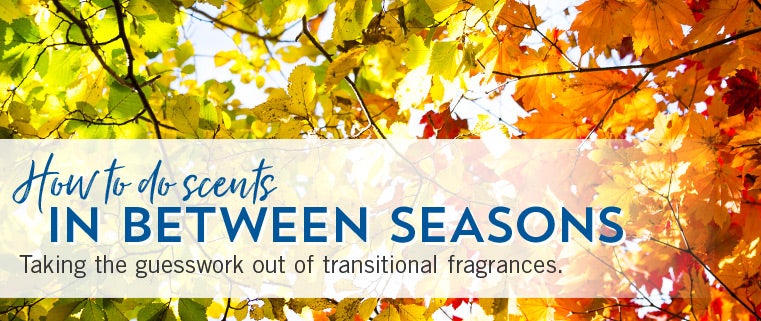 We've made the transition to transitional scents way easier.
"Do I need a sweater or not?" We've all been there. As one season ends and another begins, there's always that weird and confusing point where it's not quite one season or the other. And it's tough enough to pick an outfit to wear — let alone a fragrance. So, let's take the guesswork out of each seasonal period so you can find a super-weather-appropriate scent (you know, just like that jacket you toss in the back of your car because you aren't sure if it's going to be warm or chilly).
What exactly is a transitional fragrance?

Honestly, it's pretty simple. It's a fragrance that blends key notes from two completely different seasons – giving you that here and now scent. Think of it as a perfume (or any new scented goodie) that perfectly captures that in-between mood, like an icy floral to use from winter to spring. Notes of freshly growing plants and the cool edge of a brisk winter evening will have you in an instant chill vibe.

Why should I consider one?

Sure, it may not be super necessary to have a fragrance for every season and every in-between season, but that doesn't mean you can't. While totally optional, we love transitional fragrances because they add excitstrongent and variety to your usual go-to scents. Even better, they're like a little seasonal luxury, something you can only enjoy a few times a year. And whether you're picking up a new perfume (or fine fragrance mist) or just wanting to upgrade your shower routine with a new body wash, you'll love these transitional scents.

From summer to fall

Brisk mornings + sweltering afternoons = "Do I need an exotic summer scent or cozy autumn fragrance?" So, for a transitional recommendation, we're all about scents that are sunny and warm with just a hint of comfort.

Golden Sunflower: As our top pick, Golden Sunflower completely lives up to its name. This sun-kissed blend of sunflower petals, orange flower and fresh vanilla instantly fills you with the warmth of summer, while its hints of sweetness have us yearning for autumn treats.

From fall to winter

From pumpkins to sweet holiday treats – we're excitedly enjoying all the goodies for both seasons, while planning family gatherings and present shopping. For this time of year, we really need transitional fragrance that plays up celebratory vibes (while keeping you in that cozy fall mood).

Champagne Toast: This blend of bubbly champagne, sparkling berries and juicy tangerine immediately transports you to the sweetest, most vibrant fall gatherings – and captures all the sparkly fun of the about-to-arrive holiday season, too. Basically, Champagne Toast is like throwing a mini party every time you spritz it...and honestly, do you really need an excuse to pop open some bubbly and celebrate?

From winter to spring

It's still kinda cold, but let's be honest: you've got visions of blooming flowers and warmer days dancing in your head. Around this time, you need a crisp, chill fragrance that has hints of something fresh, like flowers or berries. Here's a scent that captures both…

In the Stars: Just like your dreams for the new year, In the Stars is an inspirational blend that really captures the turning of the season. And its unique notes of starflower, white agarwood and sandalwood give off a comfy warmth needed for chilly days and freshness perfect for spring. Psst. It's OK if you want to keep using holiday fragrances – who doesn't love thstrong?!

From spring to summer

Truly a full-circle moment. It's getting hot, but it's a bit chilly. We cannot wait for beaches, fruity cocktails and tropical vibes, but it's a bit hard to say goodbye to those spring florals. That's why we're recommending a fragrance that's delicate like spring, but with a pinch of summer that makes us dream of warmer weather.

Gingham: Blended with soft and delicate florals, yet full of bright citrus vibes that get you excited for summer. In fact, it's basically sunshine in a bottle (even if it's 55 degrees and rainy). And the best part? Gingham is a super-versatile fragrance…so if you're looking for the perfect picnic or brunch scent, this is it.
Phew, now, with all that guesswork out of the way, it's time for you to shop scents. For a specific scent, check out Shop By Fragrance. Or just keep an eye on New Arrivals for any new seasonal goodies that come your way.