The Essential Guide:
Aromatherapy Essential Oils
We're all about fragrances that smell amazing and nourish your skin. But just as important to us? Ones that create everything from a relaxing to an uplifting atmosphere. Here's your scoop on the essential oils that make it all possible—courtesy of Aromatherapy Headquarters.
But first, a primer
What are essential oils?
Extracted from plants by steam distillation, they're the highly concentrated essence of fruits, flowers, herbs and trees. We then dilute them with a carrier oil, so they're totally safe to breathe or smooth on skin.
Why do we love them?
With so many essential oil benefits, where to start? How about 5,000 years ago? That's when the ancient Egyptians first used them for fragrance and beauty purposes. (We wonder: What was Cleopatra's go-to?) Today, you'll find essential oil blends in everything from candles to lotions to pillow mists to hand soaps. With a specific vibe in mind (stress relief, energy, sleep, etc.) our product experts blend essential oils and fragrances to conjure up formulas that smell great and create an amazing ambience.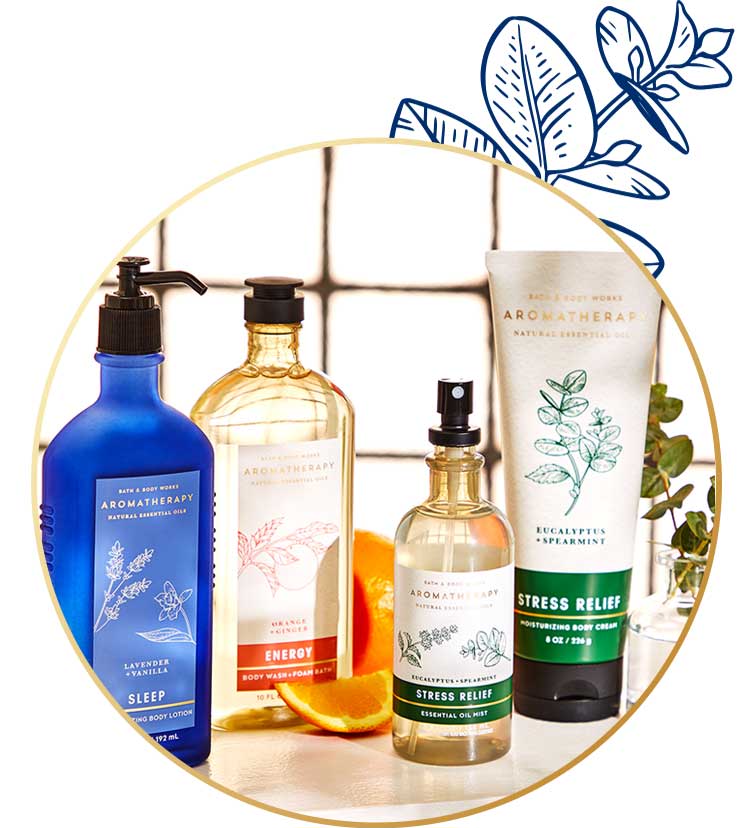 How do you use essential oils?
There are so many ways to incorporate them into your self-care routine. Feeling some chill tub time? You're gonna want our silky-smooth bubble bath. About to head to la-la land? Slather on body lotion and spritz essential oils on your pillow. Your house can even get in on the action too—with aromatherapy Wallflowers, hand soaps and candles. Here's the full list of ways you can use essential oils at Bath & Body Works:
Body cream and lotion
Body wash and foam bath
Bath soak
Bubble bath
Body oil
Body butter
Essential oil mist
3-wick and single wick candle
Sugar scrub