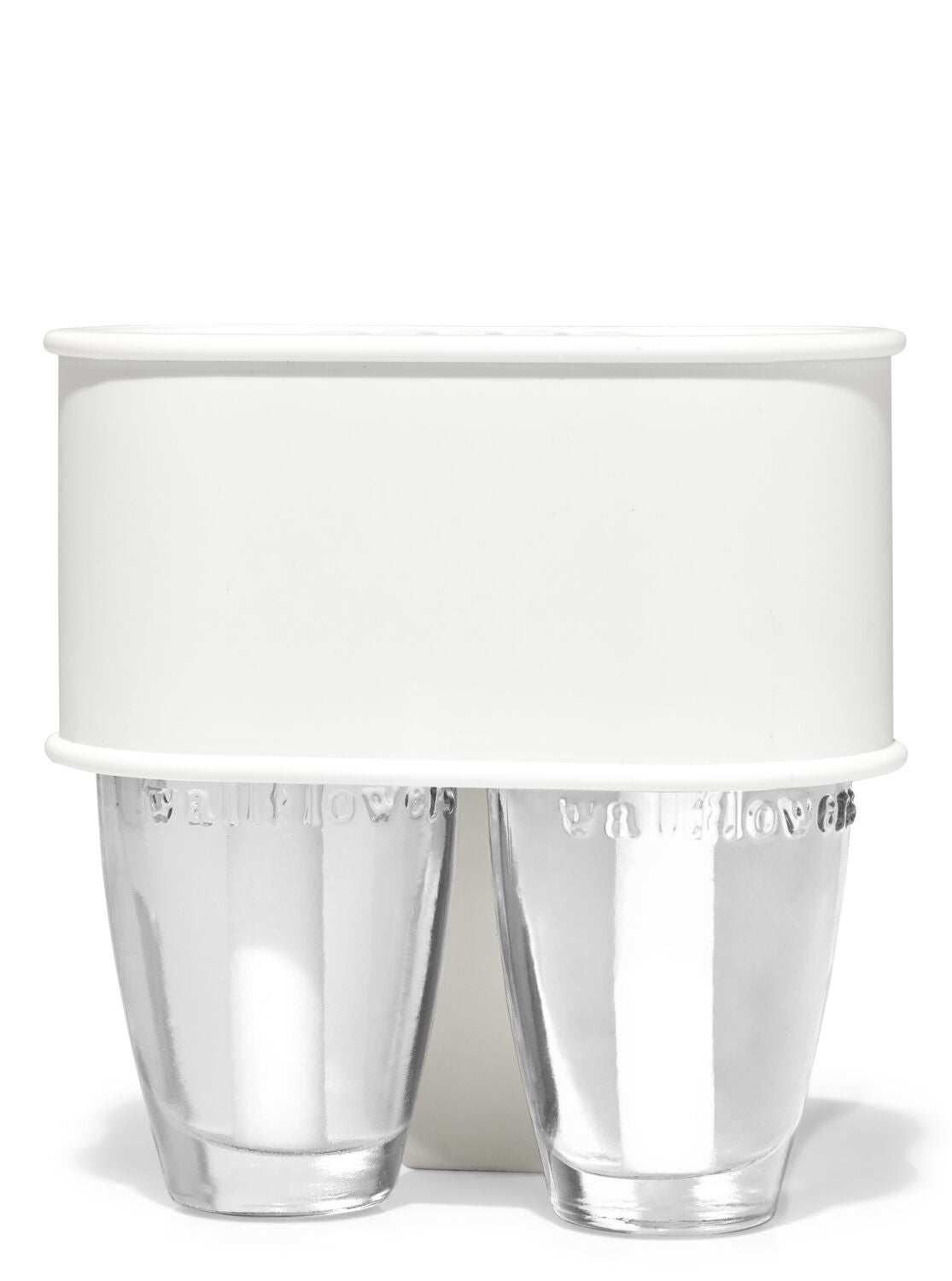 White Soft Touch Nightlight
Scent Switching™ Wallflowers Duo Plug
https://www.bathandbodyworks.com/p/white-soft-touch-nightlight-scent-switchingandtrade-wallflowers-duo-plug-023621010.html
Overview
Our Scent Switching™ Wallflowers Duo Nightlight Plug features a simple white design to accent any décor while letting you alternate fragrance approximately every 2 days. Why a duo? Alternating every 2 days prevents fragrance fatigue, so your home is filled with fragrance that's always fresh and always noticeable. The indicator light illuminates to let you know which fragrance is currently in the air. Plus, it gives any space a soft glow! Pair with your favorite Fragrance Refills, sold separately, for fragrance that welcomes you home for weeks and weeks. Learn more about Wallflowers Air Fresheners.
Usage
Twist left (counter-clockwise) to attach Fragrance Refills to Plug. Always keep your plug in an upright position. It's easy! A quick twist of the rotating plug lets you choose a vertical or horizontal outlet. Maintain 12-inch clearance above unit to avoid damage to surrounding surfaces.
More Info
Nightlight glows continuously when plugged in for around-the-clock illumination. Includes fuse to prevent overheating. Plugs should last at least 2 years. Happiness guaranteed or your money back.
Rated

5

out of

5
by
Laura45
from
The only way I'll use my wallflowers now
I have always loved wallflowers but was getting frustrated that I stopped smelling the scent after a couple days because I'd get used to it. I was ready to give them up altogether until I tried this plug - it fixed everything! I love walking into a room when it has just switched over to a new scent and I especially love that I don't have to think about it!
Date published: 2019-08-16
Rated

2

out of

5
by
Tiffohnay
from
Great at first-quit working
This was the best wall plug freshener i had ever bought. The sales rep in store (Huntsville, AL) presented these to me and told me about the duo feature. I put it in the bathroom and could smell it even down the hall to the front door. I was just about to buy more and then it quit working approx 2 weeks after purchase. I still have it plugged in- it only lights up & uses on one end now instead of switching. I can't smell even the side that seems to be in use even after changing scents. Might have been a dud but not for sure if i want to spend the money on anymore.
Date published: 2019-08-14
Rated

5

out of

5
by
Walty
from
LOVE this
I love this! I try and put two very different scents in it so when it switches over it's noticeable. I love walking in and I'm instantly greeted with the scent of my wallflowers and nothing else!
Date published: 2019-08-13
Rated

5

out of

5
by
Reader2019
from
Keeps the scent lasting longer.
This product is wonderful. Purchased it when recommended by salesperson. So glad I did. With the two plugins the scent is so relaxing!!! So spa like!!! LOVE to smell the scent when falling asleep!!!!
Date published: 2019-08-09
Rated

5

out of

5
by
CarW
from
You'll never go nose blind!
This was such a great purchase that I had to buy two! After about a week of using a wallplug I always go nose blind to the scent. BUT this wall plug switches between two different scents so you never go nose blind! The nightlight is added bonus!
Date published: 2019-08-09
Rated

5

out of

5
by
Br3yz
from
Love this product
I really like this product because it uses two different scents. with the single scent plugs I get used to the smell and then I don't notice it as much. With this one It switches the scents every two days. Really enjoying this wall plug will be getting more
Date published: 2019-08-07
Rated

4

out of

5
by
profps
from
Great concept!
I love that the product allows you to use two different fragrances. I tend to become "noseblind" and don't notice/enjoy my lovely scents after awhile, which really defeats the purpose of a wallflower. With this I notice the scent much more because it changes them up. I also like coming up with interesting fragrance pairs to use.
Date published: 2019-08-03
Rated

3

out of

5
by
jackieb
from
Great at first
I was so excited to try this dual plug. It was great at first and I could smell it really well, even when it switched. But it's still going and I don't really smell the scents anymore. Also, one side has a lot more gone than the other side. Not sure how that is happening.
Date published: 2019-08-01
Rated

5

out of

5
by
Sarahw739
from
Switching up scents is great
I purchased this to try and it's great! I have in the stars on one side and desert wildflowers in the other. It helps tremendously with nose blindness.
Date published: 2019-08-01
Rated

5

out of

5
by
Cinlou92
from
My new favorite item!
I'm in love with the duo plug for wallflowers. I have really enjoyed how it constantly puts out a fresh scent much longer than other plug ins do. My favorite thing is that you can put 2 different scents and it alternates each scent.
Date published: 2019-08-01
Rated

5

out of

5
by
Stevensml
from
Love this!
Love to be able to switch between scents and keep it fresh!
Date published: 2019-08-01
Rated

5

out of

5
by
Tiffany1987
from
Love it!
This is amazing! you get two smell once scent for a few days and then another a few days later, there is a light on which scent is active at the moment. and even better right now you get two free refills with a purchase on a plug.
Date published: 2019-07-31
Rated

1

out of

5
by
BBW2WILD
from
Uneven Usage
This does not alternate and distribute the liquid properly. I plugged in two of the units and the same thing happened with both. One side of each it was all the way down, but the other side had half remaining. If they alternate every 2 days, how does that happen? This has a great concept, but the execution isn't quite there. I wish the old duo plugs with double of the same scent would make a comeback. I only bought these because of the old noseblind theory of not smelling our scents. That's all we really want is to smell the wonderful scents we pay good money for! I think these have potential, but proper testing should have revealed these issues before they were released.
Date published: 2019-07-31
Rated

1

out of

5
by
shwr
from
Good At First
We bought this along with single plug.Disappointed with both.Both worked fine at first use.Now neither one will work.Bath and Body Works needs better quality with their products.
Date published: 2019-07-29
Rated

4

out of

5
by
lisanicolepa1
from
Don't be fooled
Just purchased and thought it was malfunctioning! I then realized only one side at a time is lit to show you which scent is being dispersed. Love the duo factor but it looks as if only one side works. U get 1/2 a nightlight. Weird.
Date published: 2019-07-02
Rated

1

out of

5
by
JaimeP
from
One side already quit working!
I was excited about this product at first, but since it only works half the time now, I'm not sure it was worth it. It was a great concept, but poorly executed.
Date published: 2019-07-01
Rated

5

out of

5
by
kaysay26
from
Must Have!
I often had issues noticing wallflowers smell after a few days. Purchased this, and problem solved! With the alternating of fragrances, my nose no longer becomes nose blind!
Date published: 2019-05-10
Rated

5

out of

5
by
Christina808
from
Works great!
Love the Duos! I have them all over my house! I always smell something because it switches every 2 days between the 2 smells. Works great!
Date published: 2019-05-10
Rated

2

out of

5
by
Rosio
from
Meeehhh
For the price paid, these things should NOT burn out as quickly as they do. I bought the duo after having bad luck with the single plugs. The duo worked appropriately for approximately 3 months or so. It switched scents appropriately as promised without the noseblind that I experienced with the single plugs. After 3 months, the duo completely stopped working; not dispensing any scent whatsoever. I've switched sockets in different rooms, with no change. This is the 3rd plug that I've purchased, and I refuse to waste money on more. I have about 23 wallflower refills that are useless to me at this point. The duo was indeed a let down for me, personally. Bottom line... purchase at your own risk.
Date published: 2019-05-10
Rated

5

out of

5
by
Malpal1994
from
Keeps things fresh
I'm so glad Bath & Body Works started making these alternating scent plugins! I love the single plugins and have been using them for years, but I do feel they fade and go out quickly, losing the strong scents. I've noticed a huge difference since using the double.
Date published: 2019-05-09
Rated

5

out of

5
by
Alexandra86
from
I can actually enjoy the scents
I used to use the single bulb warmer, but after a while I wouldn't be able to enjoy the scent anymore because I got used it it. With the duo scent warmer, I can actually enjoy the scents because it changes every two days.
Date published: 2019-05-09
Rated

5

out of

5
by
Melkitty
from
Fantastic
Love love love. Light, change and longer lasting
Date published: 2019-05-09
Rated

5

out of

5
by
Brandyvb
from
Great concept
I do love the fact I can have a mix up without having to change it out myself. The issue of one burning out faster seems to be a huge thing but it happens even with my normal wallflower plugsins. I can put 5 in the same time, they are all going to need to be replaced at different times. Even if its the same scent. Just how it goes!
Date published: 2019-05-05
Rated

3

out of

5
by
Awar42
from
Lemon
This product does switch between the 2 scents. I watched it for the first week and it did appear to be switching every 48 hours. However, these are the first two scents I've used and they haven't finished simultaneously. The scent that's lit up in the picture is the one that starts burning when the warmer is plugged in. So, if anything, it should be the one that is empty, not the scent on the left. I was very hopeful when I bought this product and I'm left very disappointed.
Date published: 2019-05-02
Rated

5

out of

5
by
KDMartin
from
Excellent!!!
I love this because it switches scents every 24 hours! You know what smell it is by the light! Whatever scent you smell is the one that's lit up!
Date published: 2019-05-02
Rated

5

out of

5
by
AshMcMath
from
Must Have!
If you are a fan of The wallflowers and you have plugs already this which is a must these plugs allow for you to put two different refills in them and it changes every 48 hours! Don't miss out on this current deal
Date published: 2019-05-02
Rated

5

out of

5
by
TiffS2016
from
Greatest invention!
I just recently bought this double sided plug in and I love how it literally rotates smells!! I've had it for a month now and both refills are still half full!! I'm so amazed and will be buying more! The fact that is has a night light as well makes it a triple threat!
Date published: 2019-05-02
Rated

5

out of

5
by
Amelia04
from
Best night light EVER!
The Wallflower Duo is going to be my official house warming gift to all my friends! Love the light feature. The alternating scents are truly inspired. My scents lasted almost 3 months! Just long enough to change with the seasons.
Date published: 2019-04-18
Rated

4

out of

5
by
Paigey88
from
It's ok.
The scent refills fall out. Other than that it's not bad.
Date published: 2019-04-18
Rated

5

out of

5
by
Steph27
from
Great Upgrade
I bought this after my original wallflower died and it was a great decision. Being able to switch between two scents keeps the air in a room smelling fresh all the time. I would definitely recommend going with this product.
Date published: 2019-04-18
bvseo_sdk, dw_cartridge, 17.1.0, p_sdk_3.2.0
CLOUD, getReviews, 5ms
reviews, product