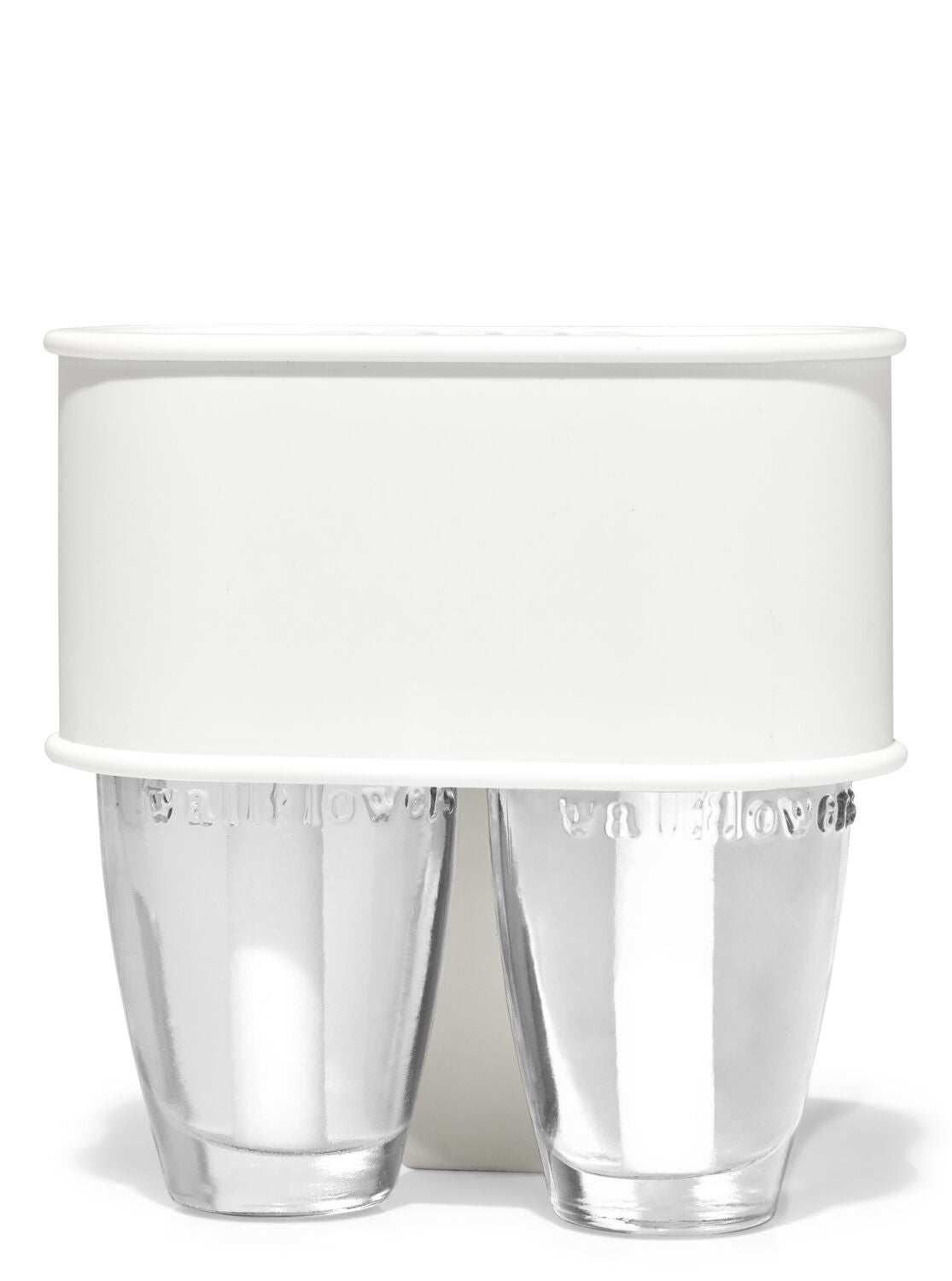 White Soft Touch Nightlight
Scent Switching™ Wallflowers Duo Plug
https://www.bathandbodyworks.com/p/white-soft-touch-nightlight-scent-switchingandtrade-wallflowers-duo-plug-023621010.html
Overview
Our Scent Switching™ Wallflowers Duo Nightlight Plug features a simple white design to accent any décor while letting you alternate fragrance approximately every 2 days. Why a duo? Alternating every 2 days prevents fragrance fatigue, so your home is filled with fragrance that's always fresh and always noticeable. The indicator light illuminates to let you know which fragrance is currently in the air. Plus, it gives any space a soft glow! Pair with your favorite Fragrance Refills, sold separately, for fragrance that welcomes you home for weeks and weeks. Learn more about Wallflowers Air Fresheners.
Usage
Twist left (counter-clockwise) to attach Fragrance Refills to Plug. Always keep your plug in an upright position. It's easy! A quick twist of the rotating plug lets you choose a vertical or horizontal outlet. Maintain 12-inch clearance above unit to avoid damage to surrounding surfaces.
More Info
Nightlight glows continuously when plugged in for around-the-clock illumination. Includes fuse to prevent overheating. Plugs should last at least 2 years. Happiness guaranteed or your money back.
Rated

2

out of

5
by
Rosio
from
Meeehhh
For the price paid, these things should NOT burn out as quickly as they do. I bought the duo after having bad luck with the single plugs. The duo worked appropriately for approximately 3 months or so. It switched scents appropriately as promised without the noseblind that I experienced with the single plugs. After 3 months, the duo completely stopped working; not dispensing any scent whatsoever. I've switched sockets in different rooms, with no change. This is the 3rd plug that I've purchased, and I refuse to waste money on more. I have about 23 wallflower refills that are useless to me at this point. The duo was indeed a let down for me, personally. Bottom line... purchase at your own risk.
Date published: 2019-05-10
Rated

5

out of

5
by
Malpal1994
from
Keeps things fresh
I'm so glad Bath & Body Works started making these alternating scent plugins! I love the single plugins and have been using them for years, but I do feel they fade and go out quickly, losing the strong scents. I've noticed a huge difference since using the double.
Date published: 2019-05-09
Rated

5

out of

5
by
Alexandra86
from
I can actually enjoy the scents
I used to use the single bulb warmer, but after a while I wouldn't be able to enjoy the scent anymore because I got used it it. With the duo scent warmer, I can actually enjoy the scents because it changes every two days.
Date published: 2019-05-09
Rated

5

out of

5
by
Melkitty
from
Fantastic
Love love love. Light, change and longer lasting
Date published: 2019-05-09
Rated

5

out of

5
by
Brandyvb
from
Great concept
I do love the fact I can have a mix up without having to change it out myself. The issue of one burning out faster seems to be a huge thing but it happens even with my normal wallflower plugsins. I can put 5 in the same time, they are all going to need to be replaced at different times. Even if its the same scent. Just how it goes!
Date published: 2019-05-05
Rated

3

out of

5
by
Awar42
from
Lemon
This product does switch between the 2 scents. I watched it for the first week and it did appear to be switching every 48 hours. However, these are the first two scents I've used and they haven't finished simultaneously. The scent that's lit up in the picture is the one that starts burning when the warmer is plugged in. So, if anything, it should be the one that is empty, not the scent on the left. I was very hopeful when I bought this product and I'm left very disappointed.
Date published: 2019-05-02
Rated

5

out of

5
by
KDMartin
from
Excellent!!!
I love this because it switches scents every 24 hours! You know what smell it is by the light! Whatever scent you smell is the one that's lit up!
Date published: 2019-05-02
Rated

5

out of

5
by
AshMcMath
from
Must Have!
If you are a fan of The wallflowers and you have plugs already this which is a must these plugs allow for you to put two different refills in them and it changes every 48 hours! Don't miss out on this current deal
Date published: 2019-05-02
Rated

5

out of

5
by
TiffS2016
from
Greatest invention!
I just recently bought this double sided plug in and I love how it literally rotates smells!! I've had it for a month now and both refills are still half full!! I'm so amazed and will be buying more! The fact that is has a night light as well makes it a triple threat!
Date published: 2019-05-02
Rated

5

out of

5
by
Amelia04
from
Best night light EVER!
The Wallflower Duo is going to be my official house warming gift to all my friends! Love the light feature. The alternating scents are truly inspired. My scents lasted almost 3 months! Just long enough to change with the seasons.
Date published: 2019-04-18
Rated

4

out of

5
by
Paigey88
from
It's ok.
The scent refills fall out. Other than that it's not bad.
Date published: 2019-04-18
Rated

5

out of

5
by
Steph27
from
Great Upgrade
I bought this after my original wallflower died and it was a great decision. Being able to switch between two scents keeps the air in a room smelling fresh all the time. I would definitely recommend going with this product.
Date published: 2019-04-18
Rated

4

out of

5
by
Ms Pham
from
Something Different!
So I was really just testing. I love that these change every 2 days. I would recommend for like a bedroom. I don't like them for a open concept more for just one room. But I love it!
Date published: 2019-04-15
Rated

3

out of

5
by
Floksy
from
Only Plugin for these refills although plain
I immediately bought 3 of these when they first came out, finally a solution to the issue of not being able to smel refills I pay way too much for. They DO fix the issue of not smelling the same scent after awhile,I used the same scents in this all winter and could smell each all along. It's fantastic that you don't get scent immune and you don't feel like your wasting your money. However, I definitely feel like they're working less and less effectively now just like the singles which burn out very quickly. Not to mention how boring they are to look at, when are you going to add designs to these? It's been awhile and still there's only the plain ones. Overall these are the only ones I'll buy now because if not I can't smell any refill at all. If these weren't available I would finally be done with wasting my money on the refills because there is literally 1 and only 1 i can ever continually smell. I've tried almost every one and my husband agrees. Customer service is absolutely terrible, it takes days to get a response and if there's no store near you your out of luck, they only a accept returns if your near a store so if I hate a fragrance ohhh well. Anyway, these are the very best bet and even though they aren't working as they should i can still smell the alternating scents. If your gonna buy refills you should absolutely buy these.
Date published: 2019-04-14
Rated

5

out of

5
by
callmeashleyc
from
Love-Hate Relationship
I'm giving this product a 5 star review because it works well. I love the dim lighting of the night light, I love the versatility, and I love the convenience. I, personally, opt to use two of the same wallflower in the unit because I don't have to worry about my home fragrance drying up for 2+ months. The oil on both sides evaporates evenly which is GREAT. The reason for the hate is because the unit is very heavy when plugged in. This wallflower duo plug falls out within a few minutes of most of the outlets in my house. I only found one outlet in my house that the unit stays plugged in. I haven't tried to remedy the situation to see if its just the outlets in my house which is why I'm sticking to the 5 star review. I still highly recommend the unit. It's a great option for people who love to mix up their fragrance or for people like me who dislike the chore of changing air fresheners.
Date published: 2019-02-28
Rated

5

out of

5
by
emariemc
from
No problems here!
I've had this plug for a little over 9 months and it still works perfectly. I got it for free for ordering online (some kind of promo at the time). I've been using wallflower plugs for over 15 years so this dual bulb plug was long overdue! I love my wallflowers more than any other brand, but after some time it seems like the scent would go away. I wasn't sure if it was me or the wallflowers but since using this duo plug, I can smell literally every wallflower I've used for the whole duration of wallflower bulb life. If I could afford to replace all of these in my house, I would. As far as the nightlight, I don't have it anywhere that it would bother me at night so I can't really speak on that. The one thing I will say is that it doesn't seem to burn my wallflowers very evenly but I'm ok with that.
Date published: 2019-02-23
Rated

1

out of

5
by
Simishine
from
Weak, failed within a month
I noticed immediately that this did not burn as warm as the singles. After a couple weeks it didn't produce any smell on either side. Returned to store
Date published: 2018-12-27
Rated

4

out of

5
by
CDimas
from
Perfect for large rooms
This was perfect our our open concept living/kitchen area. The soft light illuminates just enough for our 5 year old son's late night trips across the house and it fills the rooms with the perfect amount of aroma. Living room is 19x22 with adjoining kitchen 15x17.
Date published: 2018-11-21
Rated

5

out of

5
by
Melanie G
from
Perfect and simple home accessory!
I love the Bath and Body Works wallflowers, but I just found out that this switching duo plug exists and it changed the game! I tend to get tired of one scent after a while and this is perfect to keep things fresh and exciting and keep us from getting overwhelmed with one smell. I will definitely be buying more for different places in my house!
Date published: 2018-11-17
Rated

5

out of

5
by
pg18
from
No more scent fatigue!
I primarily buy home fragrance from bath and body and when this came out, it really caught my eye but I was hesitant on the price. Honestly, it's worth every penny because I can always smell my wallflowers in the room I use it in! I haven't had any issues with it's performance and I love it!
Date published: 2018-11-15
Rated

4

out of

5
by
Hvk77
from
Love it
Keeps your fragrance fresh and new where sometimes the single fragrance seems to fade. I'll be purchasing a few more!!
Date published: 2018-11-15
Rated

4

out of

5
by
Bhart06
from
Love this
The scent switching Wallflower is great. I like that we get a new scent every couple of days so you don't get bored or burnt out on the current scent. It did look like it had some melting on the outside of it but when I took it back to the store they replaced it for free without any issues and were very nice about it. It could have just been a defective one. Other than that I am very happy with it.
Date published: 2018-11-05
Rated

5

out of

5
by
Squeakers
from
Absolutely love this wallflower!
My son picked one scent and I picked the other. We have been thoroughly enjoying the switch in scent. The nightlight feature has been helpful when he gets up at night!
Date published: 2018-11-01
Rated

1

out of

5
by
TWHCowgirl
from
Doesn't work as stated
Was happy to get this but ended up dissappointed. First time plugging it in it worked ok and I could smell it. After about 48 hrs or so it switched to the other side and I could not smell my fav wallflower as I do in other wallflower plug ins I have. And now lets fast forward several weeks to today and I cannot smell it, one side has a bulb half used and other side is still almost full. They should both be empty. This goes to show these do not heat up and put out the scent as they should. I will stick with the night light single bulb plug ins. They always work for me and I have dozens of them. This was a fantastic idea but they need to go back to the drawing board with these and make em work better. Maybe next year these will be worth buying. I sure hope. Absolutely love the idea.
Date published: 2018-10-04
Rated

5

out of

5
by
kab18
from
Long Lasting!
I bought the duo wallflower because I wanted the scents to last longer for my living room. It's been a little over a month and it still smells just as amazing! It's a nice clean look, 100% recommend
Date published: 2018-08-20
Rated

4

out of

5
by
sparky4401
from
Love the fragrant changes!
I had quit using wallflowers because after a short time I couldn't smell them. We redid our bedroom and I decided to give them a chance again, with the Duo Plug. I love it. I can smell the fragrance when I walk in the room and definitely notice when it switches to the second fragrance. I do wish the light wasn't so bright though, for that I'm giving it 4 stars.
Date published: 2018-08-20
Rated

5

out of

5
by
Janene
from
Finally two scents in one!
I absolutely love this. It really is pefect and does prevent fragrance fatigue. I can now smell it all the time because I do not get used to one scent constantly.
Date published: 2018-08-17
Rated

5

out of

5
by
palmtree50
from
love it!
the scent chaning plug really makes me notice the different scents. great product!
Date published: 2018-08-10
Rated

5

out of

5
by
seomke
from
Yes!
I really like this product! It's summer so my nose is always stuffed, and lately felt like my wallflowers weren't really working- i couldn't smell them too much. I was told it was most likely going nose blind in my own house; I spend all of my time there, my nose gets used to the scent at hand. So I had a coupon and tried this, and i love it! It switches every 48hrs (2 days) and gives me a chance to try two frangrances at once. Honestly i got this one because it was the cheapest of all the ones offered, but maybe next time i'll upgrade! I love it!
Date published: 2018-07-24
Rated

4

out of

5
by
emilewis
from
Good - but switch to lower the scent is confusing
I have a small apartment so the first smell I put in was overpowering. When I went back to the store I told the clerk and she showed me how to move the switch on the back to decrease the smell. However when I got home, it was confusing since the arrows point both ways for maximum. I'm still confused.
Date published: 2018-07-10
bvseo_sdk, dw_cartridge, 17.1.0, p_sdk_3.2.0
CLOUD, getReviews, 9ms
reviews, product