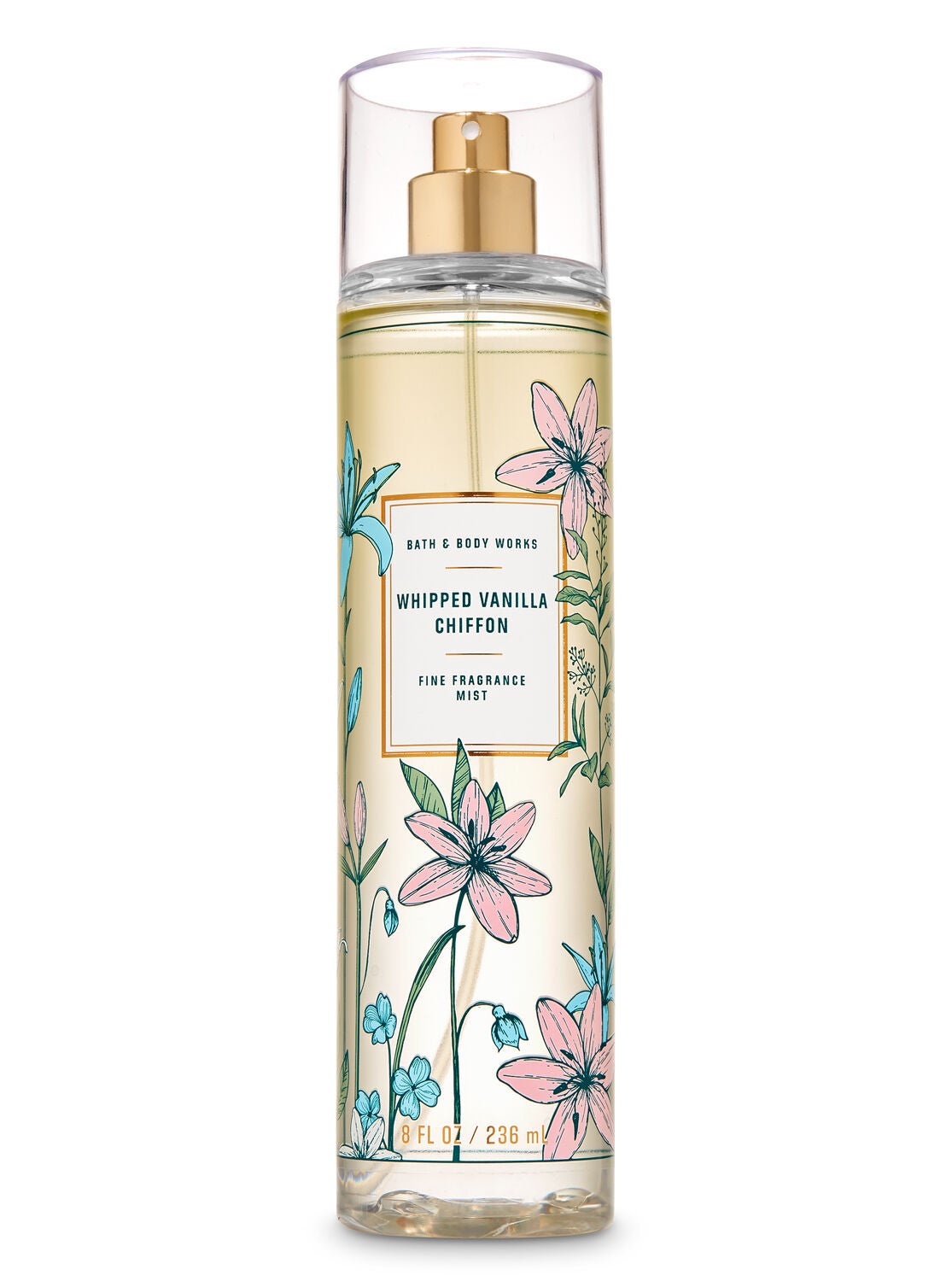 Whipped Vanilla Chiffon
Fine Fragrance Mist
https://www.bathandbodyworks.com/p/whipped-vanilla-chiffon-fine-fragrance-mist-026037644.html
8 fl oz / 236 mL
Fragrance
A sweet & springy blend of wild vanilla bean, spun sugar & white peach blossom
Overview
Enjoy a warm spring day and float away in a whipped vanilla breeze. Whether you lavishly splash or lightly spritz, you'll fall in love at first mist. Our carefully crafted bottle & sophisticated pump delivers great coverage while conditioning aloe mist nourishes skin for the lightest, most refreshing way to fragrance!
Rated

4

out of

5
by
Lona
from
Coconut lime and Vanilla Cherimoya
I get vanilla, some sort of coconut lime/lemon scent. Also there is something similar to last years vanilla cherimoya scent. No peach. I still like it though and will keep the travel size.
Date published: 2020-06-17
Rated

3

out of

5
by
Rquarius
from
It Gets Spicy!
I get spring vibes from the pretty packaging, yet it smells like fall fragrance to me. Upon applying, I get the vanilla and light peach notes then it gets less peachy but leaves a bit of spiciness. Also, the dry down smells vanilla with an undertone of honey-ish scent and maybe it's coming from the spun sugar. It's not very similar but it instantly reminded me Snow Flakes& Cashmere because of the spicy smell. SF&C is creamy caramel-y vanilla with much more spicy notes but If you like SF&C, you might enjoy this one. I'm glad that it's available in minis and love the beautiful packaging. I don't appreciate the price increase but I wish travel size is available for all of new fragrances!
Date published: 2020-06-17
Rated

2

out of

5
by
fleur
from
Not What I Expected
For a product that boasts a peachy note, I find none of that. Luckily I'm not much into peach anyways, but for someone who was really hoping for a vanilla + peach combo, this would be a major let down. Others have commented that there is lemon in here and I would agree there is a hint. The actual vanilla of it smells a bit... artificial? Plastic-y? But, it goes away mostly after awhile, and the creamier vanilla stays, lasting longer than a few of my other scents from B&BW. Still certainly not my favorite, nor my recommendation.
Date published: 2020-06-16
Rated

5

out of

5
by
Arsynuwa7
from
I Love It!!!
I really love how this scent smells. On me it smells like a creamy, sweet vanilla. It's very good. I'm definitely getting back ups. It also lasts a long time on me. After I first sprayed it, I went on to do errands. Throughout the day I would get whiffs of that wonderfully sweet and creamy vanilla. I'm so glad that this scent pairs well with my body chemistry.
Date published: 2020-06-02
Rated

5

out of

5
by
ScentsationalC
from
I adore this scent!
This scent very much reminds me of the lemon scent that was issued at Christmas. I forever love the soft smell of lemon and vanilla. This one is a must have if you love the smell of lemon!
Date published: 2020-05-28
Rated

5

out of

5
by
Moemoe92
from
I looovee itt!!
It's honestly such a good vanilla scent I don't know what these others are smelling but they give people like me mixed reviews because this candle smells nothing like chemicals or whatever and other reviews I read on the body wash and lotion of this scent. I could see the lemon vs peaches but it still smells so good!!
Date published: 2020-05-23
Rated

1

out of

5
by
shoppingqueen215
from
Epic fail!
I would probably need to spray half of the bottle just to be able to smell the fragrance. Weak is an understatement! I am not a person that likes everyone to smell me before I walk into a room, but I do like to be able to smell my own fragrance. Also, not impressed with the scent profile at all. I like vanilla fragrances (have been using Wild Madagascar Vanilla for years), but something is very off about this scent. Gave it to my tween since I don't feel like mailing it back.
Date published: 2020-05-20
Rated

2

out of

5
by
ZoeysMom
from
Did I get a funky one?
Based on the reviews I was excited to try this. Oddly, other than vanilla upon spraying, it dries down to a warm kind of spicy scent that smells alot like the Fall line. I Maybe I got a bad bottle.... I don't see anyone else mention this. Not at all what I was hoping for.
Date published: 2020-05-19
Rated

3

out of

5
by
AdrianLeah
from
Some of these reviewers have it all wrong
I've read the reviews and some of these people are nose blind. This smells like vanilla and lemon when you first sniff it. The body wash and body cream smell the same...BUT...at least when you warm them up by placing on the sponge or rubbing into the skin...they become this vanilla fruity pebbles type smell. You wont get that from the body spray. I cant hardly stand bath and body works body sprays anymore . They have really let their quality go in alot of their products but the prices and shipping wait went up. This is like the coconut snowball and vanilla bean body sprays I bought at xmas. I wanted to carry my fav smells everywhere with me to freshen up but when applied ...its nothing more than vaguely scented water you're applying. I remember back in 2010-2014 I wore these body sprays as my perfume because they were so unique and potent. Bath and body works: I've been saying this for over a year....you need to get it together. People won't waste their money forever. We will find alternatives. Bottom line
Date published: 2020-05-11
Rated

3

out of

5
by
pixietrixie
from
Smells like Havana Tropical Vanilla & Cherimoya
This is mediocre snd doesn't last long. When first sprayed, it smells like the discontinued and oh-so-lovely Havana Tropical Vanilla & Cherimoya, but then the dry down comes and ir's rather bland and nondescript. If you're looking for a vanilla peach, perhaps take a vanilla (like Vanilla Bean or whatever you have) and use it along with Pretty as a Peach.
Date published: 2020-04-30
Rated

3

out of

5
by
Bathandbodyworksaddict
from
it's just ok
I don't understand how you're going to increase the prices of a mist when it doesn't last more than half an hour. This spray is ok, it doesn't last long and it's a light scent. I supposed a good vanilla for warmer weather. I was disappointed that I got no peach in this. When it dries down it also has a coconut hint to it on my skin. It reminds me of the whipped vanilla spice they released the fall of 2018. It's sweet super light vanilla with a hint of a fruit but it's not peach it almost smells slightly citrus at first but at least with my chemistry dries to an almost beachy type vibe. I expected something much more.gourmand. I would like to know if the exchange policy will still be the same once stores open, because there's a 95% chance this one is going back.
Date published: 2020-04-29
Rated

5

out of

5
by
ElaineC
from
Light and tarty vanilla
It is very light, but I like it a lot! It smells like a vanilla tart with a touch of lemon meringue. It's not a floral scent and it's not a rich, warm vanilla scent either. It's very airy, sweet, slightly tarty, and definitely smells like a dessert.
Date published: 2020-04-25
Rated

5

out of

5
by
deefaunt
from
Great!!
smells great!! vanilla and lemon
Date published: 2020-04-22
Rated

2

out of

5
by
Cheri8158
from
No peach
Disappointed in this scent, it lists peach as a scent and I couldn't detect it, just a weird vanilla scent. Also has almost no staying power. I couldn't smell anything after a few minutes.
Date published: 2020-04-22
Rated

1

out of

5
by
SiaLove
from
Weird smell after it dries
I wanted to love this, as I usually like vanilla scents. The fragrance notes sounded nice. When I initially smelled the spray nozzle it smelled really nice! But once I sprayed it on and it dried.... yuck! It didnt really smell like vanilla at all. It smelled like play doh...or bread dough... Just a weird smell. Thankfully it wore off quickly. But i was disappointed with this one.
Date published: 2020-04-22
Rated

1

out of

5
by
dnjsmom
from
WOW!
Dang I knew the candles went down hill but this Mist smells like a chemical plastic not sure what that smell is not peach for sure if thats vanilla its play dough cause it stinks deff not my favorite at all this will have to go back for sure
Date published: 2020-04-21
Rated

5

out of

5
by
LatashaT
from
A lighter version of snowy citrus swirl
If you like snowy citrus swirl you will like this. It smells like an orange creamsicle. It's more mellow than snowy citrus swirl. However I really like it!
Date published: 2020-04-20
Rated

5

out of

5
by
Jessicapanda
from
Beautiful spring fragrance!
When this settles on my skin the top not I smell is the spun sugar, this is a light sweet vanilla with a hint of peach/ or honey. This is a really lovely, light, sweet spring fragrance I am enjoying it.
Date published: 2020-04-19
Rated

3

out of

5
by
Fefe9914
from
Ok
I'm kinda disappointed with this scent. I love the vanilla scents but this one is very light. It's a pretty scent but I get more of a fruit smell and it doesn't last long at all.. maybe an hour
Date published: 2020-04-17
Rated

5

out of

5
by
AMSS
from
Peach vanilla cupcake!
I reviewed the body cream but not sure why they didnt post it. It smells like a peachy vanilla cupcake! Its warm, sweet and light. It smells a little different smelling it straight out of the bottle but when you put it on (especially the body cream) and it dries down you really can smell peach and like a vanilla cake! Love it!
Date published: 2020-04-16
Rated

3

out of

5
by
jenjen182
from
Not My Favorite Vanilla
I really enjoy vanilla scents and I wasn't horribly impressed with this one. It smells good, but there is a little too much peach in here for me to really get the vanilla. I prefer a more pure vanilla rather than something like this. It doesn't last very long either-- probably about an hour to 2 hours on me at max. I am giving it 3 stars because it is a good scent and many will probably like it, but it's a little too much peach for me personally and the staying power is pretty low.
Date published: 2020-04-13
Rated

2

out of

5
by
Elise22
from
Light
Thought I would love it - but I find it too light and it doesn't last long
Date published: 2020-04-13
Rated

5

out of

5
by
BBW longtime fan
from
Beautiful Sweet
I wear Vanilla Bean Noel year round. So wanted to try a new scent . Love this ! More spring summery vanilla light sugar & peach . Perfect New scent
Date published: 2020-04-12
Rated

4

out of

5
by
Murph
from
Smells familiar
I'm a fan of all things vanilla. So I couldn't wait until this got delivered to my door. This is definitely vanilla-y. And very sweet, which I'm guessing is the sugar. I didn't detect peach blossom, but I did detect other notes not stated. I almost want to say I got a bit of coconut initially. It almost reminds me "a bit" of last year's Havana. The staying power is decent; packaging is beautiful. I ordered multiple bottles, but I may only keep one and exchange the others. It seems as if it's too familiar to me to keep multiple bottles. It's good, but I think I prefer other scents currently out. (Like Fresh Cut Lilacs)
Date published: 2020-04-11
bvseo_sdk, dw_cartridge, 17.1.0, p_sdk_3.2.0
CLOUD, getReviews, 6ms
reviews, product