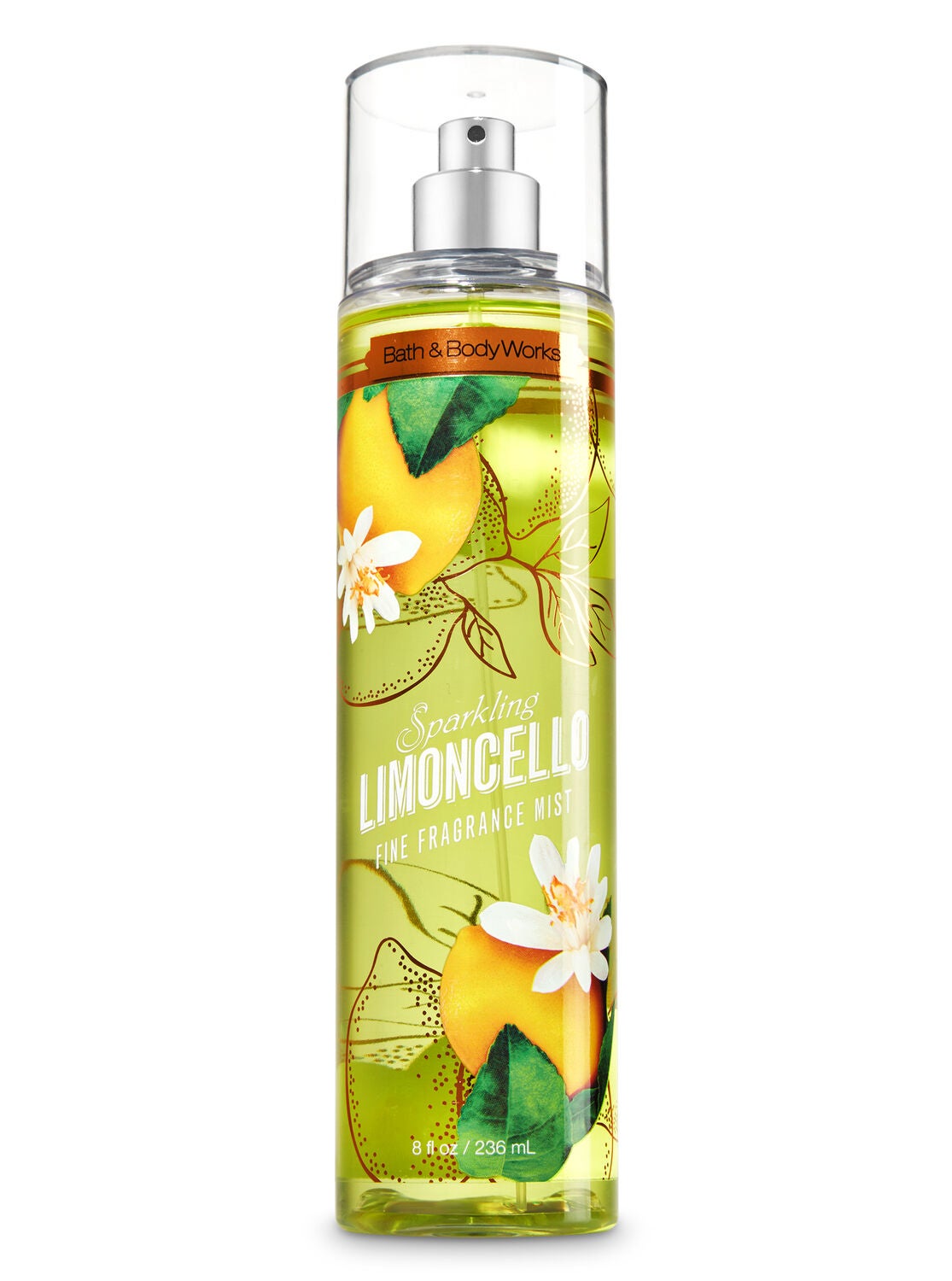 Signature Collection

Sparkling Limoncello

Fine Fragrance Mist

https://www.bathandbodyworks.com/p/sparkling-limoncello-fine-fragrance-mist-022994254.html

8 fl oz / 236 mL
Fragrance
A refreshing blend of sparkling lemon, sugared mint & fresh verbena

Key notes: Sparkling Lemon, Sugared Mint, Fresh Verbena, Orange Blossom, Italian Cedarwood
Overview
Lavishly splash or lightly spritz your favorite fragrance, either way you'll fall in love at first mist! Our carefully crafted bottle and sophisticated pump delivers great coverage while conditioning aloe mist nourishes skin for the lightest, most refreshing way to fragrance!
Rated

2

out of

5
by
Chey
from
Not for my body
I bought this based on recommendations from a seller. I didn't like it though, reminded me of Pine Sol. I just use it to scent a room but I never wear it on my skin.
Date published: 2017-12-26
Rated

5

out of

5
by
BrendaVV
from
Lasting Fresh Scent
I am not a fan of fruity scents and I have to try scents on as they tend to smell different on me, then they do from the bottle. This is one of my all time favorites. It is a fresh, light lemony scent without smelling like lemon cleaner. It lasts a long time on your skin. At the end of the day if I brush my hand over my skin, it refreshed the scent. If you have a difficult time finding fresh, light scents that last on your skin, try Sparkling Limoncello. I think you will love it, too.
Date published: 2017-12-26
Rated

4

out of

5
by
MzChristine
from
Fresh
This is a clean, fresh, refreshing fragrance! It's perfect fun any & every day!
Date published: 2017-10-31
Rated

5

out of

5
by
Stephy89
from
So good
I absolutely love this scent and I would definitely purchase it again. It smells like a lemon starburst but with a creaminess under tone very slight though at least in my skin it does. I love it!!
Date published: 2017-08-13
Rated

5

out of

5
by
Shehan
from
Wonderful Sent!
This is the perfect sent for any and all occasions! I highly recommend everyone to perches this fragrance. It's a must have!
Date published: 2017-08-02
Rated

5

out of

5
by
Mater
from
Sweet Limoncello
As a fan of the Bath & Body Works Limoncello candle, I just knew I'd love this body care line and I was right. While it smells very similar to the candle, to me, it isn't quite the same and comes across a bit more soft and sweet. I was actually happy about that, as I wasn't certain that I would enjoy the lovely but very tart candle fragrance as a body mist. As everyone knows by now, this one is being discontinued so I'll definitely be stocking up. Even if you aren't sure that you'd enjoy this as a fragrance to wear, if you like the Limoncello candle, this would make an excellent room/pillow spray. Can't lose. :)
Date published: 2017-06-04
Rated

4

out of

5
by
johanndf
from
Sweet and Tangy
This was a nice one. Feels like summer. I just dont know if it will be ok for acidity in the body. but I like it!
Date published: 2017-04-21
Rated

4

out of

5
by
ScentSprayingMama
from
Sophisticated and Floral
Yes this is very lemon and sugar on the initial blast but when it wears for awhile I get a lot of orange blossom- that makes this very grown up and sophisticated, and it smells quite expensive for something so budget friendly. This is one of those scents that I always get asked what I'm wearing and people always compliment it. If you use a light hand it could be worn to work and is unlikely to offend anybody who is in close proximity to you. Beautiful lemony floral with a hint of sugar.
Date published: 2017-03-20
Rated

5

out of

5
by
Astrogirl77
from
Perfect lemon scent
I really love citrus scents, especially for the summer...but lemon in particular is a hard one because it often ends smelling too much as a detergent or dish soap.Well, Sparkling Limoncello doesn't fall into that category: thanks to the vanilla base, Limoncello manages to smell citrusy fresh and sweet at the same time. It is beautiful, Great job BBW!
Date published: 2017-02-08
Rated

5

out of

5
by
tmann09
from
Fresh squeezed!
So fresh and so clean. Like fresh lemonade. Also has a creamy vanilla and wood undertone. Love it!
Date published: 2016-09-22
Rated

4

out of

5
by
Kitty cat lover8
from
So Good!
I LOVE this mist! I didn't think I'd really like this scent, and the lemon would smell like a cleaning lemon scent, but it's like a sugary lemon instead and I love it! I'm looking forward to getting this in other products! This scent is probably best for summer. My only problem with this is I would like the scent to be stronger.
Date published: 2016-08-28
Rated

3

out of

5
by
LauraF
from
They captured the scent of limoncello perfectly
This is a fun summery fresh lemon zesty fragrance. When I first tried it in the store I snatched up lotion, fragrance mist and body wash. Whenever I wear it, I always get compliments for its lucious delicious fragrance. My only complaint is that the scent does not last long. When first applied, its an exuberant fresh smell but it fades quickly. I keep a bottle at work and reapply on my breaks during my shift, to keep it fresh. But that said, doesn't make for a valuable purchase because I have to refresh my application, so I go through the fragrance mist quickly.I will buy it again, but will search for a summer scent that holds up longer.
Date published: 2016-08-26
Rated

5

out of

5
by
MarDal
from
Incredible! Amazing! Please don't ever stop it!
This is an amazing and incredible citrusy scent! Please don't EVER stop offering it for sale. It smells like freshly grated lemon zest. It smells fizzy, if that is possible. The verbena and lime are wonderful. Fresh, light and addictive! This is one of my new favorites.
Date published: 2016-06-27
Rated

5

out of

5
by
hockeygirl 13
from
Lemony goodness
I love this scent so much i hope it never gets discontinued. It smells just like lemonade and i don't know if it's just me but it smells fizzy like soda. If you like really sweet citrusy scents then i definitely recommend this scent.
Date published: 2016-06-04
Rated

5

out of

5
by
Carls888
from
Fresh and Clean
Love spraying this right after a shower. Always makes me feel fresh and clean. One of my new favorites! Will be going back to the store for a couple more.
Date published: 2016-04-30
Rated

4

out of

5
by
Miatta
from
Good
Kinda smells like Mr. Clean at first. Def refreshing. When it dries down it smells very warm and sweet. I like it.
Date published: 2016-04-21
Rated

5

out of

5
by
PugGirlCa
from
Beautiful citrus!!!
OK, I was really skeptical when this fragrance came out, I was honestly thinking Lemon Pledge... wow, was I surprised! This definitely has a dominate lemon note, however it isn't over the top. It is fresh and clean, and smells amazing! Absolutely my favorite in this line. The lemon and other notes blend beautifully together, resulting in an amazing fragrance. This scent is light and bright for Spring & Summer.Absolutely 5 stars!
Date published: 2016-04-17
Rated

5

out of

5
by
ChoiceNotes
from
Clean Vibes Scentshifter
I agree with others, I love how on the first spritz, it is lemony zest clean, and then the dry down smells a sculch sweet. Then later it becomes a totally unique fragrance. Definitely is in the family of the Lemon pomegranate and Cream. This one last's longer I notice then that fragrance. This fragrance also doesn't evoke Raspberry Lemonade or Lemonade like the past lemon fragrances that were available. So if that is what you're looking for, you wont find it in this. I can definitely smell that verbena in there. It's hidden but when you get the whiff of it, it is so nice! Perfect after a workout or on a warm day. Evokes citrus clean vibes
Date published: 2016-04-06
Rated

5

out of

5
by
Amber Nicole
from
a very fresh, clean unique scent
I have always wondered if bbw was ever going to come out with a citrus lemon scent, and they finally did! This fragrance mist is perfect to spray on after you take a shower! It makes you feel so clean!
Date published: 2016-03-31
Rated

4

out of

5
by
AutumnB
from
Worthy! burst of citrus!
As soon as you spray this on, you know it's good! There's a bold, burst of citrus. I can smell all the citrus at first - the lemon, the lime, and the grapefruit. Sometimes, I can pick up a touch of mint and the lemongrass. As this dries down, it becomes a soft lemon, with just a little sweet praline. I do not find it to be candy or dessert-like. It's just not that sweet. It's more like fresh-squeezed lemonade, with a little sugar added, so it's not too tart! This fragrance does fade after about two hours. It's still purchase worthy, because the scent is terrific, and provides an immediate, little pick-me-up! We need a travel size, please!
Date published: 2016-03-29
Rated

5

out of

5
by
Jennifer8x8x
from
I love how it changes scent over time!
This one is great if you love citrus! I love how it changes from strong lemony to warm cirtus over time. You will love it, plus the bottle is sooooooo cute!
Date published: 2016-03-29
Rated

5

out of

5
by
nebraskagal
from
So delightful!
If you're a fan of fresh, citrus scents, give this a try! I love how a quick spritz leaves me fresh and energized. The scent is sweet but not overly so. So happy to find a lemon scent I like, as most have been too sugary sweet or smell like furniture polish. Please keep this around forever, Bath and Body Works!!!!
Date published: 2016-03-08
Rated

5

out of

5
by
luxuriouslife
from
Try Limoncello Refrigerated!!!
This FFM smells like fresh squeezed lemons! The scent is refreshing and uplifting. This scent works great for after gym work outs, especially if you refrigerate it first. Then you can have a nice cool mist after a work out or a hot day. So far I've been using it to layer with other citrus and tropical scents. It is the perfect mid-day pick me up scent. This is one of the most versatile FFM scents as it can be used in so many ways. I sometimes spray my pillow with it, but my favorite way to use this is refrigerated. It's just so FRESH!!!
Date published: 2016-03-05
Rated

5

out of

5
by
anneliese s
from
Not your typical wood-cleaner lemon!
I love lemon-y, citrus-y scents, but often I find that they turn to a sharp wood-cleaner scent once they hit my skin. Not Limoncello! This scent is citrus without the harsh twang. Sweet lemon and orange with delicious, non-medicinal mint in the background. This will be perfect for summer!
Date published: 2016-03-04
Rated

5

out of

5
by
perfectionist
from
Vibrant, Clean, Lemon Goodness Scent
Lemon products seem to be difficult to nail a true scent in the product. This one surprised me, for I assumed it would be similar to the candle, not as true a lemon scent as hoped for. However, this one is to me.The citrus lemon is tempered with the coolness of the mint and verbena to really give this a punch. Only drawback is the scent does not linger on me in any form; mist, lotion, shower gel, or body cream. May just be my body chemistry. But the scent is wonderful. The mist emits a great aura after applying, but I cannot smell it after a couple minutes. May just be me.I would consider this to be an good scent to give as a gift, for the scent is not an "odd" scent, but a true lemon. Reminds me of scents years ago when I was in school that were lemon sprays.Will buy again when on sale. I recommend this thoroughly if you love fresh lemons.
Date published: 2016-02-24
Rated

5

out of

5
by
Flobaby
from
The Scent I've Been Waiting For!
I have always pleaded BBW to make a body care line out of "Limoncello" and my wish has been granted! This scent is a little similar to the Signature "Lemon Vanilla" from a couple of years ago except that it goes on like fresh lemons and then sweetens afterwards. This scent is simultaneously refreshing and delicious, and completely hoard-worthy. I hope that they will keep this one around! 5 stars PLUS++++
Date published: 2016-02-08
Rated

3

out of

5
by
msmithh3
from
Lemon at first....
I like the initial scent of strong lemon you first get with this one. After it dries really good it becomes a sweet warm vanilla scent which is very misleading IMO. I think the vanilla lovers will really enjoy this one because that is what you get in the end, not lemon :(
Date published: 2016-02-02
Rated

5

out of

5
by
LotionLuvr
from
Limoncello!
I am so glad this is a mist, a lotion, a shower gel... i LOVE this candle so much, as well as the luxury lotion! this smells just like the lotion and the the candles! i love it so much! i hope it here to stay!the packaging is GORGEOUS too.
Date published: 2016-01-31
Rated

4

out of

5
by
GeminiSkye
from
Lemon meringue vibe
This reminds me of quite a few things. Lemon heads (or whatever those sour lemon candies are called), lemon wipes or cleaner, and lemon bars or lemon meringue pie. As it fades it definitely gets more of a sugary edge. To be honest, I don't know how I feel about this scent. I go from liking it to thinking it's a bit much back to liking it again. It is definitely a fresh, clean scent for sure. I am not particularly a lemon scent fan although I do love lemonade. I think I'll round this up to four for now, if only for its unique qualities. Good for those days you just want to smell simple and clean. :)
Date published: 2016-01-28
Rated

5

out of

5
by
blue diamond
from
OMG !!!!!
I love this sooooo much I love lemony stuff anyway but I had to try this had the pump lotion for summers ago and have about half bottle left and now they come out with the whole line yes it is a winner the mist and don't let me get started on the body wash smells like summer in a bottlethe whole bathroom smells like lemon meringue pie or some kind of lemon tart treat. This will be my signature summer fragrance for sure. If you love lemons then this is for you.
Date published: 2016-01-26
bvseo_sdk, dw_cartridge, 17.1.0, p_sdk_3.2.0
CLOUD, getReviews, 42ms
reviews, product