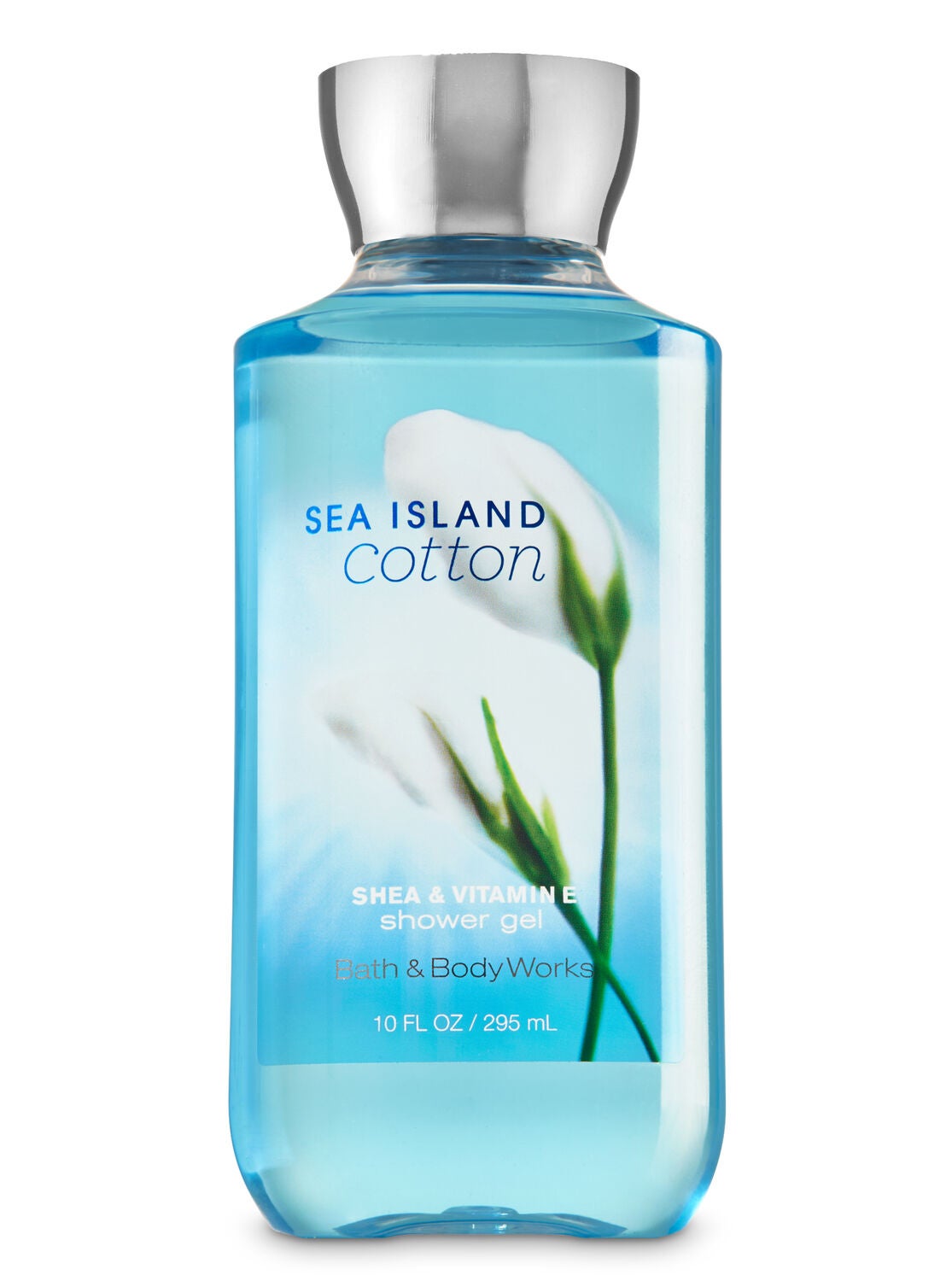 Signature Collection

Sea Island Cotton

Shower Gel

https://www.bathandbodyworks.com/p/sea-island-cotton-shower-gel-021980590.html

10 fl oz / 295 mL
Fragrance
A crisp, clean scent inspired by pure white cotton flowing in fresh ocean air
Overview
Wash your way to softer, cleaner skin with a rich, bubbly lather bursting with fragrance. Moisturizing Aloe Vera and Vitamin E combine with skin-loving Shea Butter in our most irresistible, beautifully fragranced formula!
Rated

5

out of

5
by
RainyDay
from
Compliments other fragrances
This scent compliments any other fragrance you may want to use or layer with it. It has a fresh clean smell and won't overpower your favorite perfume.
Date published: 2018-11-15
Rated

5

out of

5
by
MsPlatinumC
from
Immaculate!
I have the body wash, lotion and fragrance perfume and man I love it. I was extremely hesitant because of how hard it is to get the fresh laundry smell down and packed but Bath and Body Works did not come short.
Date published: 2018-11-13
Rated

5

out of

5
by
SHANEOMAC
from
Smells Amazing
This is an amazing scent that's good for men and women, my girlfriend loves when I use it
Date published: 2018-11-07
Rated

5

out of

5
by
Maiya
from
My favorite sent!
This is my favorite! I constantly use this and put my spray on top! I wear sea island cotton every single day and i have no idea what i'd do if this scent was ever discontinued! i will ALWAYS use this body wash because it makes my skin feel wonderful and smell good all day. i always get so sad when im close to running out.
Date published: 2018-11-06
Rated

1

out of

5
by
Countrylife18
from
No hand soap
I am not reviewing this particular version of Sea Island Cotton. I love the scent and would like to have it but this, like three other scents I love in the foaming hand soaps are no longer available. So now I have had to take a chance on other fragrances. I would much prefer the ability to purchase the ones I know that I like.
Date published: 2018-11-01
Rated

5

out of

5
by
momofone
from
Great Fresh Scent
I recently bought this scent. I did not know what to expect, but it is a great fresh scent. It is not too overpowering but it is not too subtle either. It feels luxurious when it lathers up and I feel clean and refreshed after using it.
Date published: 2018-11-01
Rated

5

out of

5
by
AutumnB
from
Fresh, strong and unisex
This is one of my favorite fragrances, and also one of the strongest shower gel scents. It actually leaves a soft scent on my skin. This smells mainly of cotton, with a little sea breeze vibe and just a touch of sweet vanilla. I agree that this is a unisex fragrance. The bottle is so pretty, with the soft cotton and the gorgeous blue color of the gel!
Date published: 2018-09-14
Rated

4

out of

5
by
Crazycatmommy
from
Glad they brought it back!!!!
I used to wear this sent in high school. It's such a clean fresh sent. I loved it. Then they got rid of it and I had to find a new sent. I'm so glad they brought it back. I like the wash because it actually washes without leaving your skin dry as well as having that great sent that you expect from B&BW.
Date published: 2018-08-18
Rated

5

out of

5
by
Moshi
from
In Love
One of my favorite fragrances!
Date published: 2018-08-16
Rated

5

out of

5
by
Nessaua
from
Great pick-me-up scent!
I use this shower gel as a pick-me-up when i don't want to wake up and function. It's so fresh and soothing without extra sweetness for such moods!
Date published: 2018-08-15
Rated

5

out of

5
by
Hailey123
from
Smells nice!
I received this as a Christmas gift and very much enjoyed it!
Date published: 2018-07-26
Rated

5

out of

5
by
Terese86
from
My go to scent
This is my favorite scent from the bath and body works. It has a refreshing but mild smell. Every time I take a shower with this I just feel so relaxed and so refreshed because of this scent.
Date published: 2018-06-23
Rated

5

out of

5
by
Cheryl Johnson
from
Fresh clean scent
This product has a unisex scent and great for the entire family. The clean scent and gental formalation leave the skin soft and refreshed. I love it!
Date published: 2018-05-19
Rated

5

out of

5
by
BBWLover2057
from
Amazing, This is my go to Gel
I love this product. Here's the best way to see it's awesomeness in action. Image you just came home from a long day at work, and your so stree because your boss is riding you about a project that is due that week. All you want to do is go to bed, so you hope on the shower and grab this product and shower. The smell of it brushes through your nose like a cool summer evening. The smell and the feel of the gel on your skin takes away all the stress that you had before, and you go to bed calm and ready to take on the next day!
Date published: 2018-05-17
Rated

5

out of

5
by
Rosalyn
from
Favorite Scent
It's a light scent and last all day.
Date published: 2018-05-17
Rated

5

out of

5
by
Suds 48
from
Amazing product: True to the product name!!
I have to say, I never write reviews but this stuff is amazing. I was changing soaps and I forgot to put my soap in the shower so I used my girlfriends soap Sea Island Cotton its amazing. I ordered myself one as well and also bought the Sea Island Cotton hand soap. PS, exactly what the bottle says crisp clean refreshing 5 stars.!!!!!
Date published: 2018-05-17
Rated

5

out of

5
by
Nicole15
from
Absolutely LOVE THIS!!!!
This product is perfect for ANYONE! The touch of a refreshing scent makes my daily showers much more interesting! I love the moisture and light fragrance it gives my skin. This product is AMAZING and so helpful! I strongly encourage ANYONE to buy this! Thank you!
Date published: 2018-04-24
Rated

5

out of

5
by
MrsColeman715
from
AWESOME PRODUCT
I have been a fan of your products for over 20 years but ISLAND SEA COTTON is my FAVORITE... it makes you feel and smell so fresh and just soothes your senses no matter what mood you're in... if you can't get to an actual island this body wash gets you pretty darn close
Date published: 2018-04-18
Rated

4

out of

5
by
Lady Soul
from
So Super Fresh and Clean
This shower gel is fresh too kill lighting. Then spray mist to go with yes you smell like fresher than laundry clothes.
Date published: 2018-04-16
Rated

1

out of

5
by
Miss Charlotte
from
Should be called "Dead Fish at the Laundromat"
I made the mistake of buying five bottles of the highly-rated Sea Cotton in the three-plus-two deal because last time I bought at the semi-annual sale I picked a slew of different scents of shower gel that I hadn't smelled in person first and I disliked all of them except for one that had the word cotton in its name. So I should've been safe with Sea Cotton, right? Wrong again, Einstein. The smell is absolutely revolting. I forced myself to use it twice but never again. Now I'm stuck with five bottles of shower gel that should've lasted me till the 2019 semi-annual sale. I gave away the scents I didn't like last time so I guess I'll give away the Sea Cotton as well. I've finally learned my lesson about buying without smelling first.
Date published: 2018-01-11
Rated

4

out of

5
by
Ilovewax710
from
MY FAVORITE OF ALL...and I'm a guy.
I LOVE THIS SCENT. I prefer the Moisturizing Body Wash better but this one will have to work since they don't make it anymore. I buy the Body Cream, lotion and hand soaps as well.
Date published: 2018-01-02
Rated

5

out of

5
by
MarigoldBasil
from
I'm obsessed with this scent
I thought this would smell like laundry detergent, which was okay with me, but it smells better. It is a crisp clean smell but the cotton gives it a slightly soft floral note with it. It smells so good. Definitely one of my top 5 scents from BBW.
Date published: 2017-12-31
Rated

4

out of

5
by
Natasha7
from
Clean smelling
Love this scent for a shower gel. So fresh and clean. Even my hubby loves it!
Date published: 2017-09-09
Rated

5

out of

5
by
Shelala82
from
Fresh and clean
I do really like the scent but in my opinion,I would prefer my clothes and house to smell like this other than my body.This would be perfect for people who love light,clean and fresh like laundry detergent scents.
Date published: 2017-08-13
Rated

5

out of

5
by
Hatts
from
Great feature
I love this fragrance please don't take this off your sale list.
Date published: 2017-07-26
Rated

3

out of

5
by
Fragrance Enthusiast
from
Laundry
Lather is averageSmell linger on skin averageIntensity of scent on skin strongScent in bathroom averageColor is okFeeling clean and fresh excellentStrong unisex gel that brings laundry to mind. I don't really like smelling like laundry, but it sure makes you feel clean and fresh.
Date published: 2016-11-06
Rated

5

out of

5
by
iBatheInBodyWorks
from
Best As A Shower Gel
In my opinion, this is a scent ideally suited for a shower gel, because it really makes you smell and feel clean. It's just a very crisp and cool scent, that reminds me of clean sheets. While I have many other shower gels, this one is my favorite because it's really satisfying to apply.
Date published: 2016-10-20
Rated

5

out of

5
by
Flobaby
from
I Feel Like Putting Myself Out to Dry!
Yes, there is a definite "laundry soap" smell with this one--but I love that type of smell, so for me its great. I get a similar feeling with this scent, "Juniper Breeze" and "Cotton Blossom." They are all fragrances that are clean, crisp and pretty strong. I never have to worry about this one wearing off in a couple of hours. I keep that fresh scrubbed feeling all day long. Just awesome! 5 stars PLUS+
Date published: 2016-06-22
Rated

4

out of

5
by
MyhotStylist2015
from
Fresh but too strong
Sea Island Cotton definitely has a "fresh" feeling to it. However its just a bit too bitter for me and comes off as stout and strong. It smells like dryer sheets and could easily pass as a unisex scent. Personally I prefer the freshness with a sweeter note added like the one in Sheer Cotton & Lemonade. Even though they are similar, Sea Island Cotton is just lacking in the sweetness and therefore comes off as more masculine and cloying. Id recommend sampling this set in store before purchase.
Date published: 2016-02-26
Rated

4

out of

5
by
vanillabeannoel
from
A nice, clean scent
This scent is amazing! I found the hand sanitizer version of this in my grandma's car, and I really liked it, so I went into the shop and found the scent, and I love it! It is a nice, fresh, clean scent, it almost smells kind of like a laundry detergent. It reminds me of the grass on a field, and the smell of the air. This scent is not my all time favorite scent, but I love it! It is particularly different then most of the Bath And Body Works scents.It's not like one of those "WOW I stand out in front of the whole crowd" scents, or "BAM, BOOM, in your face" scents. I think if you wore this, you wouldn't get complaints saying that you smell like you used ten thousand products, and you smell like a garden, and you wouldn't get complaints like you didn't take a shower in days, since this is a nice, free, clean scent. I would recommend this scent to anyone, especially if your new to scents or Bath And Body Works. It is a great start for beginners, and people who have been fans of Bath And Body Works for a long time always come back to this scent.
Date published: 2015-11-15
bvseo_sdk, dw_cartridge, 17.1.0, p_sdk_3.2.0
CLOUD, getReviews, 8ms
reviews, product