Images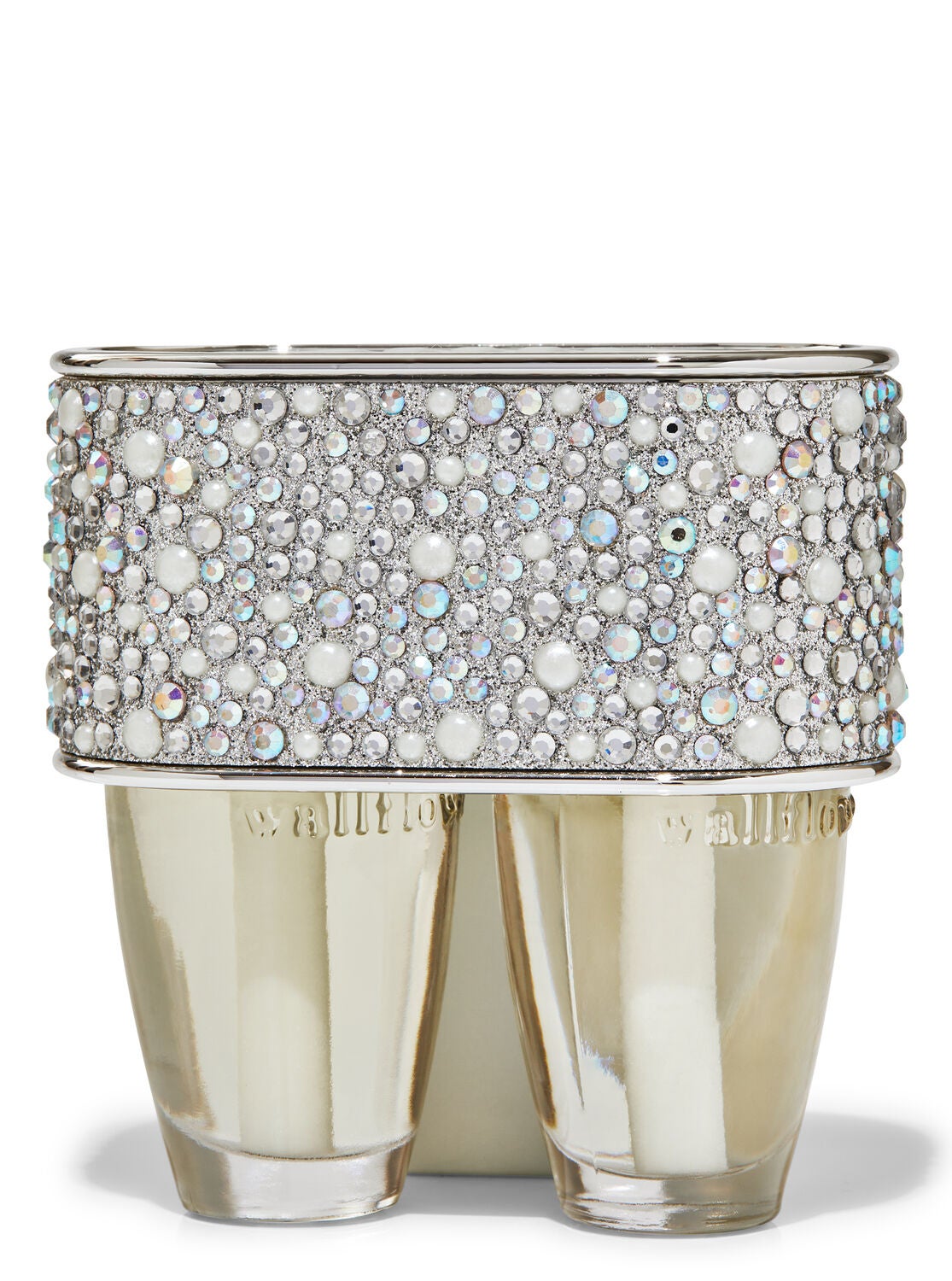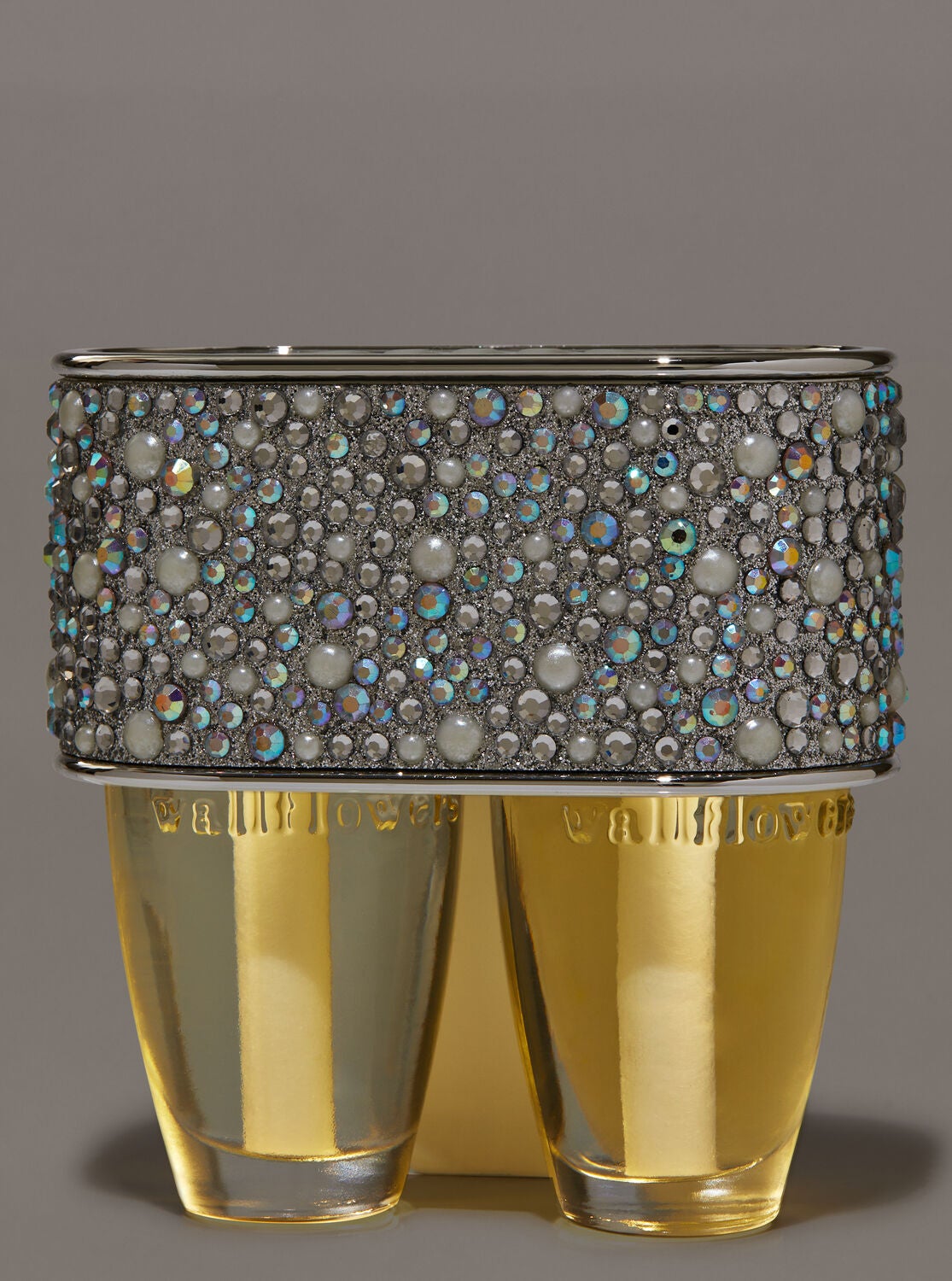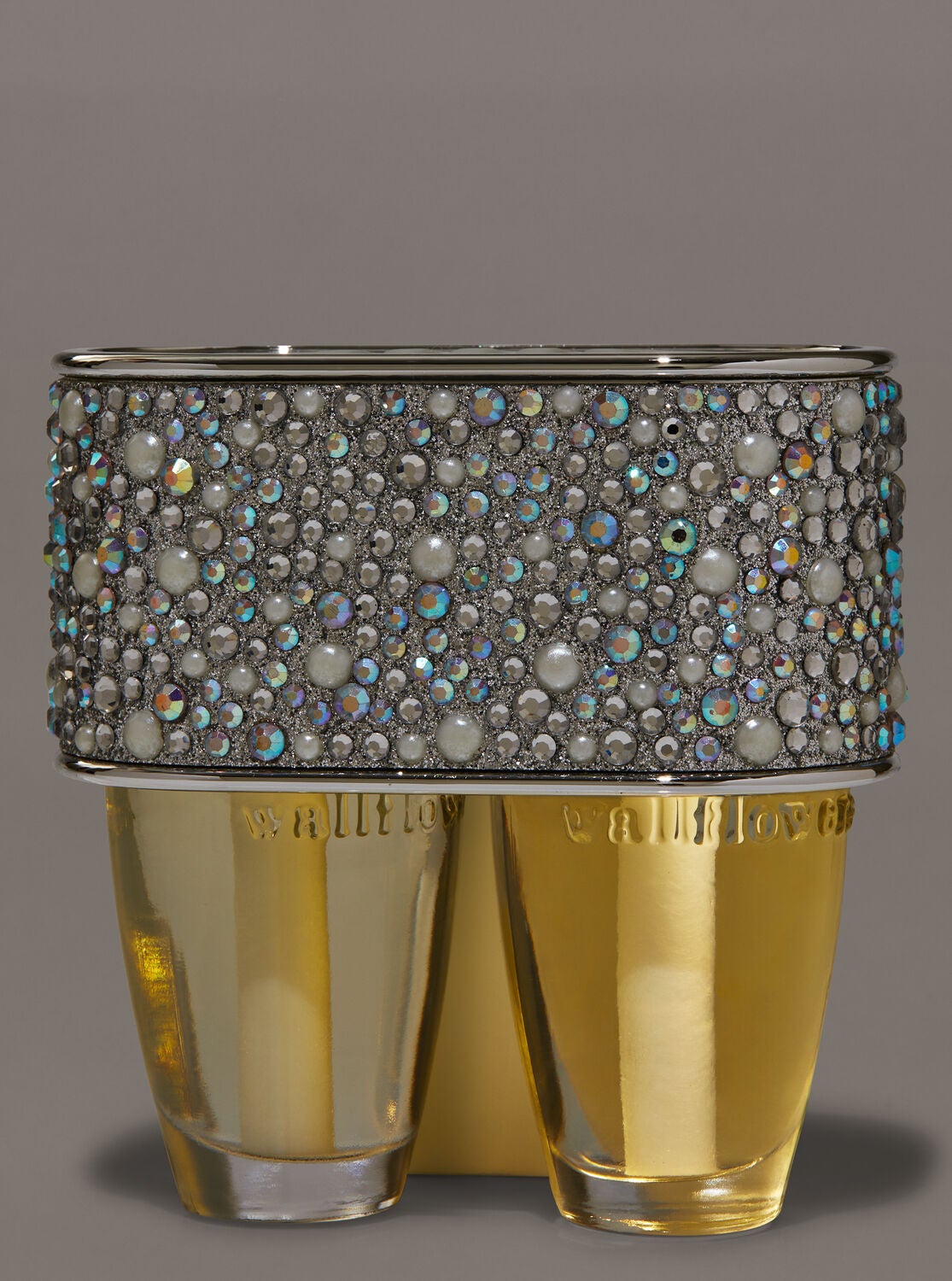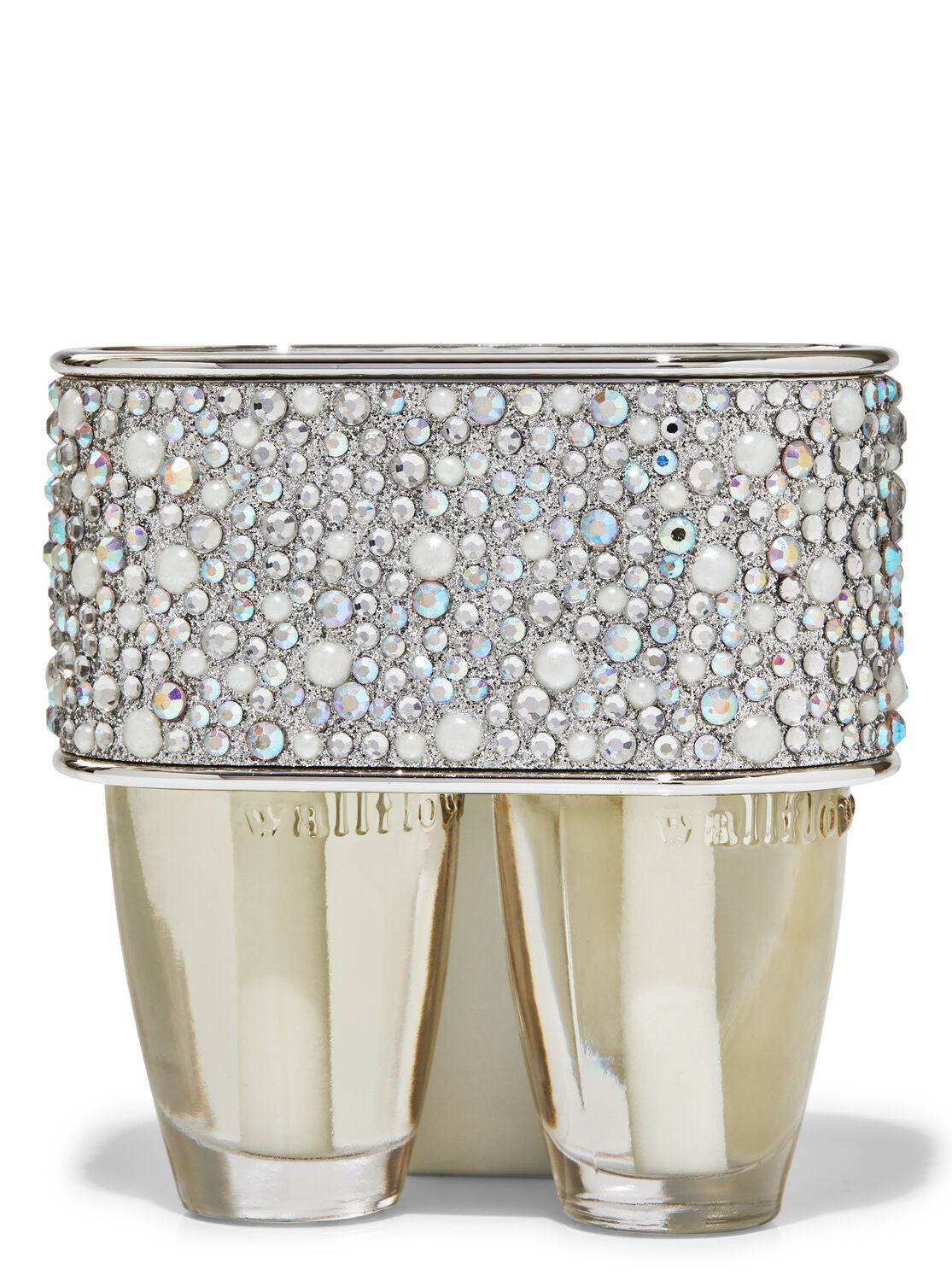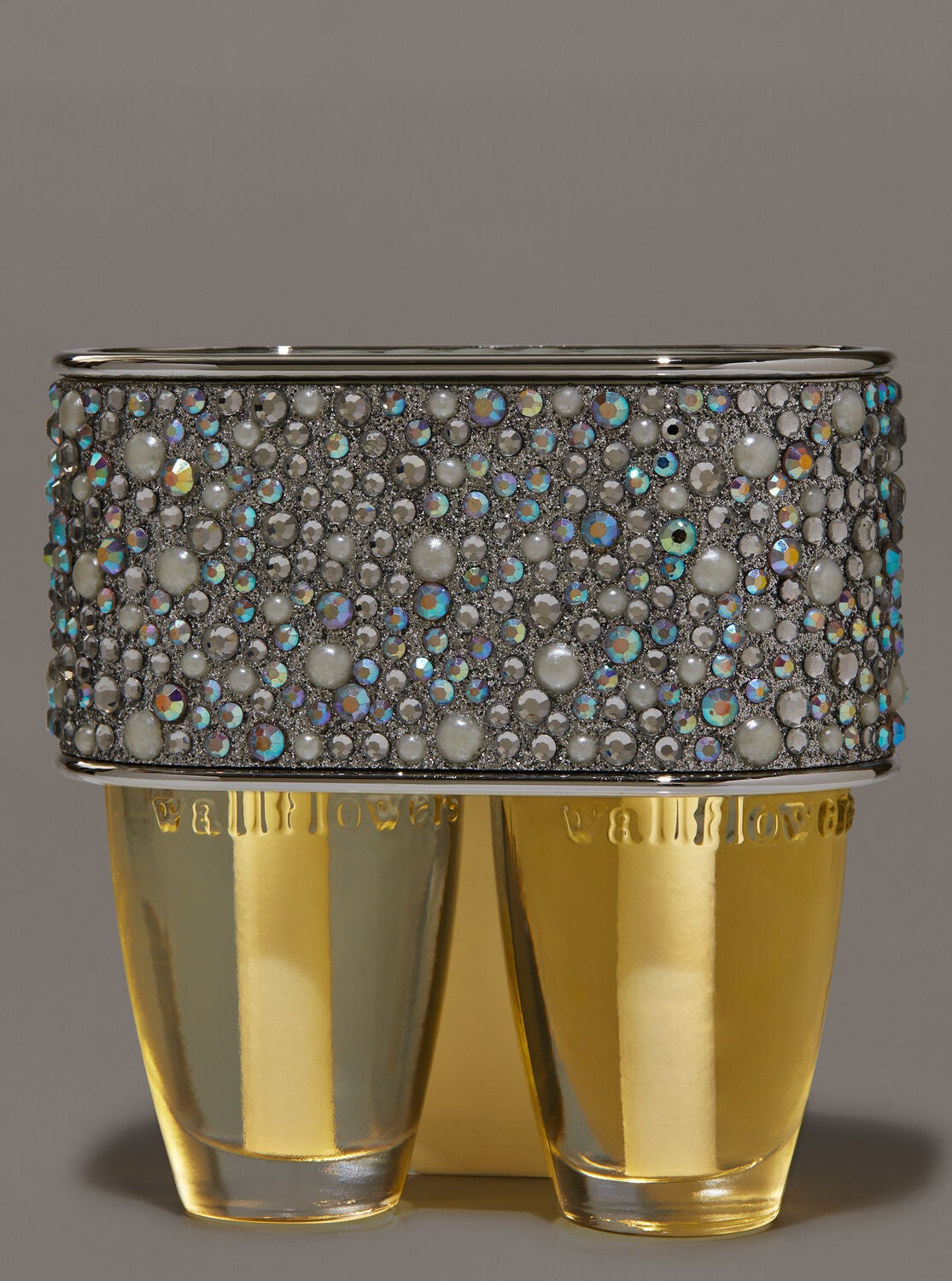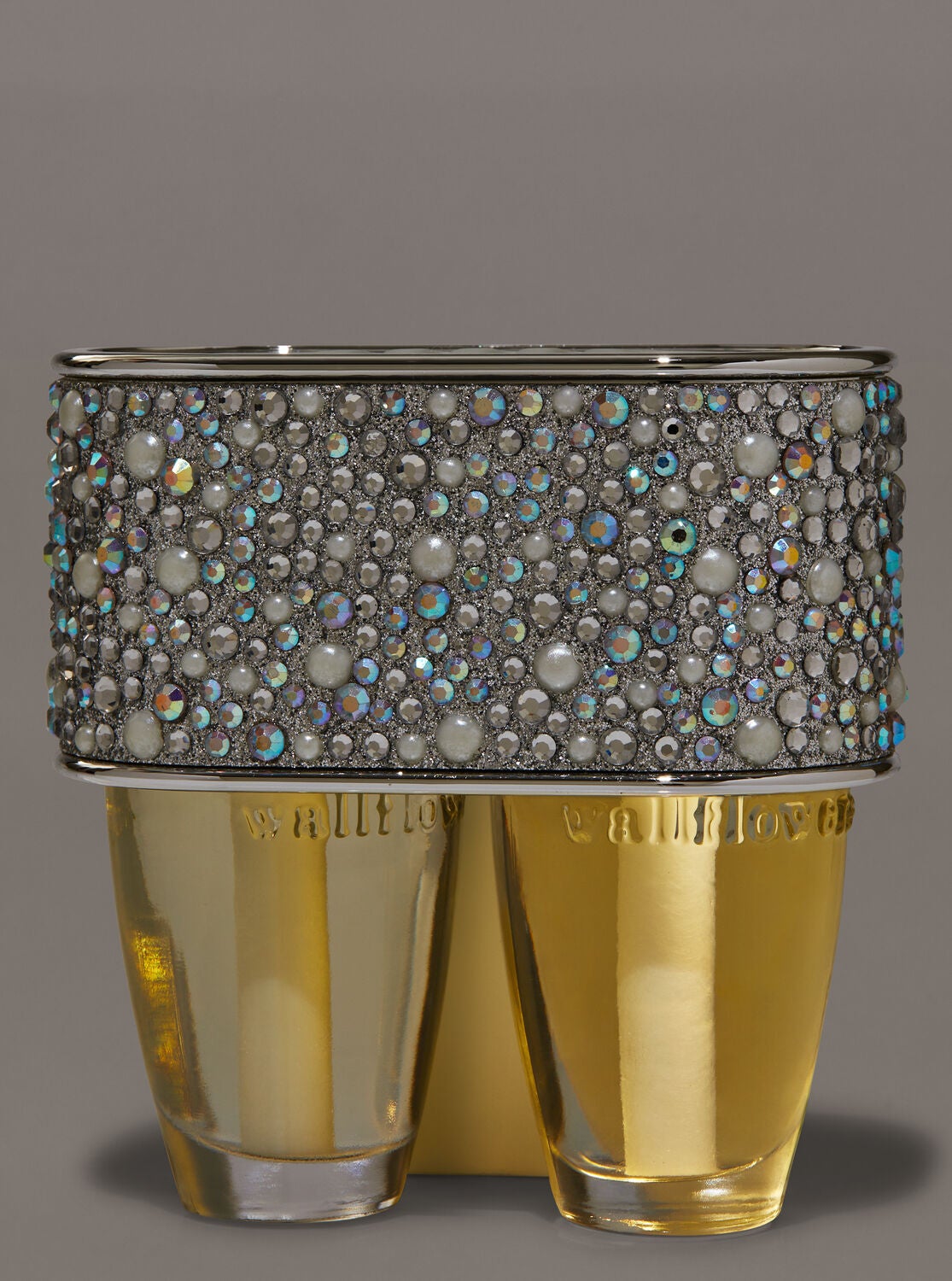 Pearly Gem Nightlight
Scent Switching™ Wallflowers Duo Plug
https://www.bathandbodyworks.com/p/pearly-gem-nightlight-scent-switchingandtrade-wallflowers-duo-plug-023583680.html
Overview
Our Scent Switching™ Wallflowers Duo Nightlight Plug, wrapped in pearly gems and sparkles, will bring a little bling to your room while letting you alternate fragrance approximately every 2 days. Why a duo? Alternating every 2 days prevents fragrance fatigue, so your home is filled with fragrance that's always fresh and always noticeable. The indicator light illuminates to let you know which fragrance is currently in the air. Plus, it gives any space a soft glow! Pair with your favorite Fragrance Refills, sold separately, for fragrance that welcomes you home for weeks and weeks. Learn more about Wallflowers Air Fresheners.
Usage
Twist left (counter-clockwise) to attach Fragrance Refills to Plug. Always keep your plug in an upright position. It's easy! A quick twist of the rotating plug lets you choose a vertical or horizontal outlet. Maintain 12-inch clearance above unit to avoid damage to surrounding surfaces.
More Info
Nightlight glows continuously when plugged in for around-the-clock illumination. Includes fuse to prevent overheating. Plugs should last at least 2 years. Happiness guaranteed or your money back.
Rated

5

out of

5
by
Widgeysmama
from
Works well!
First off, mine does seem to switch sides every 24 hours, but I don't mind- it still works well. I love how every day it smells like I just put a brand new refill in! The light is a cool white light and a bit on the bright side, perfect for my bathroom and hallway. I definitely will purchase more.
Date published: 2018-11-13
Rated

5

out of

5
by
Crystal47
from
Glittery and Smells Great!
I absolutely LOVE this product because it not only adds a beautiful look and appearance to my bathroom, but it also lets off a constant enjoyable scent in the bathroom all day long every day! I love that I can add different scents to it to give the bathroom a different wonderful smell every time I change it out! This is my absolute favorite product ever! I'm also a glitter shine sparkle loving gal! :)
Date published: 2018-11-03
Rated

4

out of

5
by
Tyna55sparkle
from
Great, just wish it didn't light up!
This works great and really does switch. People saying it doesn't switch might have an old version, because the new ones do work. I just wish it didn't light up. I get that that's how it shows you it did switch, but it would be mice to be able to turn it off. Other than that I love this thing a lot
Date published: 2018-11-03
Rated

5

out of

5
by
NayNay77
from
Great features
We didn't even know it was a night light a extra bonus. We just love it
Date published: 2018-11-01
Rated

5

out of

5
by
MelisaC
from
One Of My Faves!
This will always be a favorite plug!
Date published: 2018-11-01
Rated

4

out of

5
by
G in LV
from
Love them!
It is so nice to be able to switch between scents. The only down side is that one wallflower is almost empty while my others, I have 6, still have liquid in them. Otherwise I love them!
Date published: 2018-11-01
Rated

5

out of

5
by
Nytasha87
from
Works great and smells wonderful!
This made rooms in my house smell amazing!
Date published: 2018-11-01
Rated

5

out of

5
by
MoMA
from
Works exactly as described!
I see a few complaints that only the right side works. Don't get me wrong I thought the exact same thing, BUT! It alternates from the right to left every couple days so that the scent stays fresh. That's very understandable. I've also seen complaints that's one side is uneven to the other in my experience it's been two weeks and they like the same. Overall great product will buy nore for through my home.
Date published: 2018-10-22
Rated

5

out of

5
by
Ms Gina
from
EAU DE BLING
This is an absolute eye catcher and i love the functionality, the duality I should say. It really is the best item for getting the best of both worlds in scents. I would buy this over and over
Date published: 2018-09-10
Rated

5

out of

5
by
Kait2011
from
Works great!
I love this product because it flips back and forth between two different scents
Date published: 2018-08-22
Rated

1

out of

5
by
Sweetjuices
from
Product overview
The product is very beautiful, but it's a waste of money. The fragrance stops after a couple of days, I have tried to unplug it and plug it back still unable to smell it.
Date published: 2018-08-15
Rated

2

out of

5
by
RFord
from
Great idea
Loved the concept. However mine worked for about a week then stopped switching. Really disappointing. Not worth the money.
Date published: 2018-08-14
Rated

2

out of

5
by
ajcraft
from
Not as it seems
I have had this plug in my living room for a couple weeks now and it doesnt put off a atrong scent at all. The two scents i have in are watermelon lemonade and limoncello. Its a pretty plug but not worth the cost.
Date published: 2018-08-13
Rated

5

out of

5
by
MotherOf2Cats
from
Love it!
Though I do think they should also offer the duo/double plugs they used to have that would allow you to have 2 Wallflowers plugged in (and warming) at the same time, I absolutely love these. It takes the full 2 days and the scent switches. Keep in mind if you unplug it, the cycle starts over. I have mine plugged into my bathroom. I get excellent throw and now I change the bulbs less often. Currently I have Coconut Colada rotating with Fuji White Sands. It is an amazing island getaway duo. The plug itself looks pretty. It gives my dull master bathroom some sparkle. The duo plugs are a bit heavier but most outlets, if properly wired (especially in the bathroom with the tighter grounded outlets) should have no problem with the weight or fall.
Date published: 2018-08-03
Rated

1

out of

5
by
chelliebean6406
from
i love the bling, that's it
glad i used a reward on this because i would have hated wasting money on it.....the logic behind it seems legit but its not as good as it sounds.....when it switches sides the fragrance is unnoticeable... going back to a single one where i have this currently.
Date published: 2018-08-03
Rated

5

out of

5
by
elisegura
from
AMAZING
I love this product it makes the wallflowers last so much longer. I love the switching of scents every 48 hours and it even lights up the scent it is using.
Date published: 2018-08-02
Rated

5

out of

5
by
vjsbanker
from
"wonderful"
I have two of these and love them!!! They last so much longer because they switch off every 48 hours!!! Color me happy!
Date published: 2018-07-24
Rated

1

out of

5
by
Cathi
from
Not as pretty as you would think
I thought this would be great, but I don't like it for several reasons. First, it is so bulky that it sticks out like a sore thumb. Even the pretty jeweled "shade" doesn't help make it more easy on the eyes. Second, it only lights up on the side that is being used, so it looks like it's burned out on one side all the time. Third, the top of it is ugly white plastic with air holes, so it is extremely unattractive when viewing from above. Which means just about wherever you put it, because most plugs are below eye-level. Fourth, I was really wanting to double-strength the same scent in a large room, but that doesn't work for this at all because only one side is working at a time. It's also really easy to knock askew so it needs to be in an area where people don't tend to walk. The singles are the best way to go. I'm returning it.
Date published: 2018-06-25
Rated

5

out of

5
by
ksilv008
from
Finally - alternating scents FTW!
This product is really great! I was so happy to finally fins a plug that alternates scents. Without the scent switching, I never really knew if the wallflower was working or not because I felt I would become accustomed to the scent. With the alternating scents, I definitely notice the scents changing and reassures me that it is working! I love this thing and can't wait to get another one. Will definitely be purchasing some more for myself and for my mom. Would recommend!
Date published: 2018-06-17
Rated

2

out of

5
by
Heddalala
from
Pretty but that's it
It's very pretty to look at but for functionality it kind of sucks. Always one side uses all the oil the second one will still have half left. Also it seems to not really smell. Just stick with the tried and true single ones.
Date published: 2018-06-06
Rated

5

out of

5
by
Alicia R
from
Great!!
This duo plug in is amazing. every 48 hours the scent changes which keeps you smelling something new and fresh. It looks beautiful as well.
Date published: 2018-05-17
Rated

5

out of

5
by
Kim S
from
Love This
I am so glad Bath and Body Works have this Duo plug. I enjoy the change in fragrance you can really smell the difference.
Date published: 2018-05-17
Rated

5

out of

5
by
Meliss0906
from
Great concept
Great concept! I purchased these last week, a set for my living room and kitchen in my apartment. I love the fact that it switches between the two different bulbs, as to avoid fragrance fatigue. Even though it's been just a week the smell does still seem more fresh than the original plugs I've utilized.
Date published: 2018-05-17
Rated

5

out of

5
by
SeattleC
from
Works perfectly!
I love every thing about this Wallflower Duo Plug. The glitzy gems give it a glamorous look. It casts a mellow, soft light on the Wallflower being used. I am using Island Margarita and Copper Coconut in it. I smell the fresh sweetness of the Island Margarita, and before I get too used to it, it switches to the warm delicious coconut scent. With each refill switch, the scent is new again. I've had this plugged in for over a month now. I have it plugged in my living room. The scents waft throughout my living room, kitchen and foyer. The Wallflower Duo Plug is a great idea!
Date published: 2018-05-15
Rated

2

out of

5
by
Lovely22
from
Does not do its job :(
I REALLY love the idea of this product, I wish it worked! I've exchanged this numerous times and it seems that I still have the same issue and didn't just pick up a bad one. Only one side works! I put in 2 new scents at the same time to make sure it was not just me :( and both sides worked for a while until one stopped working. wish there was a way to show the picture but it did disappoint me. I hope this issue gets fixed and I get my money worth.
Date published: 2018-05-08
Rated

5

out of

5
by
Sloanepederson
from
Love the duo!
This plug works great. It keeps the scent of the fragrance bulb much more noticeable and I have had no problems with mine. I will definitely be buying another one.
Date published: 2018-05-04
Rated

1

out of

5
by
Mel513
from
Great concept, bad delivery
I had to return my first duo because it wasn't working correctly. It was only burning one side and not switching over. My replacement didn't work very well either. It lit up when plugged in, but didn't burn very well. This is an awesome idea, so keep working on it BBW! Once there are some improvements made I would definitely buy more.
Date published: 2018-05-01
Rated

2

out of

5
by
Shelle616
from
Great idea...bad product
Was so excited about this product. It worked pretty well the first time i used it. I noticed it seemed to use one side more than the other but not by much so i wasn't overly concerned. However, when i used it the second time, it used all of one side and almost none of the second! What a disappointment! This product is too pricey to work only once. Btw my daughter has the same problem, so i know it's not just a one time thing. Buyer beware!!!
Date published: 2018-04-28
Rated

5

out of

5
by
Cass6_xo
from
Beautiful!
This is the most beautiful plug ever! I love the fact that it switches between 2 fragrances!
Date published: 2018-04-27
Rated

4

out of

5
by
Missie
from
Beautiful
Matches my decor perfectly!!!!
Date published: 2018-04-25
bvseo_sdk, dw_cartridge, 17.1.0, p_sdk_3.2.0
CLOUD, getReviews, 50ms
reviews, product