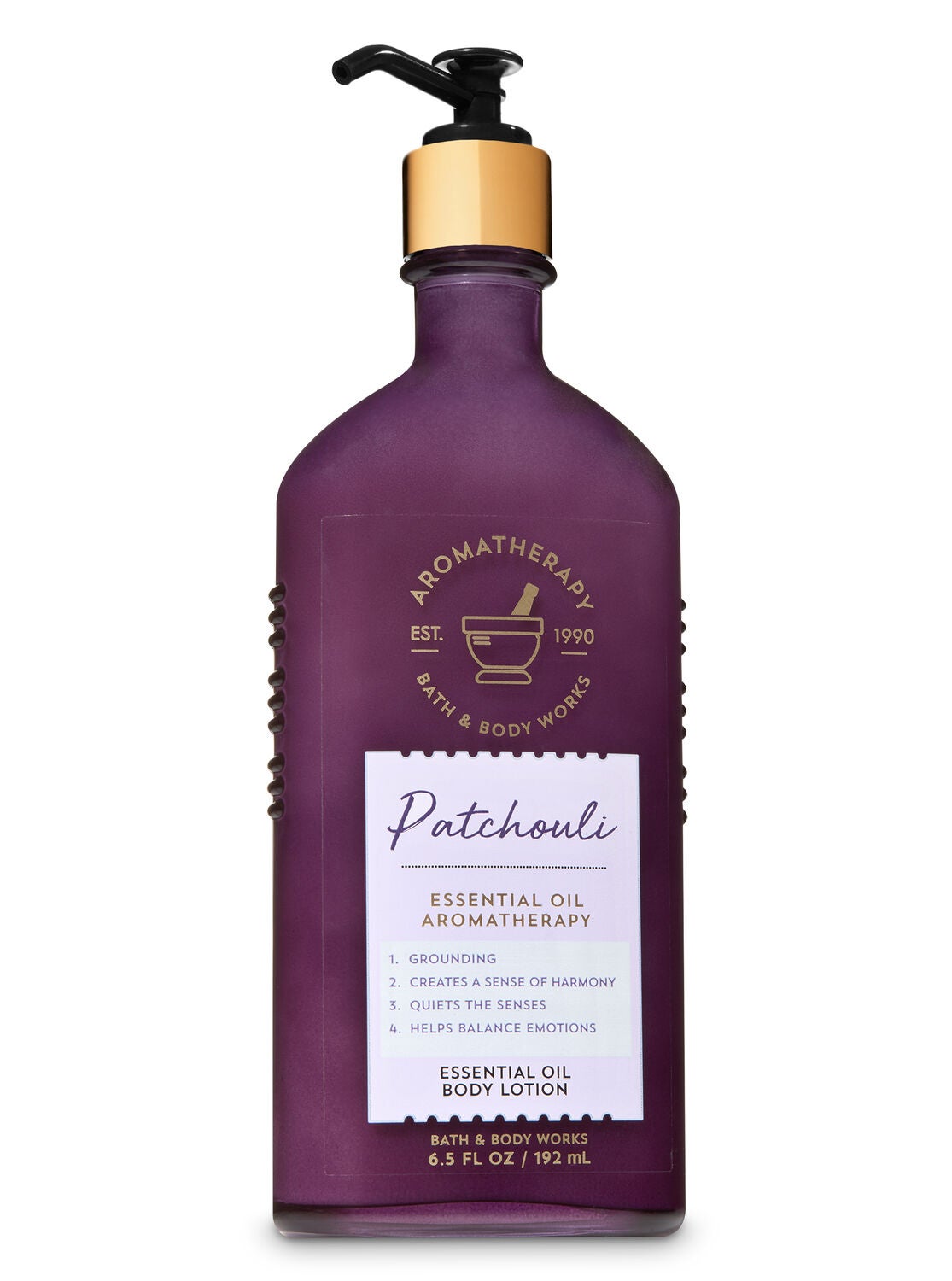 Aromatherapy

Patchouli

Essential Oil Body Lotion

https://www.bathandbodyworks.com/p/patchouli-essential-oil-body-lotion-023847136.html

6.5 fl oz / 192 mL
Fragrance
Using an artisanal craft to extract essential oils from plants, we've captured the natural therapeutic power of Pure Patchouli. It quiets the sense & helps balance emotions.
Overview
Aromatherapy in its purest form! Infused with calming Pure Patchouli Essential Oil, nourishing shea butter & vitamin E, this fast-absorbing body lotion conditions skin while quieting your senses.
Rated

1

out of

5
by
BeccFun
from
Weak smell, does not smell anything like Patchouli
I was really looking forward to this lotion after reading all the positive reviews. I just LOVE Patchouli and earth fun scents. Unfortunately, this had none of the above. Sorry to say, but your Patchouli smelled like turpentine.
Date published: 2019-03-18
Rated

5

out of

5
by
Flatrocker
from
Patchouli at its Best!
You either love Patchouli or you hate it. I personally love it. B&BW has captured the true essence of this scent! I'm not sure why it's not having 'staying power' with some of the customers. Most likely, it's the PH in their skin. In general, Patchouli is very strong & I'm sure B&BW has had to find ways to tone it down. I'm good with that. When I'm using the lotion only, I can smell it all day long. It even stays on your skin after washing your hands! B&BW nailed it on this one!
Date published: 2019-03-16
Rated

4

out of

5
by
dizzyscentlovermom
from
Patchouli Heaven
This lotion has a perfect Patchouli scent it just doesn't have any staying power.
Date published: 2019-03-11
Rated

5

out of

5
by
Cincin8273
from
Love this lotion
You have done an incredible job capturing the real essence of this scent. It's not overpowering and lasts all day. Definitely quiets my mind and senses throughout the day. I love it!
Date published: 2019-03-10
Rated

4

out of

5
by
beautifulness
from
I'm Here for Patchouli
I'm always here for a good patchouli scent and I'm glad that a body wash was added to the line. It's the right strength even when layered with the lotion. The lotion alone needed some help. It has a good scent but it's a little weak and doesn't last long. I'm really hoping for a body cream and I'll be satisfied. I hope this doesn't end up discontinued though. Just make the body cream instead.
Date published: 2019-03-07
Rated

5

out of

5
by
Val Arviece
from
Hoping for a body cream!
Patchouli is an attractive and sensual scent. I am hoping that B&BW will invest in making this into a body cream.
Date published: 2019-02-10
Rated

5

out of

5
by
CIndy0429
from
Love this scent
This is the first patchouli product I've found that smells heavenly. I hope they keep this for a long time.
Date published: 2019-02-03
Rated

1

out of

5
by
Robbie69
from
So Disappointed!
I LOVE this scent, but this Body Lotion has NO scent at all. Nothing. There is no smell to it. I did buy the matching body wash and it smells amazing! But this lotion really disappointed me. My first bad experience with B&BW.
Date published: 2019-01-25
Rated

2

out of

5
by
Inked33
from
Woowee!
After reading the reviews I figured I'd give this lotion a try....omg I totally regret it. The scent is very strong and it reminded me of an old Native American store. I had to wash my hands and arms and I can still smell it all over me. This stuff is way too earthly smelling for me. Totally exchanging.
Date published: 2019-01-15
Rated

5

out of

5
by
MFoster
from
Love it!
Patchouli is one of those scents that you either love or you absolutely hate. And a lot of times when you find a product like this, the smell is just horrendous. But I decided to take a chance when this lotion was finally restocked and I am definitely pleased. It's not over the top and the scent lasts for a long time. I really recommend this if you love the smell of patchouli but don't want that "dirty hippie" scent. (Sorry, only way I can describe it) Also, as a Lotion, I really loved how it quickly absorbed into my skin and didn't leave any type of residue.
Date published: 2019-01-11
Rated

5

out of

5
by
Ashlee789
from
I love this lotion!
This lotion smells great, leaves skin soft, and the scent lasts all day. I always get compliments!
Date published: 2018-12-31
Rated

5

out of

5
by
Beaner218
from
Mesmerizing
This is my favorite product ever by B & B, only thing is, it's sold out everywhere. Please, everytime I find a scent I like, you guys discontinue/retire it. Unfortunately now this time it's sold out! Please, bring it back fast, stop focusing on new Scents and focus on a product that we are all in love with.
Date published: 2018-12-18
Rated

5

out of

5
by
Izzys mom
from
amazing
amazing scent--please bring it back
Date published: 2018-12-15
Rated

5

out of

5
by
DonnaSioux
from
Very authentic.
I don't know why you let these popular scents run out and then don't bring them back. By now I would think you realize that all the Patchouli scents are loved. Please bring this lotion back.
Date published: 2018-12-14
Rated

5

out of

5
by
Claire75017
from
Out of stock!!! Come on bring it back please!!!
I went to 5 different stores and it is out of stock everywhere!! Please bath and body works put it back in stores and online ! It is you best scent!!! Waiting to buy some for Christmas presents for family ! Everyone loves it! Please make the body cream and body spray!!!Amazing smell I get Compliments every time I wear this scent. If you love real patchouli scent you will love this .
Date published: 2018-12-11
Rated

5

out of

5
by
Patchoulilover
from
Smells Amazing!
I love this lotion. It's out of stoc everywhere and I need to stop everyone from coming in my office and using it. Come on Bath and Body Works, give us some more!!!
Date published: 2018-12-03
Rated

5

out of

5
by
Ms Zee
from
Authentic Patchouli Fragrance
I'm pleased with this fragrance! I purchased the whole line before the lotion 'sold out'. It has the authentic 'Patchouli' scent. I'm a '70's child and well remember walking into a particular quaint shop that carried lots of '70's oils, candles, posters, jewelry, and incense products. It does bring back memories. Every fragrance isn't for everyone, as our body chemistry's are different. That's the great thing about 'Bath & Body' stores; you can 'try' before you 'buy'. I usually try for a day. If I like it, I always hurry back to buy. I've been a customer for years.
Date published: 2018-11-01
Rated

5

out of

5
by
SarahD
from
Best lotion ever!
I love the whole essential oil line, but the Patchouli is my favorite the smell is amazing and last a long time! I use this daily and my skin is so soft. Best product ever!
Date published: 2018-11-01
Rated

5

out of

5
by
maeoakes
from
Just try it
I LOVE patchouli! I used the sample and continued to walk around the mall. It was close to closing time. I put the lotion on my hands and during my stroll through the mall, 3 people asked me what was that scent. I turned around and went straight back to the store and bought 3 bottles, only because I could not afford more at the time!
Date published: 2018-11-01
Rated

3

out of

5
by
CorrieLe
from
Not a fan of this alone
My ultimate favorite is the Eucalyptus spearmint. I recently tried the comfort one and I love it almost as much. This scent is not great to me. You could layer it with another .
Date published: 2018-10-29
Rated

5

out of

5
by
iriemomma
from
Favorite B&BW Scent Ever!
I have been shopping B&BW for nearly 20 years and this is by far my all time favorite scent they have come out with ever! It is pure patchouli and smells amazing! If you love incense and that hippie vibe this is the scent for you. I purchased in store today and wish I would have bought more bottles, it is incredible! Definitely better than the comfort line which was overpoweringly vanilla scented with a whisper of patchouli. I hope they expand to having this in a body wash option!
Date published: 2018-10-20
Rated

1

out of

5
by
Zbracer
from
HORRIBLE!
This is the worst fragrance ever. I threw it away. Save your $$.
Date published: 2018-10-20
Rated

1

out of

5
by
jenwan
from
No Scent
Even the second I put this on, there was no scent. I am sooo disappointed. This is not patchouli, it's unscented lotion.
Date published: 2018-10-17
Rated

5

out of

5
by
Katy the Cat lady
from
Worth buying!
I was in my local store a few weeks ago. They had this lovely bottle of lotion on display... I'm a huge essential oil fan! And love the smell of Patchouli. This lotion is the real deal and the smell lasts a long time. I usually don't buy products unless I know they smell good. I ordered two bottles last night and will be buying more! Thank you Bath and Body Works!
Date published: 2018-10-13
Rated

1

out of

5
by
TaureanWoman
from
Issa no for me
Oh chile...BB&W need to go back to the drawing board with this one. I decided to give a try since I am a huge fan of the "comfort" line which is patchouli and vanilla. I understand patchouli is an ethereal herbal scent, but this one missed the mark. I walked in the room after putting it on and my mom says "what is that smell?! It smells like camphor." And yes, it does smell a bit medicinal or like bug spray without the fragrance to make it smell nice. Bottom line, there is nothing sexy, sensual, or attractive about this smell. I definitely won't be wearing it out.
Date published: 2018-10-01
Rated

1

out of

5
by
dragonmom72
from
Horrible smell, doesn't last.
I am so glad I went into the store to smell this instead of purchasing online. It smells moldy, not at all like patchouli. After one hour the scent was gone.
Date published: 2018-09-19
Rated

2

out of

5
by
all things BBW
from
Scent doesn't last
The scent is Patchouli for sure but it doesn't last long at all. I put it on and within two hours I couldn't smell it at all. Disappointed.
Date published: 2018-09-15
Rated

5

out of

5
by
Patchouli Princess
from
Pure Patchouli!
When I saw the initial email advertising the new line of aromatherapy products, I was beyond excited to see the new patchouli series. Who am I kidding, I wanted to by like 50 thousand bottles, but I settled on one; you know. To make sure it was the real deal. Can I just say this EXCEEDS my expectations!!! I loved the Sensual aromatherapy line but wanted a pure patchouli fragrance, and THIS is IT!!!! I really hope B&BW keeps this around for a long time, or maybe I'll just order the 50 thousand bottles. I am 100% satisfied!
Date published: 2018-09-12
Rated

5

out of

5
by
SmellLover7672
from
Finally!!!!!
First off, the scent. 100% pure patchouli!!! I cannot believe it!! I've waited so long! I have never found a straight patchouli lotion before. I always find oils or sprays, never a lotion though. I will use this for the rest of my life if they will keep making it!! If you are a patchouli lover, this lotion is the real deal!! This lotion is far superior to the spray, which is literally a bottle of water. SO SAD!! On a good note though, this lotion matches identically w/ Zum spray. (Which is strong & lasts) I would recommend this to anyone that likes patchouli !!!! You will be so glad you bought it!!!
Date published: 2018-09-11
Rated

5

out of

5
by
ClaraAndLucysMama
from
Pure and sultry
This scent is pure - patchouli, 100%. For those of you who know and love patchouli, this is the real deal. For those not familiar with it, I have heard that some love it and some don't, so I cannot say for sure how you will feel about it. It is warm, spicy, earthy, and exotic. This lotion is a very good representation of patchouli and smells very pure and unaltered. Not to mention the beautiful purple glass dispenser! I LOVE it! Hope you feel the same.
Date published: 2018-09-09
bvseo_sdk, dw_cartridge, 17.1.0, p_sdk_3.2.0
CLOUD, getReviews, 38ms
reviews, product