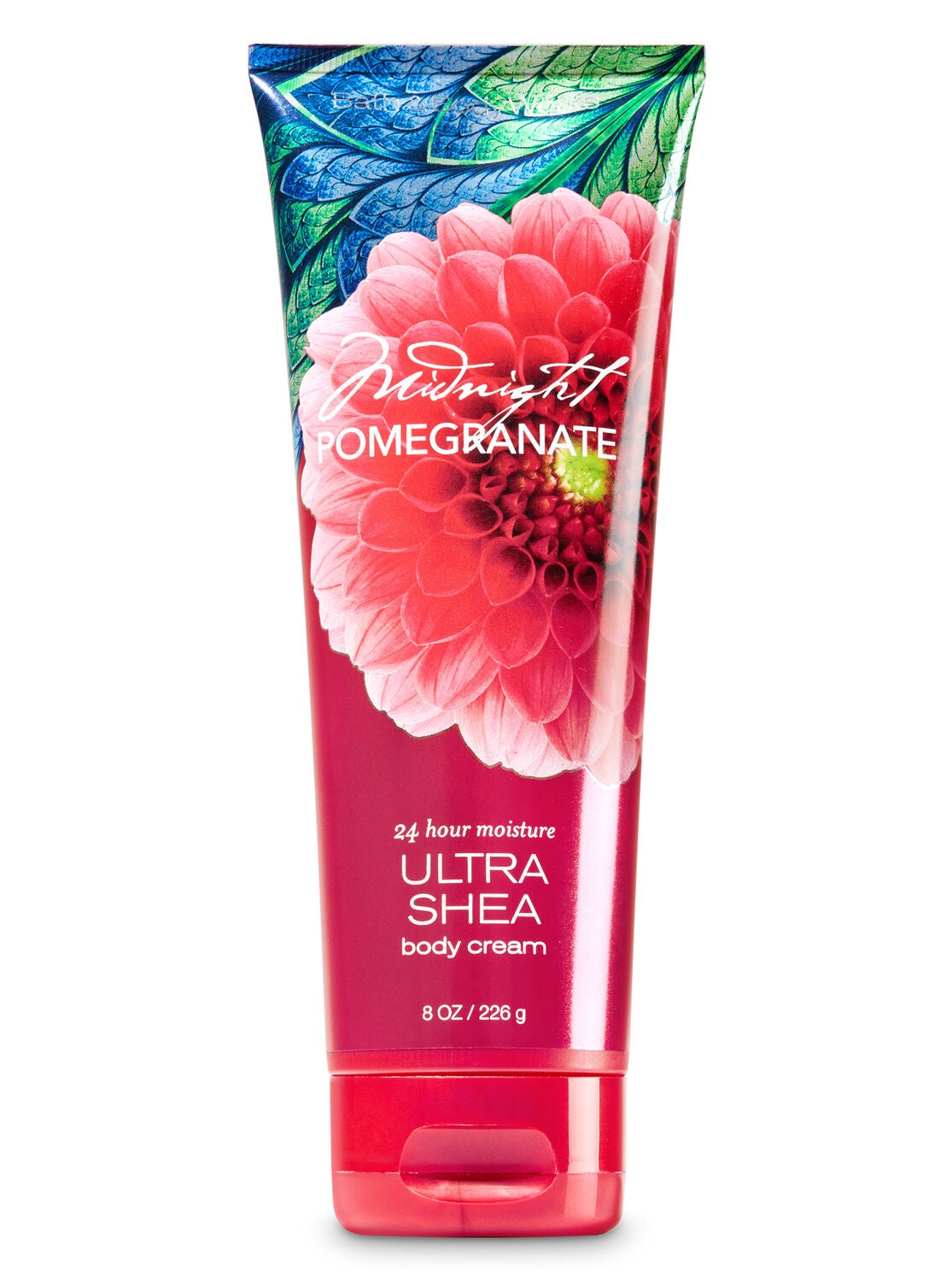 Signature Collection

Midnight Pomegranate

Ultra Shea Body Cream

https://www.bathandbodyworks.com/p/midnight-pomegranate-ultra-shea-body-cream-022845438.html

8 oz / 226 g
Fragrance
A fiery blend of ruby red pomegranate, blackberry spice & sparkling cassis

Key notes: Ruby Red Pomegranate, Sparkling Cassis, White Jasmine, Blackberry Spice, Patchouli
Overview
Infused with luxuriously rich Shea Butter, our New Ultra Shea Body Cream provides 24 hours of nourishing moisture to soften even the driest skin. With soothing Aloe Butter, pampering Cocoa Butter and more Shea than ever before, our non-greasy formula melts into skin to provide beautiful fragrance and all day, all night hydration.
Rated

5

out of

5
by
Dra2218
from
Love the products!
I just love pomegranate! But this is the best one out there!
Date published: 2018-11-01
Rated

4

out of

5
by
ShelbyMae
from
Not my favorite.
This product is great quality and beautifully packaged. Pomegranate is one of my favorite fruits so I was super happy to make this purchase. Once it arrived(in the mail) I wasn't as excited. It doesn't necessarily smell bad but I don't LOVE it.
Date published: 2018-09-02
Rated

5

out of

5
by
Kmich
from
One of my favorites!
This is one of my all time favorite BBW scents! Smells amazing! So glad they brought it back. I wish they would bring it back as a candle too!
Date published: 2018-08-21
Rated

5

out of

5
by
Big Kitty
from
Love this scent, so exotic
This has to be one of my all-time favorite scents, it smells so exotic. I think the Patchouli with the Pomegranate does it. The B&B cream is so good for my skin. My friends told me, after I badly burned my hand, to use the cream to help my skin heal up. It was amazing. Within a few days my second and third degree burns started to clear up to new vibrant skin. I have been using this product for over two years and just love it.
Date published: 2018-08-08
Rated

5

out of

5
by
SarRGH
from
great
Great smell, the body cream makes your skin feel soft and smooth. The whol line of this scent is great. One of the few retired smells I would buy again and again.
Date published: 2018-08-01
Rated

4

out of

5
by
SmellLover7672
from
Super fruity.
This moisturizes really good!!! And the scent. Oh!! It is a super fruity, pomegranate blast at first & then the depth kicks in! It lists patchouli as a note, but there is no patchouli here at all. It's a deep fruity scent, that is almost spicy or peppery. I don't know how else to describe it. And the lasting power is really, really good! This cream is strong enough, that you could use it alone. I always use spray though. This has been a repeat purchase for sure!!!
Date published: 2018-07-12
Rated

5

out of

5
by
AmylovesBBW
from
Didn't plan to fall in love, BUT....
My aunt bought this around Christmas time and didn't care for it, so she gifted it to me. I had never really given it a fair try but was convinced I wouldn't/didn't like it very much. I politely told my aunt that I was going to save it to wear around summer time. Now, I am a fragrance junkie and I love BBW, so when I got home I gave it a try because I couldn't help myself, lol! I fell in LOVE!!! It reminds me of "Christmas Cranberry", a name I made up for it. But I think it's perfect for year round use. It's fruity and spicy and has a lot of depth to it. One of my favs now!!! Btw, I have always thought that the creams have more depth and dimension (fragrance-wise) versus the body spray, but I love to layer all the products.
Date published: 2018-07-08
Rated

5

out of

5
by
SweetnSassy79
from
My FAV body cream!!
Midnight Pomegranate body cream is absolutely wonderful!!..it is an all time fav of mine!..i am waiting on my last 2 orders from the SAS sale to arrive..and of course it's all MP! ❤❤❤
Date published: 2018-07-07
Rated

4

out of

5
by
bvandam1969
from
Love this smell and product
I love the way this product moisturizes and the scent. I have gotten many compliments when I wear this scent
Date published: 2018-05-17
Rated

5

out of

5
by
kwis
from
Love this Scent
I love this product and the scent. It is definitely one of my favorites.
Date published: 2018-04-23
Rated

5

out of

5
by
mslan
from
Wonderful scent
My favorite product from BBW for years! Best smell for me. I love when I come across this scent online it's the best.
Date published: 2018-01-13
Rated

1

out of

5
by
Newark Girl
from
Too Much Berry
I see high reviews for this product, perhaps this smell does not agree with me and before this product retired I tried it and did not like it and every time I smell this cream I think of someone that has been chewing on fruity gum far too long and it's time to get a fresh piece in other words it smells like berries and breath. I had a co worker several years ago that use to wear this all the time and the smell was too strong and almost nauseating.
Date published: 2017-12-26
Rated

4

out of

5
by
Andie99
from
Lots of Love!
Here's the real question: "Does it really smell like pomegranate?" Nah, but it still smells nice and sweet. I adore using this cream, even though the moisture isn't THAT long-lasting. It is for a decent amount of time, indeed, it's just not at a spectacularly amazing level like I've seen in other B&BW body creams. However, the scent definitely redeems itself and proves to be quite pleasant to use. And the packaging for it is simply adorable as well. Please give this a go!
Date published: 2017-11-30
Rated

1

out of

5
by
Bozenka
from
Too spicy
I've purchased this cream online based on all the raving reviews. Alas, on me, it didn't smell good at all. On a first sniff from the container, it smelled nice but when I put it on, the main word that came to mind was "spicy," or "peppery." I would also conclude that it is more of a scent for a mature client, in my opinion. I will exchange this for something else. For reference, my preferred scents of BBW creams are "Frosted Snow Blossom" and "Lavender&Sandalwood." Otherwise, the container is gorgeous and moisturizing properties are great.
Date published: 2017-11-30
Rated

5

out of

5
by
TT81
from
LOVE this!!
I took advantage of a great sale and based my purchases on reviews since all of the scents I wanted are on the 'retired' list. So glad I added this one, it is AMAZING! :) My favorite of the six and I will definitely buy this again. I can't stop smelling myself when I wear it haha and the scent lasts all day, as does the moisture. It's quite sweet upon applying but settles great, in my opinion, I recommend it.
Date published: 2017-09-09
Rated

5

out of

5
by
Mellie
from
Possibly my favorite
This body cream is possibly my favorite out of the entire line at BBW. It is a lovely scent without being light or heavy. It smells so good - I wish I could accurately describe it but I am at a loss for words. It definitely is not tropical but not flowery either, if that makes sense? I am sorry this is only available online, but whenever there is a sale on retired scents or on body creams, I snap these up!
Date published: 2017-07-07
Rated

5

out of

5
by
Jazzy Pooh
from
LOVE IT!!!
Midnight Pomegranate never fails me. This is one of my ultimate favorites. I just wished they would have placed a better sale on it this year for the annual sale :( but the best things in life are expensive lol
Date published: 2017-06-21
Rated

5

out of

5
by
The Candle Collector
from
Such a rich scent
I have loved this fragrance for the past several years and am glad it is still offered! It is such a rich, strong scent. Flowery but has a darkness to it to balance it out. This one stands the test of time!
Date published: 2016-09-01
Rated

5

out of

5
by
Sheabuttah86
from
Second time is a charm♡
I must say the second time around I really appreciated this lovely sultey but flirty scent! I remember buying this one time before and I was really iffy about the scent, it was a love hate type of deal at first! But then one day I purchased it again and tried it out and fell in love...When I first bought it, it just seemed really strong like an artifical potpourri I tried to like it but returned it smh....This time around it smells soooo good I didn't pick up much vanilla and I love anything vanilla, However it does have a creamy punchy berry type of vibe with my body chemistry I feel like the body cream has a little spice not too spicy more sultry than anything...The mist just takes this scent to another level! The mist doesn't have spice but it has a very nice berry depth to it and it meshes well...This one is a winner and I will repurchase it, It kind of puts me in the mind of twizzlers hmmm imagine that lol
Date published: 2016-07-13
Rated

5

out of

5
by
prettyinpink94
from
Amazing
Midnight Pomegranate is amazing. The scent is great for fall/winter. I love it!
Date published: 2016-02-25
Rated

5

out of

5
by
MyhotStylist2015
from
Nothing else like it - (Tobacco base note)
I just adore this scent. Its very unique having tobacco as a base note. There is nothing else like it anywhere. (Some might initially be put off by the tobacco note) but it somehow works with the other notes to create a seductive dark alluring and addictive smell. Dont worry, it doesnt smell like cigarettes! More like dark fruit and earth tones.I love the staying power of this because I can always smell it in my nightgown the next morning after using it at night. The ruby red gel and packaging is a beautiful combination with this scent to create an almost romantic feeling about it. It makes me think of the Victorian era.This would be one of those situations where the BBW 100% money back guarantee can be put to use. Midnight Pomegranate is definitely one to try!
Date published: 2016-01-01
Rated

5

out of

5
by
Flobaby
from
Nice Fall Scent
This fragrance could be worn all year round, but I am more inclined to wear it in the cooler months. It is both spicy, fruity and unique. I love it that BBW has kind of revived this scent and given it new packaging. 5 stars!
Date published: 2015-10-23
Rated

4

out of

5
by
PugGirlCa
from
Nice, different
But I like it! Now, it is a stronger scent. I enjoy the sweet pomegranate. The strong note is the patchouli. An interesting combination, but it works. The Shea Cream is extremely conditioning. I give this scent four stars.
Date published: 2015-09-06
Rated

5

out of

5
by
Shelala82
from
Spicy sweet tarts
This really does have a unique scent..It is really sweet like sweet tarts candy with a spicy musk to it which is rather delicious.I've noticed that the scent lingers for a very long time too..
Date published: 2015-09-04
Rated

4

out of

5
by
LanaS
from
Wish this was still in stores!
This is one of the scents I prefer, but it's not my absolute favorite. I prefer fruity and/or vanilla scents over floral ones and this scent hits the mark there. Sometimes it can be overpowering, so I use it less often than other scents, but I can use less of it when I do. My husband has a pretty picky nose and this is a scent he tolerates pretty well too.
Date published: 2015-04-23
Rated

2

out of

5
by
adbabe
from
Wanted to love it, but not for me
I love pomegranate flavors and scents alike. I also love darker, sexier scents which is what this one appears to be. However, I just did not like this at all. It's overpowering and slightly foul to me. Very mature scent, for people who don't want a light fragrance or anything too girly.
Date published: 2015-02-16
Rated

3

out of

5
by
Hammyt100
from
Very Strong
This scent is extremely strong and overpowering. I don't think i would even enjoy smelling this from across a room, but i would sure as heck be able to.I see where this could smell good, maybe to those who can tolerate any fragrance no matter what it smells like. Don't get me wrong, i am a fragrance lover to the core. If i can smell a fragrance on someone, no matter if i like the scent or not, i'll respect them and instantly feel some sort of connection with that person. Though it is really rare that i don't enjoy a fragrance on someone.This is the first scent I've smelled that i think i really wouldn't enjoy, not just on me, but on anybody.It is really spicy, very pomegranatey, and very deep.Usually these are things i would love in a fragrance. Maybe it's just a certain time of month where my senses are more sensitive. I'll have to try this again in a couple weeks.I don't really look forward to that shot up the nose, but i hate that i don't like this fragrance.
Date published: 2015-01-08
Rated

3

out of

5
by
lisa624
from
very sweet
Omg, I was recommended this scent by my cousin who has given me a few other recommendations. This scent is sweet almost too sweet for me . It smells like a fruit but not sure which one. I like Japanese blossom as my favorite but I will take a pass on this fragrance. The shower gel is a better option because it is a bit lighter. Hope this helps someone.
Date published: 2015-01-06
Rated

5

out of

5
by
Reena
from
Excellent Fragrance
I've bought this one on sale recently , it's too good kind of sweet and light spicy fragrance loved it to the core . .. i gonna purchase it more for sure one must try it atleast once.
Date published: 2015-01-06
Rated

3

out of

5
by
Leembean
from
Smells more peppery than usual
So back in 2007 or 2008 I worked at bbw and this became my favorite fragrance. I stopped buying it in 09 so this is my first time using it since, and it is a bit more peppery than I would like. I do feel that it works perfectly when it is layered with the mist and shower gel, because the mist is sweeter and doesn't have that peppery undertone. The lotion is moisturizing and thick but in a bad way...I feel it on my skin. Overall I still love the fragrance, but the new lotion formula is not that great on my sensitive skin...this will definitely be my last time purchasing a lotion or cream from them.
Date published: 2014-12-12
bvseo_sdk, dw_cartridge, 17.1.0, p_sdk_3.2.0
CLOUD, getReviews, 6ms
reviews, product