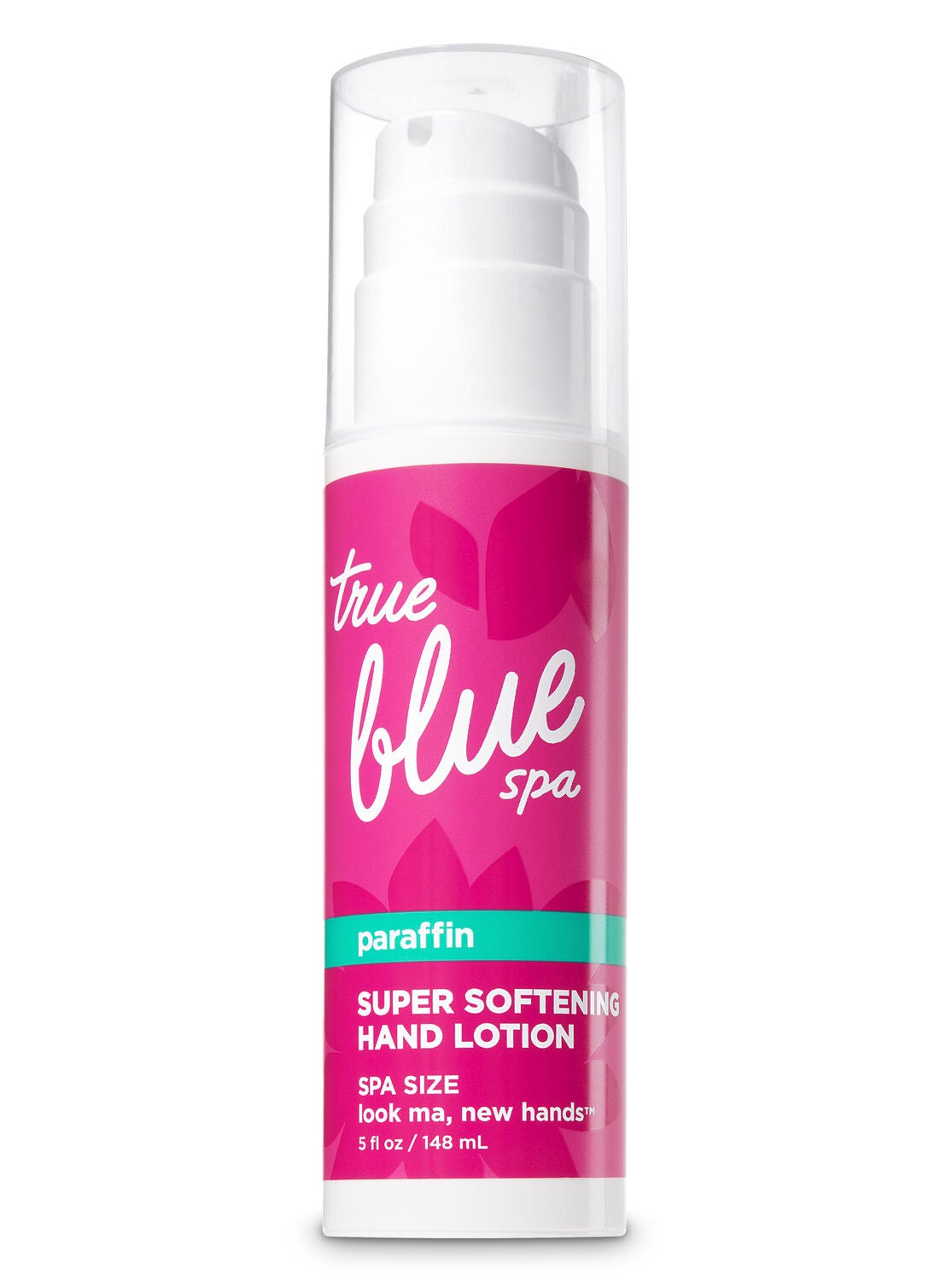 True Blue Spa

Look Ma, New Hands

Super Softening Hand Lotion

https://www.bathandbodyworks.com/p/look-ma-new-hands-super-softening-hand-lotion-020842392.html

5 fl oz / 148 mL

Out of Stock

We're sorry, this item is out of stock. Please try back soon.

Details
Overview
Keep skin soft and smooth with this super softening hand lotion. Formulated with Paraffin, Olive, Avocado and Apricot Oils plus antioxidant Vitamin E.
Usage
Slather on a generous amount of this lotion for super soft hands.
Rated

5

out of

5
by
Carasobsession
from
My hands are so soft
I've been using this for a few weeks now and my hands are so soft! It is not the fragrant hand cream you're used to from BBW, which is exactly what I was looking for as sometimes the overly fragrant ones don't work as well. This is more naturally scented and it WORKS GREAT!
Date published: 2020-01-14
Rated

5

out of

5
by
Wheelinlady
from
True Blue Spa Fan
I totally agree with the reviews of jsl35 and Happy Repeat Customer on the benefits of this hand lotion. Bath & Body Works would do well to move away from the "fad" fragrances currently being offered and instead focus on a core of products that customers can count on purchasing. The Tru Blue Spa products are ones that I have purchased for over ten years. The company began discontinuing the hand creams and lotions one at a time and now the few remaining remnants of this fabulous line are disappearing. BATH & BODY WORKS DOES NOT SEEM TO CARE WHAT ITS CUSTOMERS WRITE IN REVIEWS!!! Obviously this company does not consider feedback from customers as it makes decisions on which products to offer. Frankly, I am disgusted with B&BW!! They will not care about losing a customer either - they will never even notice!!!!! WHAT A SHAME!!
Date published: 2020-01-10
Rated

5

out of

5
by
jsl35
from
BRING THIS BACK!!!!
I will not use any other body or hand cream besides this and lay it on thick (where has that been???) Per the reviews, everyone seems to love, yet why does Bath & Body Works keep taking away what their customers want and trying to reformulate? Nothing else compares! STOP doing that! Bring it back and keep it once and for all! I don't care about packaging or new and improved. I want THIS product and I'm sure others will agree!!!
Date published: 2020-01-08
Rated

5

out of

5
by
Happy Repeat Customer
from
*LOVE THE HAND CREAM & THE DISPENSER AN EASY FIX!*
Okay, 1st...I have used this 'True Blue Spa' Paraffin Hand Cream for several YEARS now. It has become a household staple & necessity, especially with my dry skin issues in the dry climate that we live in with long, cold winters. We have ALWAYS had a back up stock of it in our cupboard and we have NEVER let in run out. My husband, a master electrician, has always depended on it also at work and has often shared it with the guys he works around. Everyone has always LOVED IT & have asked how it get it because...IT WORKS SO WELL...On dry hands!!! IT IS AN AMAZING HAND CREAM! It is also has just a very nice light citrus type of scent that is not over powering at all. Thus, our family has LOVED & DEPENDED on this Bath & Bodyworks product...Again, NOT as a luxury item, but a necessity. Then the dreaded day came that we found out...They had discontinued it. It was a HUGE shock & disappointment! SAD DAY!!! We have put up with Bath & Body Work's constant change throughout the years in their desire for better products, 'marketing', and item appeal, etc. So, we have tolerated the constant fragrance changes in the liquid hand soaps, their pulling the Spa Socks and then eventually bringing them back every winter, the special Aromatherapy items that we also used regularly that were sadly discontinued, and then even the discontinued Glycerin Bath Bar Soaps that had also become a family staple. Each time, we have stocked up on everything as soon as we have found out that it was being discontinued to buy us some time for them to either bring it back or to find something else somewhere else. But, I am firm believer that a company such as this should always have basic products and scents that NEVER get changed or pulled, items people can ALWAYS depend on as being there. Even with regard to the various product scents, there should just be some basic scents that ALWAYS stay the same and remain that way. Because let's face it...For the most part, people are creatures of habit that don't care for constant change, even though in life 'change' is the one thing that we can all always count on! (LOL!) Some change and variety is good, but keep your base products the SAME & THERE! So, Bath & Body Works discontinued the 'True Blue Spa' line and basically repackaged this hand cream under the new line named...'Hand Hero' Ultra Relief Hand Cream and thanks to the reviews we all then knew it and could go ahead & try that cream. I sighed with relief that even if they were repackaging this hand cream and even changing the 'recipe' just slightly to make it a bit less expensive, at least our special hand cream was still basically there. Yayyyyy! And then, because I had noticed that the dispenser bottles were no longer working as well (and that had actually started with the last few 'True Blue Spa' bottles that I had used)....Well, I wrote another long review to share with folks under that product line on how to fix it. You see, personally I LOVE these dispenser bottles! Now, while a small tube can be perfect for a purse or an office drawer at work, these special dispensers are soooo much more convenient on my bedside end table then a stupid tube with a tiny lid that can get lost easily. I am not sure why the dispensers started having an issue as I had never had an issue for the YEARS that I used them and this hand cream. But, I suspect that either the product amount changed in the packaging or the recipe was thinner, and/or in the production line there was maybe a step left out in packaging at the very end. Let me explain even a bit further, because I had also written a long detailed review for the 'Hand Hero' Hand Cream too explaining how to fix the problem easily and I was the first to do so. I had discovered the 'fix' when I was also wondering if I was going to have to cut the bottles open to get to the rest! (Smiles!) Why do we always make things harder than they have to be? (LOL!) On closer examination, I discovered this...AN EASY SOLUTION TO THE DISPENSER ISSUE & I WILL PUT IT IN ALL CAPS NOT BECAUSE I AM YELLING, BUT TO MAKE IT STAND OUT A BIT & MAKE IT EASIER TO READ HERE...(More Smiles!)...(Which by the way, Bath & Body Works could have easily put some new 'use instructions' on the side of the bottles or along with the hand cream bottles themselves as a 'fix' to help people with any potential issues & thus saved on this whole problem)...ON THE BOTTOM OF THESE BOTTLES IS A POP CAP/TAB PUSHED INTO THE BOTTOM OF THE BOTTLES. TURN THE BOTTLE OVER TO WHERE THE STICKER & PRICE TAG IS & USE YOUR NAIL ON IT'S SIDE TO SEPARATE IT & PULL THE CAP OFF. INSIDE OF THE BOTTOM OF THE HAND CREAM BOTTLE IS A PLASTIC INSERT. JUST LIKE WE USED TO DO IN MY GENERATION WITH THE OLD ORANGE ICE CREAM POPCICLE PUSH UP STICKS, JUST PUSH THAT PLASTIC INSERT UP TOWARDS THE TOP OF THE BOTTLE A BIT AFTER THE BOTTOM POP CAP/TAB HAS BEEN REMOVED. TWO THINGS WILL HAPPEN WHEN YOU PUSH THAT UP...YOU WILL MAKE SURE THAT THE LOTION MEETS THE PUMP TUBE AGAIN INSIDE OF THE BOTTLE AND YOU WILL REMOVE ANY AIR BUBBLES THAT MAY HAVE DISENGAGED THE SUCTION INSIDE WHICH IS WHAT KEEPS THAT MECHANISM RIDING UP WITH EACH PUMP UNTIL THE PRODUCT IS COMPLETELY GONE. ONCE YOU HAVE PUSHED THAT PLASTIC INSERT UP A LITTLE BIT FROM UNDERNEATH AT THE BOTTOM OF THE BOTTLE, THEN JUST PUT THAT POP CAP/TAB BACK ON THE BOTTOM OF THE BOTTLE. NOW, IF & WHEN I HAVE HAD A PROBLEM WITH ANY OF THESE DISPENSER BOTTLES, THESE STEPS HAVE FIXED IT RIGHT AWAY AND I HAVEN'T NEEDED TO REPEAT THE PROCESS AGAIN. BUT, IF YOU DO HAVE ANY FURTHER ISSUES THEN JUST REPEAT THE PROCESS. IT IS A VERY, VERY, EASY FIX!!! (BIG SMILES!) Okay, so with all of this said...It appears, according to the latest reviews, that Bath & Body Works has YET AGAIN re-packaged this original Spa line hand cream lotion into a new brand...This time with the word 'Paraffin' in the title and now it is in a tube with a small lid. GREAT! REALLY?!! We aren't idiots folks. What is wrong with you guys?!!! And, FYI everyone...There is also now LESS hand cream in the newest True Blue Spa Hand Cream now repackaged to 'Paraffin' Hand Cream Tubes! So, it has gone from 5 Oz to 4 Oz in the newest 'Paraffin' Hand Cream repackaging. One of these bottles generally lasts me about a month at 5 Oz so that would surely now mean a little less time for me. So, I have stocked up on these discontinued True Blue Spa Hand Creams now while I can in order to get me by for a while yet again, while I start looking elsewhere for my new reliable brand of wonderful working hand cream. Not because I want to mind you, but because Bath & Body Works is selling off what is left of these new discontinued AGAIN recycled under different names hand cream items and I am really BEYOND tired of these retail 'games'!!! I have heard some amazingly wonderful things about a new goats milk natural product line elsewhere and unless Bath & Body Works decides to keep the original recipe of True Blue Spa Hand Cream, along with this original bottle dispenser design and the original alternative small tubes of this hand cream too also in their product line, so that we can ALL be happy again...I will finally be moving on. I will have NO choice. Because before long they will otherwise be re-packaging this very same hand cream YET AGAIN under yet another new name that we can all play 'search and rescue' for as though we are all idiots. Although 'Paraffin' was the obvious clue this time! Repackaging and Repackaging and Repackaging. Recycling the same product with a new name and perhaps very slight alterations. AND...THAT IS BEYOND RIDICULOUS!!! That Is Sad to Say...Because I have LOVED SOOOO many of Bath & Body Works products. But, Bath & Body Works as a company, along with their product staples, have just become WAYYYYY too unreliable and undependable for our family... AND, THAT IS EVEN MORE SAD!!! :-( And So...So Long True Blue Spa Hand Cream...Thanks For The Kind Care & Good Memories...You Will Be Missed!!! :-( Okay, 1st...I have used this 'True Blue Spa' Paraffin Hand Cream for several YEARS now. It has become a household staple & necessity, especially with my dry skin issues in the dry climate that we live in with long, cold winters. We have ALWAYS had a back up stock of it in our cupboard and we have NEVER let in run out. My husband, a master electrician, has always depended on it also at work and has often shared it with the guys he works around. Everyone has always LOVED IT & have asked how it get it because...IT WORKS SO WELL...On dry hands!!! IT IS AN AMAZING HAND CREAM! It is also has just a very nice light citrus type of scent that is not over powering at all. Thus, our family has LOVED & DEPENDED on this Bath & Bodyworks product...Again, NOT as a luxury item, but a necessity. Then the dreaded day came that we found out...They had discontinued it. It was a HUGE shock & disappointment! SAD DAY!!! We have put up with Bath & Body Work's constant change throughout the years in their desire for better products, 'marketing', and item appeal, etc. So, we have tolerated the constant fragrance changes in the liquid hand soaps, their pulling the Spa Socks and then eventually bringing them back every winter, the special Aromatherapy items that we also used regularly that were sadly discontinued, and then even the discontinued Glycerin Bath Bar Soaps that had also become a family staple. Each time, we have stocked up on everything as soon as we have found out that it was being discontinued to buy us some time for them to either bring it back or to find something else somewhere else. But, I am firm believer that a company such as this should always have basic products and scents that NEVER get changed or pulled, items people can ALWAYS depend on as being there. Even with regard to the various product scents, there should just be some basic scents that ALWAYS stay the same and remain that way. Because let's face it...For the most part, people are
Date published: 2019-12-26
bvseo_sdk, dw_cartridge, 17.1.0, p_sdk_3.2.0
CLOUD, getReviews, 7ms
reviews, product