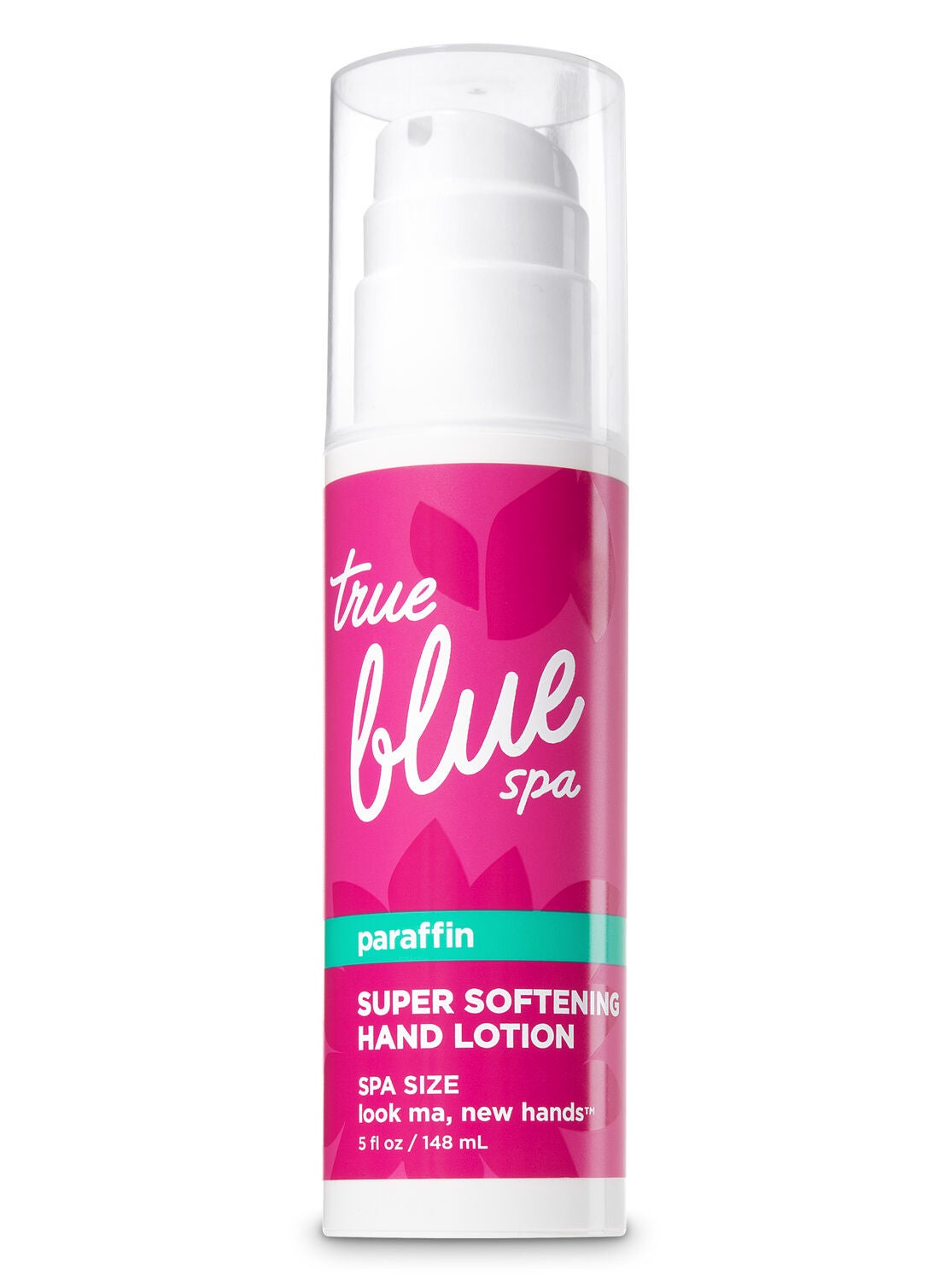 True Blue Spa

Look Ma, New Hands

Super Softening Hand Lotion

https://www.bathandbodyworks.com/p/look-ma-new-hands-super-softening-hand-lotion-020842392.html

5 fl oz / 148 mL
Overview
Keep skin soft and smooth with this super softening hand lotion. Formulated with Paraffin, Olive, Avocado and Apricot Oils plus antioxidant Vitamin E.
Usage
Slather on a generous amount of this lotion for super soft hands.
Rated

5

out of

5
by
Linda 60
from
Great
I Absolutely love True Blue l am so Happy you brought it back . I tried to find something to come close to it and couldn't find anything. Thank You
Date published: 2019-02-16
Rated

2

out of

5
by
Ardell
from
Despite the reviews I purchased anyway
Well I purchased against the advice regarding the defective pump and low and behold my pump stopped working cant retrieve the product after one use so back it goes Im tired of returning due to lack of corporate fixing what is an obvious problem
Date published: 2019-01-22
Rated

1

out of

5
by
Ruby20
from
Terrible Dispenser
This is the best hand treatment for extremely dry skin. It moisturizes your skin very well. It absorbs quickly and does not leave a greasy mess, it is great for daily use. The DISPENSER is the problem. The pump is very hard to use and stops working after a few pumps. The only way to use the rest of the lotion (Bottle still has about 2/3 of the lotion) is to cut bottle open. What a mess! This lotion was so amazing in TUBE form. This dispenser is NOT working. Please bring back the tube. If it ain't broke, don't fix it! I can't recommend this dispenser to anyone. 5 stars for the product--1 star for the package.
Date published: 2018-12-28
Rated

5

out of

5
by
SAEBBW
from
Pump Fix solution
Been buying this for years, the pump does stop working but you need to take off the little round base of the tube and push the plunger up inside. Then you can snap it back on and will be able to continue to pump more out. Best handcream ever! Smells great and also works well on eczema prone skin keeping flare ups at bay. I use this on my toddler's whole body.
Date published: 2017-11-22
Rated

2

out of

5
by
Ldylk010
from
Defective pump but great product
I have been using this product for over 15 years. Usually I buy 3 pump bottles which lasts for four or five months. This last order lasted for less then two. I cut open the bottles and found the pumps had 1/2 to 3/4 of the product remaining but the pump was not functioning correctly so I had to transfer it to another container. After opening up all three bottles I discovered 2/3 of the product remained in the bottle. Prior to writing this I read other reviews and discovered this has been a problem for over three years. This defect should have been addressed by this time. I understand there are ways to work around the defective pump but should we have to do that given the price if this product.
Date published: 2017-07-30
Rated

2

out of

5
by
Flobaby
from
Impossible Packaging
I'd like to start by saying this is a great hand treatment for painfully dry skin. It is so moisturizing and absorbs very well for daily use. The difficulty is the container. The pump is very hard to use and stopped working mid way through so the only way I can use the rest of the lotion (and there is PLENTY still in there) is to cut bottle open. What a mess! The best way to buy this lotion is in tube form. This way is not working. For that reason I cannot recommend it. 5 stars for the product--1 star for the package.
Date published: 2016-10-16
Rated

5

out of

5
by
Mel M.
from
Husband Approved
I've been through a lot of lotions, looking for the right one that feels great, feels smooth, and smells wonderful. This lotion meets all my requirements and more. My husband is allergic to heavy-scented items, so I'm always trying to find something that's light for him. This lotion has a very clean, lemon scent. Not only did my husband love it; he bought me 3 bottles of it! I have some in every room, purse, and car! Can't wait to get some more!!
Date published: 2016-07-13
Rated

3

out of

5
by
mftaylor
from
Pretty good
I have extremely dry skin during winter, mostly on my hands and feet. So dry that they peel most of the time. I am very picky regarding my hand lotions. Although pretty good, this is not the BEST I've tried. I remember enjoying it much more when I was younger, perhaps the formula has changed? It is also kind of greasy, but that can be explained by all of the oils that it contains. I like that they don't test on animals.HOWEVER:WHY is there alcohol in this? Specifically Benzyl Alcohol and Cetyl Alcohol. These are both drying agents, and thus would cause many people to keep buying more of this product, due to it's short term effects, instead of it's long term ones. I did check the back of the ingredient list after noticing that my hands didn't feel as hydrated after the third day of using this cream, and had begun to feel more greasy.There are some beneficial ingredients like Stearyl and Cetaryl Alcohol, which are emollients & proven to be beneficial in hand creams. Also shea butter (an emollient). There is also glycerine in this, which is nice.I would be interested to see how much of each ingredient are actually in the hand cream.
Date published: 2016-01-07
Rated

5

out of

5
by
dc19texas
from
Parrafin hand lotion
This is the ONLY lotion/cream that helps with my dry skin, as well as my kids' dry skin during the colder weather. We each have VERY sensitive skin that dries out & chaps during the winter. I have NEVER had anything work like this! I pray that this product NEVER goes away! I went into a panic several years ago when the packaging changed & I thought they stopped carrying it, then panicked again recently when I didn't see it at my local Bath & Body location (I was informed only certain stores carry this now, or it could be ordered online). This lotion provides so much relief, so much moisture... it's the BEST!!! If you're new to this product, it is thicker as opposed to thinner (more like a cream, which is great)! Does not have a strong scent, just clean. And, I LOVE the pump bottle!
Date published: 2015-11-24
Rated

5

out of

5
by
Counselor
from
The Absolute Best
As an Intensive Care Nurse who washes her hands continuously throughout the day, my hands are raw by the end of the shift. This is the only hand cream that has ever worked and actually makes my hands appear younger, less wrinkled for my age! The paraffin helps it to last longer through multiple hand washings and the smell is wonderful and refreshing! Although it is pricey, I always stock up when I find it on sale, and always carry a small bottle in my pocket at work and in my purse. I have recommended it to others and everyone that tries it just loves it! It is definitely one beauty item I will not go without!
Date published: 2015-06-06
Rated

5

out of

5
by
User
from
Although expensive, I've been using this excellent lotion for years. Problem with the pump can easily be fixed by popping the cap off of the bottom of the bottle and push up on the the plunger that is exposed. There is no need to cut into the bottle.
Date published: 2015-03-28
Rated

4

out of

5
by
SheerFreesiaPleasePlease
from
Great for cold nights!
I love using this on dry, winter skin. It's so luxurious; definitely a winter staple in my household!
Date published: 2015-02-24
Rated

3

out of

5
by
Brenda T
from
Love the lotion but...
I got this for Christmas from my husband. Received three bottles - the pump quit working on two of the three and I can't get it out of the bottle. I love how the lotion makes my hands feel soft but guess ill have to cut the bottle open and find another container to store it in!
Date published: 2015-02-16
Rated

5

out of

5
by
Cheryl W
from
This is hands down (pun intended) the best hand cream ever! I love it! It makes your hands feel so great, and LASTS, but does not feel tacky or sticky like some other creams can feel. It's my fave!BUT - they blow it with the pump bottle. I bought 3 and all 3 are having issues with the pumps! PLEASE just put this size in bigger tubes like the other True Blue products! I would just buy the smaller sizes, but this size is such a better deal! :( I sure hope this gets corrected!
Date published: 2015-01-16
Rated

5

out of

5
by
Cheals27
from
I love this product, but I hate the broken pump.
This product is amazing! It makes your hands so smooth. The only negative is the pump. I have only had it a few days when it stopped working.
Date published: 2015-01-02
Rated

4

out of

5
by
xoxmissmandie
from
Amazing on my super dry, eczema prone legs!
I have severely dry skin on my legs due to eczema and Look Ma, New Hands works GREAT to keep my skin moisturized without irritating it. I've seriously never found a product that works all day on my legs and believe me, I've tried everything. The only reason I didn't give it 5 stars is for the same reason as many others. The bottle design. I literally cut into every single bottle I buy to get the last few ounces out. I have found enough for more than one application left after it quits pumping. Other than that, I love this stuff and even though my wallet hates me when I buy it.
Date published: 2014-12-28
Rated

5

out of

5
by
monik
from
Outstanding
This hand cream is superb! My husband and I both use it with great results. Highly recommend.
Date published: 2014-12-04
Rated

5

out of

5
by
Americangirlly
from
Look Ma, New Hands is awesome- works great!
I have this hand lotion in every size and I just think it is awesome. I have used the BBW Look Ma, New hands for longer than I care to share and it is just a staple for me. The paraffin makes this hand cream go from good to Excellent. I also use a few other hand creams such as the Shea ( I also love) but this is the cream that makes my hands improved with regular use.It is funny that years ago I learned about this cream when my mom (ma) sent me on an errand to buy her some when I was visiting and she had been telling me how wonderful it was. I used some and have used it since.Thanks, MA
Date published: 2014-10-11
Rated

4

out of

5
by
dontnodip
from
Great product/terrible packaging
This is some really great hand cream. I've been using this every night since "discovering" it last year. I am rough on my hands at work and wash with soap and water several times a day AND I use hand sanitizer liberally between washes. I put this on at night with gloves and in the morning my hands are incredibly smooth. However, this pump bottle is the pits. I thought the packaging was extremely heavy the first THREE times the pump went dry. On my fourth bottle the cream lasted a lot longer and the bottle was very light when it was empty. It turned out that I had been unwittingly discarding probably HALF the bottle because the pumps just stopped working. Had I read the reviews I would have realized that the pump bottle is a dud and I would have cut open the bottle. For the price of this cream this is unacceptable. Buy the squeeze bottle.
Date published: 2014-05-06
bvseo_sdk, dw_cartridge, 17.1.0, p_sdk_3.2.0
CLOUD, getReviews, 9ms
reviews, product