Images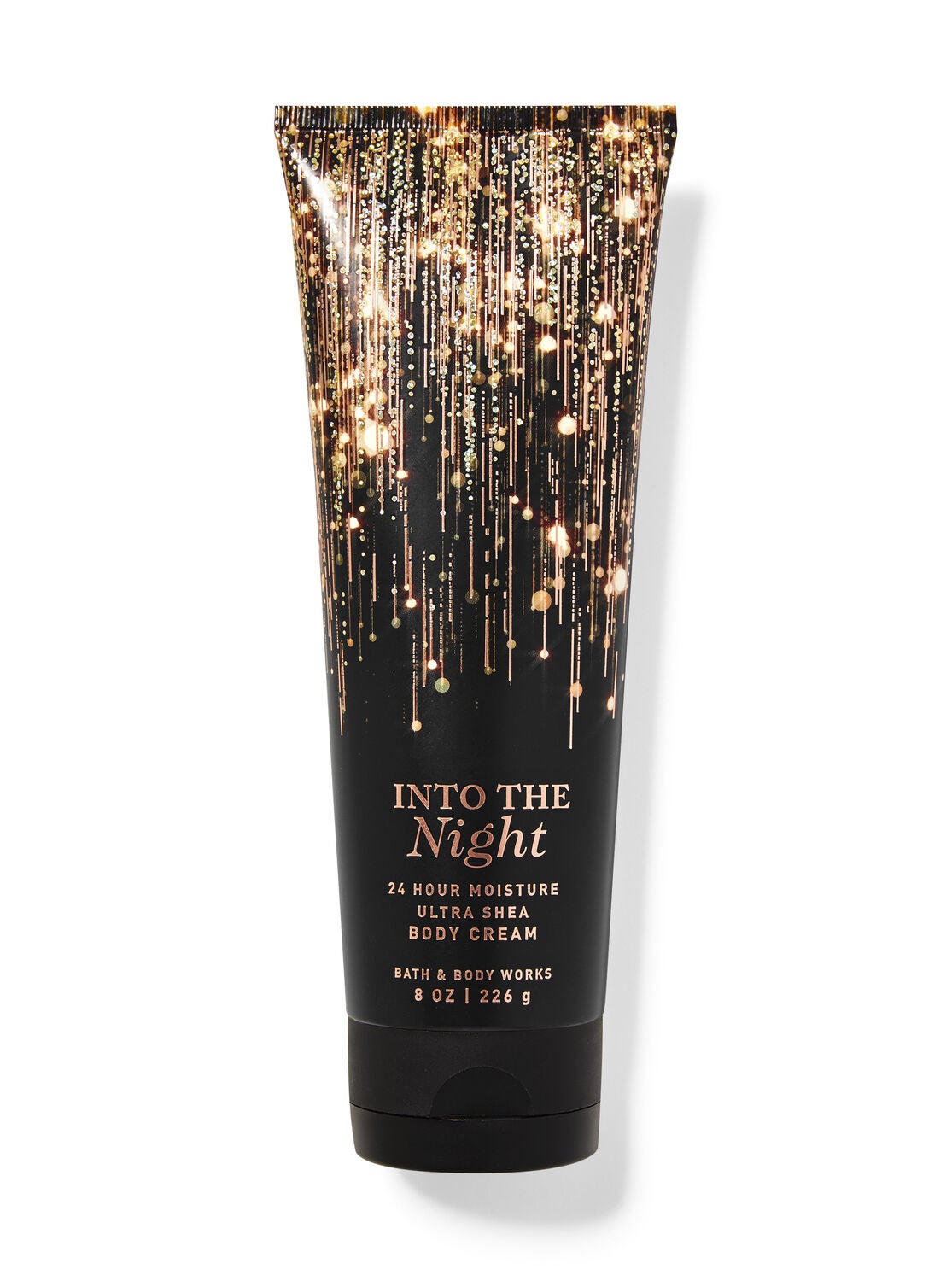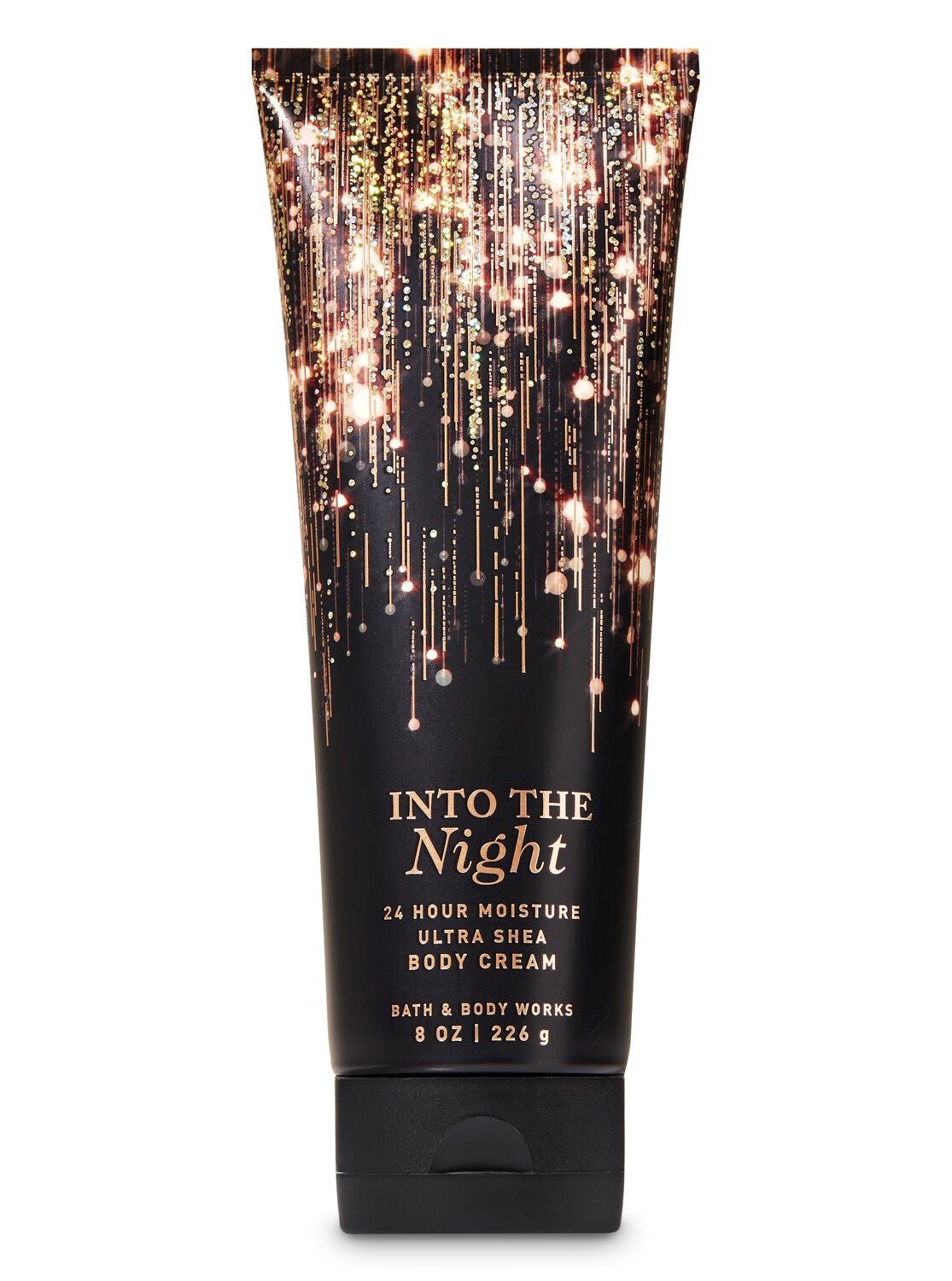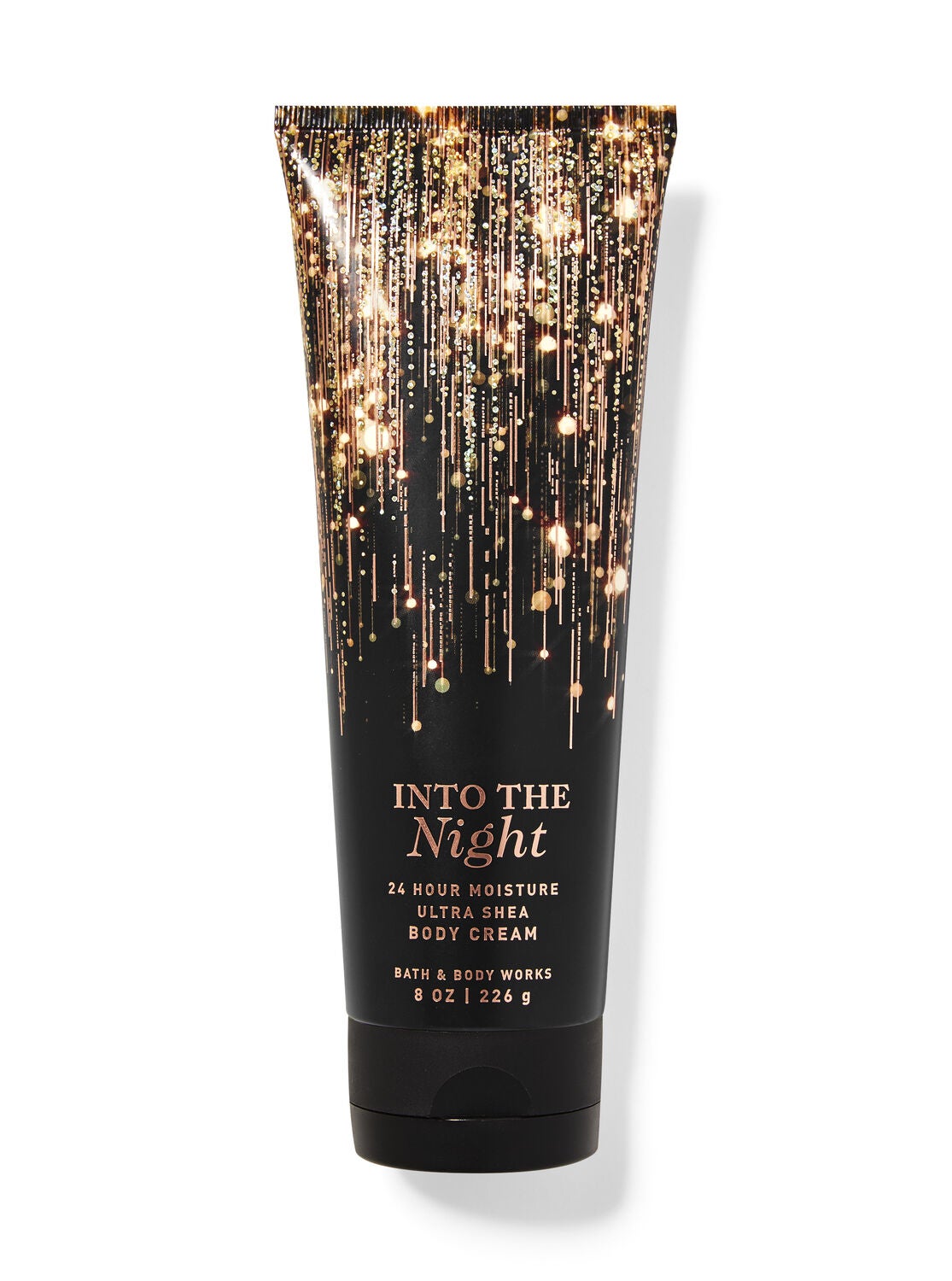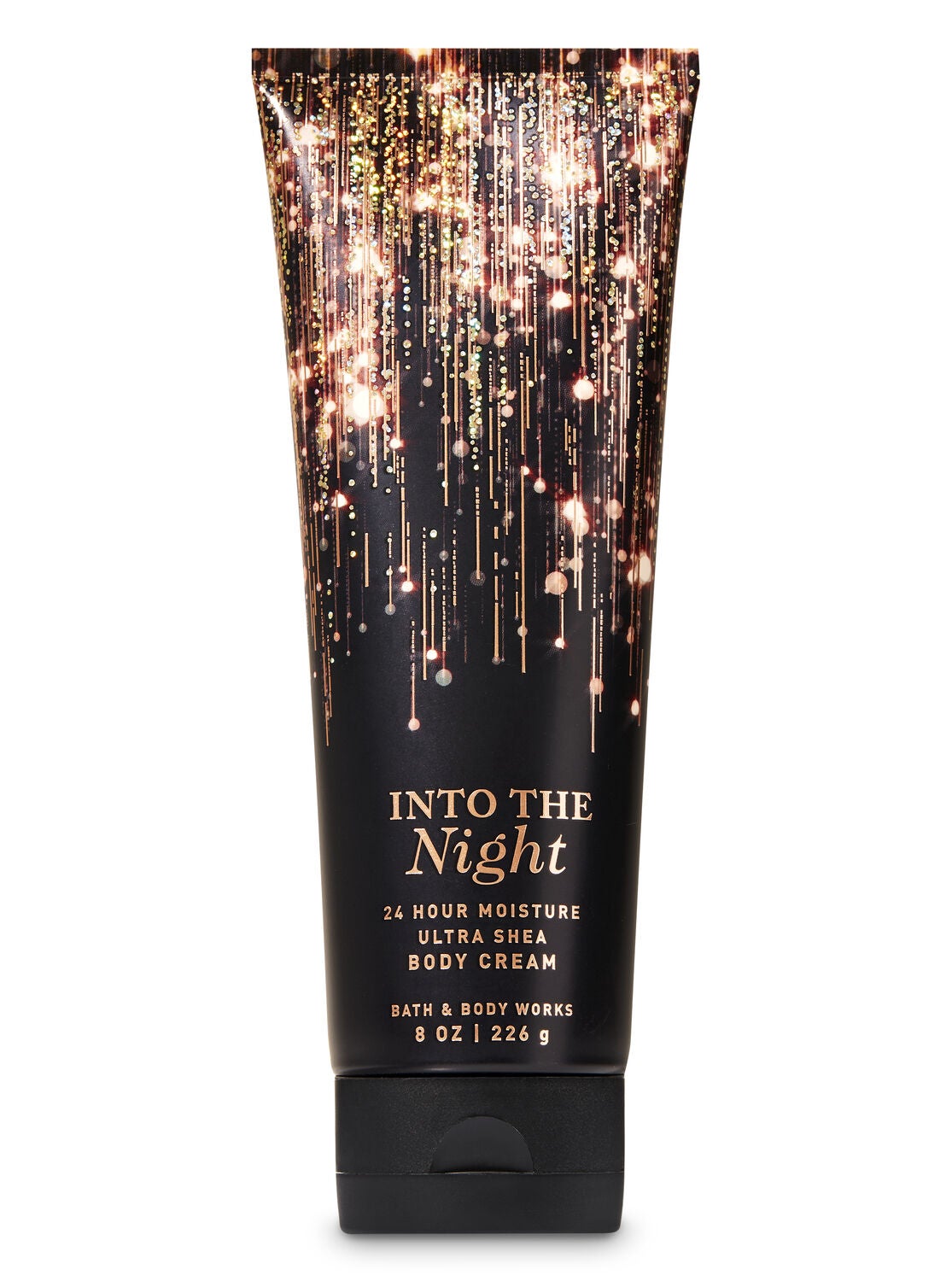 Into the Night
Ultra Shea Body Cream
https://www.bathandbodyworks.com/p/into-the-night-ultra-shea-body-cream-024510482.html
8 oz / 226 g
Details
Mix & Match: Buy 3, Get 2 Free (Must add 5 items to bag) or Buy 2, Get 1 Free (Must add 3 items to bag). Limited time only. While supplies last. Offer may not combine with other site offers. Subject to change without notice. Lowest-priced items are free. Shipping, handling and taxes apply to all items.
Fragrance
A timeless, feminine, alluring blend of dark berries, midnight jasmine & rich amber
Overview
Evoke natural confidence & brilliant beauty from the beginning of your day Into the Night. Infused with fluffy shea & cocoa butters & soothing aloe, our Ultra Shea Body Cream is clinically tested for 24 hours of moisture. This dermatologist-tested, non-greasy formula leaves skin feeling soft & smooth.
Rated

4

out of

5
by
Alva_Lila
from
Great, A New Favorite!
Paris Amour is my favorite, but I'm always looking for something else just as good. I don't normally like the fruity scents, which is why I like Paris Amour. I took a chance on this one, and I'm glad I did. It's more of a "golden" scent, but not too strong. I like it!
Date published: 2020-05-05
Rated

5

out of

5
by
Ginger Redshoes
from
My new favorite
Sparkling berries with a hint of incense. It temunds me of all the places I wish I could go. I have a new favorite!
Date published: 2020-05-02
Rated

1

out of

5
by
PaigeL
from
Oh no.
I wanted to love this, truly. As soon as my package finally came (thanks quarantine) I put some on my hands. Instant headache, instant shock at the expensive old lady scent. I read a review stating it smelled similar to Amber & Argon which was my favorite scent ever, and that could not have been further from the truth. Was looking for a new scent to wear daily, and after reading the reviews I thought this would be it. Do not order this unless you can smell it/try it in the store. Save your money.
Date published: 2020-04-30
Rated

5

out of

5
by
L Gouliard
from
This is a scent for a classy woman!
Someone in one of these reviews said this fragrance reminded her of a 1940's woman. She was SO right. I picture a Bettie Paige type soaking her feet in a claw foot tub and applying this luxurious body wash to a wash cloth. This scent is classy, FEMININE, sexy and alluring. I LOVE this entire line!
Date published: 2020-04-22
Rated

4

out of

5
by
LibraMoon
from
Fruity dark woody
The body cream is a bit stronger than the mist. It smells like dark kiss mixed with black amethyst. The scent discription is a little different on the bottle, and I posted it here. Raspberry noir, amber crystals, rose petals, PATCHOULI, mocha musk. Being that we are all in quarantine and can't smell these in the store, I just wanted to let you all know of the true scent description. It's a good long lasting scent if you like woody & fruity. It's also leans slightly androgynous. As always, the body cream moistures well. It goes on strong smelling at first, due to the patchouli. After a little bit, it mellos out nicely. It reminds me a bit of Gucci Rush and Coco Noir.
Date published: 2020-04-22
Rated

4

out of

5
by
LoHunt
from
Such a nice scent
Kind of reminds me of Amber & Argan, such a lovely fragrance, not too overwhelming, and lingers all day.
Date published: 2020-04-03
Rated

5

out of

5
by
camanm2
from
Attractive lasting scent
I bought this when it first came out and I had a cold, could hardly smell, but with a name like that how could it not be great. When I first used it myself and my bf fell in love with this sensual scent. Now he tells me to use this frequently. I'm going to kind of date myself here but it instantly reminded me of the late 80's when I would babysit for a neighbor lady. She would wear a perfume I believe was called Opium whenever she would go on a date, I would love it when she would wear it so I could sneak a little spray after she left.
Date published: 2020-03-29
Rated

5

out of

5
by
marievander18
from
Absolute Favorite!!
Out of all the Bath & Body products I have this one definitely ranks highest out of them all. I used the moisturizing body wash and scrub then put the cream on afterwards and I can still smell it hours after! The scent is strong and stays on my skin which is HUGE! I'm obsessed!
Date published: 2020-03-16
Rated

5

out of

5
by
Bananas626
from
Amazing
Please do not get rid of this. This stuff is amazing I have the whole collection.oh please make a shampoo and conditioner
Date published: 2020-03-15
Rated

5

out of

5
by
Kara94
from
Love!!!!
I bought this scent in the 3 wick candle, a friend bought the lotion and didn't care for it so she gave it to me. I absolutely looooooove this scent!!!! It smells masculine and sweet and I love that the scent stays throughout the whole day.
Date published: 2020-03-15
Rated

2

out of

5
by
LisaPB
from
Nausiating over time
Smelled good at first like others have said and then grows WAY TOO sweet and cloying. Smells like ultra-sweet amber with a little berry mixed in. Yucky.
Date published: 2020-03-08
Rated

4

out of

5
by
BreezieSpice
from
Sexy
Product review: Into The Night Bath & Body Works "A timeless, feminine, alluring blend of dark berries, midnight jasmine & rich amber." If you are a fan of Dark Kiss, then you'll be obsessed with this! It's so so so dark and broody. It's mature, rich, musky, and fragrant! Key notes are raspberry noir, Amber crystals, velvety rose petals, creamy patchouli, and mocha musk. You definitely can smell the amber notes and it leaves you feeling like a sexy temptress when you put it on. Trust me - if you like more adult scents, this is it! As with most body mists and lotions, I feel like you need to reapply every few hours as the smell wears off - but this elegant fragrance lingers more than most!
Date published: 2020-02-21
Rated

5

out of

5
by
Glenda
from
Into The Night
I LOVE this scent. I'm an avid shopper at Bath and Body and normally I go for gourmand type scents like Vanilla Bean Noel, etc., but recieved this as a gift over the holidays. So it wasn't something I probably would've tried on my own. But I LOVE this scent, and it's the only one that I want to wear at the moment lol And the more you wear it the more you love it.
Date published: 2020-01-30
Rated

5

out of

5
by
MAK814
from
Brings back memories of 2007's Blackberry Amber!
I confess, I am terrible when it comes to writing reviews--as in, I never do. I should take the time out to gush about things more often. I love this scent. It is my favorite new fragrance from B&BW in several years. It is very similar to an old B&BW favorite of mine, Blackberry Amber. That scent holds a special place in my heart, as I used to wear it a lot back when I started dating my husband 12 years ago. Unfortunately, it didn't stay in the collection for long, and I never see it pop up with other retired fragrances during Semi-Annual Sales. I don't think it was around long enough to even be considered a "retired fragrance." Most customers reading this review probably wouldn't even remember it, to be frank. Its short lifespan has always saddened me, as I am the sort of person who has a very strong olfactory sense memory. I have been waiting for a dupe for years, be it from B&BW or another retailer. I have never found anything that comes close enough. But Into The Night strikes all of the important nostalgic chords for me, bringing me back to that very special time in my life. For comparison, here are the fragrance descriptions: Into The Night - dark berries, midnight jasmine & rich amber Blackberry Amber - blackberry, raspberry, jasmine, vanilla, amber, sandalwood There are definite differences between the two scents, but the similarities are enough to satisfy. Every time I catch a whiff of myself, it brings a smile to my face. I'm so thrilled to have something so close to my old favorite back. I'm in love. B&BW, please keep this one around for a long time!
Date published: 2020-01-24
Rated

1

out of

5
by
Brucie
from
Disappointing
This has to be the worst scent ever !
Date published: 2020-01-20
Rated

5

out of

5
by
Morg937
from
Perfect night out scent
Love this scent so much, i can wear it whenever but tend to wear it more in the evenings and nights out...i think "into the night" is subconsciously messing with me.... lol kidding i love this scent
Date published: 2020-01-16
Rated

5

out of

5
by
Gatheringstorm1
from
I will riot if this ever gets discontinued!
Please dear God on all that is holy, PLEASE dont ever discontinue this scent!!!!! I have this scent in everything! First of all let me just say, the packaging is on point! BEAUTIFUL!!!!! Second, the scent is alluring and sensual. I feel, dare I say, SEXY when I wear it. It lasts forever. No need to keep reapplying and wasting your hard earned money. I get compliments wherever I go. Great date night scent! To the chemist who created this amazing fragrance, THANK YOU! You are AWESOME!!!! Just saying. HIGH FIVE!
Date published: 2020-01-13
Rated

5

out of

5
by
Bondgirl007
from
Lovely!
This may be one of my new favorite fragrances they have. I used to like Black Amethyst but after smelling it again this year when it was released it seems so strong and almost overpowering. Perhaps my smell is changing with getting older but this seems a little more subdued and romantic. I have the shower gel and lotion and love! You will get compliments.
Date published: 2019-12-31
Rated

5

out of

5
by
PatriciaM
from
My new favorite
My two favorites were Sensual Amber and Wild Madagascar Vanilla. I'll never go back to either now this scent is here. It's clean and fresh smelling. One review said the fragrance was too strong. I have to disagree. It's perfection. I like this so much I ordered wallflower refills because I want my entire house to smell like this. It's feminine but not too feminine because there is that scent of woods in it.
Date published: 2019-12-27
Rated

5

out of

5
by
Jackzs654
from
You have done it again, love it!
I have had so many compliments on this fragrance. The dark berries, midnight jasmine, and rich amber blend perfectly. This smells so good, not to sweet, very feminine, very sexy. I bought the body wash, and the fragrance spray. Was disappointed that my store did not have the body cream that I would of loved to have. I asked if they were just out of it but they said they never got it. I will be checking back to see if they get it in. This fragrance is a keeper for sure.
Date published: 2019-12-22
Rated

5

out of

5
by
Williow
from
They nailed it!
I absolutely love this lotion and scent! I receive dozens of compliments everytime I put this lotion on. My work friends love it too!
Date published: 2019-12-22
Rated

5

out of

5
by
Md85
from
Smalls great
This lotion smells amazing.
Date published: 2019-12-22
Rated

3

out of

5
by
KimmiB
from
Moisturizing, but strong scent!
It is very moisturizing and feels great on my hands. I typically use it after my morning shower. I find that the scent is too strong for my taste to use at bedtime.
Date published: 2019-12-19
Rated

5

out of

5
by
Swaggy P
from
Smells SOOOOO good
I am definitely buying this again. The better not redo the formula, because it is perfect!
Date published: 2019-12-18
Rated

1

out of

5
by
Ren10
from
To heavy of a smell!
This smells good if you like very strong notes in lotion. I get a headache every time I wear it just a bit to strong for me.
Date published: 2019-12-16
Rated

5

out of

5
by
TeeKay1
from
Love the softness of this scent
This scent has a soft scent that has a slight berry, and amber smell. If your sensitive to smells this would be a good scent for you. You won't be disappointed. This is now my favorite bbw scent
Date published: 2019-12-15
Rated

5

out of

5
by
victoria63645
from
Nice fragrance
I love the body creams and this is a nice fragrance.
Date published: 2019-12-15
Rated

5

out of

5
by
Jeremy931
from
It's Perfect
My wife loves it because it Smells great not to strong last all day Keeps your body smooth
Date published: 2019-12-15
Rated

1

out of

5
by
Bonita_Mahan
from
Way too strong!
This scent was way too strong and smelled like something an old lady would wear. The scent would not go away and gave me a headache. It seem to get stronger and stronger. Unfortunately I ordered several items. I purchased it the instant it came out so there were no reviews yet.
Date published: 2019-12-11
Rated

5

out of

5
by
Kristen_B1130
from
Smells Amazing!
Put it this way. If you like Sensual Amber or Dark Kiss, then you will like this scent. I like both and this one. I find that any scent with amber smells good. Not to overpowering, but just right. I bought the candle, wallflower, body wash, lotion, and the spray. All amazing! The perfume is awesome also. (Wish they had a scratch and smell online, wouldn't that be nice lol)
Date published: 2019-12-07
bvseo_sdk, dw_cartridge, 17.1.0, p_sdk_3.2.0
CLOUD, getReviews, 7ms
reviews, product