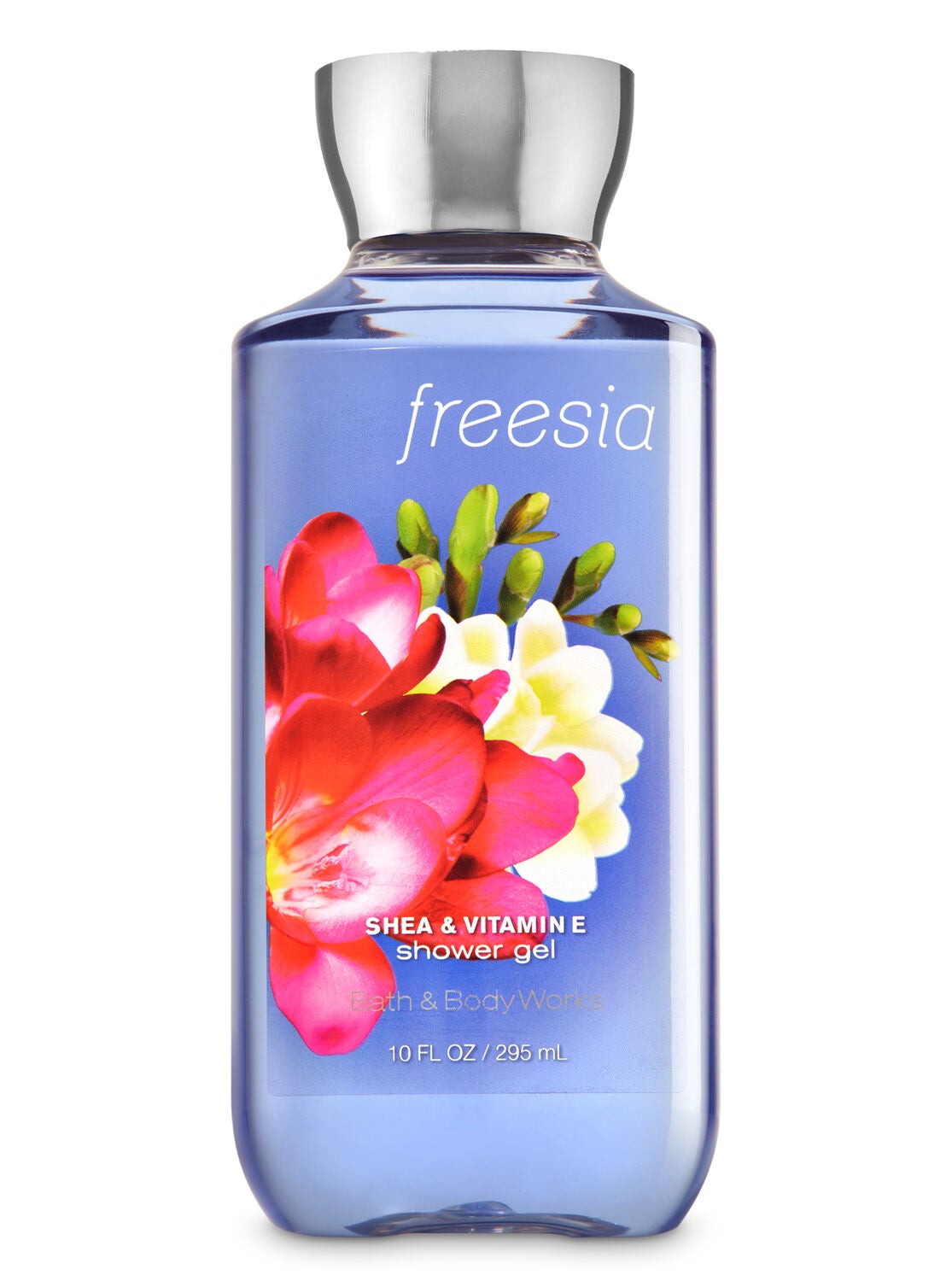 Signature Collection

Freesia

Shower Gel

https://www.bathandbodyworks.com/p/freesia-shower-gel-023112616.html

10 fl oz / 295 mL
Fragrance
Inspired by a fresh-cut spring bouquet! A perfect blend of freesia petals and creamy hyacinth

Key notes: Freesia, Creamy Hyacinth, White Musk
Overview
Wash your way to softer, cleaner skin with a rich, bubbly lather bursting with fragrance. Moisturizing Aloe and Vitamin E combine with skin-loving Shea Butter in our most irresistible, beautifully fragranced formula!
Rated

5

out of

5
by
PASSION
from
This makes my skin feel, soft, sensual & lovely!!!
I love the way this product makes my skin feel while lathering this lovely shower gel all over my body . . . than after rinsing & drying myself off, my skin feels so soft, subtly sensual and oh so lovely!!! I smell like a fragrant summer breeze!!!
Date published: 2018-11-20
Rated

4

out of

5
by
BBW2WILD
from
Very Nice
This one is a classic from way back. It's a clean freesia scent that has a bit of musk in it. The scent lingers on your skin. They bring it back at semi-annual sales. I wish they sold it in the stores, but glad it is still available on- line.
Date published: 2018-11-03
Rated

5

out of

5
by
Valjean
from
Wonderful fragrance
love the freesia shower gel and lotion it's the only sent that I get compliments on everyday everyone wants to know what I'm wearing I used to like the original but this is just as good and I hope they really do not retire this sent it's fresh it's clean and still has a very nice flowery scent. Been using this for years so
Date published: 2018-10-14
Rated

4

out of

5
by
theresad11
from
Miss Sheer Freesia
I was really excited when I saw Fresca return to BBW online site, even though I was a huge fan of their Sheer Freesia which I am so sad I can no longer buy. This scent is nice, floral with a hint of musk. Scent stays with you when you layer, I receive a lot of compliments when wearing this. Very clean, refreshing scent. Please please bring back Sheet Freesia. Nothing compares to that beautiful scent. Thanks
Date published: 2018-09-06
Rated

4

out of

5
by
Phoenix_630
from
Lovely
I have the full set. I think it's a nice floral scent. I've even been complimented on just the lotion. Definitely worth trying out.
Date published: 2018-08-25
Rated

5

out of

5
by
Barberella
from
My favorite!
This fragrance is fresh, clean, and uplifting! I was devastated whwn BBW discontinued the original freesia many many years ago and replaced it with sheer freesia - which I hated! I was elated when they brought back their retired scents and kept them available on the website! This is my all time favorite and I will keep buying as long as they keep making it. This is my go to!
Date published: 2018-06-04
Rated

5

out of

5
by
Mrs T
from
Floral Scent
When I first smelled it in the shop, I fell in love with it. It has its enticing floral scent. It has a hint of musk but it blends well with its flowery scent . It is non drying, unlike other brands that I used.
Date published: 2018-05-07
Rated

4

out of

5
by
MeColl12
from
Original formula was so much better
I loved the original "Sheer Freesia" from many years ago and was so sad when it was discontinued in stores and only available online, then gone. Was surprised and happy when "Fressia" showed up again. I ordered lotion, gel, body cream, and spray scent but was disappointed that it was only a hint of what the original was. Still it's a nice light scent if a bit too floral, unlike the original. Just a general comment: BBW should allow more than one promo code per online order; just saying!!
Date published: 2018-04-24
Rated

5

out of

5
by
Rebecca23
from
Great scent!!
I love this scent. It has such a fresh clean flowery smell. My favorite, absolutely! I stock up on it every chance I get!! Thank you for bringing back retired scents!!
Date published: 2018-04-24
Rated

2

out of

5
by
KristenLea
from
Not the same
I loved this scent. It was crisp, clean, slightly flowery, and utterly perfect. When I found it online a few years ago, it was still the old formula, and I got several bottles of shower gel, lotion, etc. HOWEVER, when they changed the packaging, they changed the formula. And I'm no longer a fan. It's too fruity... Or perfumed... Or something... It's not at all the same, and I bought a bunch of it so as to not run out. Big mistake.
Date published: 2018-02-18
Rated

5

out of

5
by
Christia
from
A truly wonderful scent!
I've always loved the scent of freesia and this shower gel made me very, very happy! There is a nice blend of freesia & white musk(white musk w/b a great scent for a shower gel!!!) neither overpowering the other. It has a softness about it, yet lasts for hours! 1st thing I do is shower w/Freesia gel. Then comes the lotion and body spray! Don't go crazy w/the body spray, a little goes a long way! It will last the entire day and so will the compliments!
Date published: 2018-02-05
Rated

4

out of

5
by
Jazzygbanks777
from
nice gentle crisp clean smell
This has definitely grew on me after having to replace the sheer freesia(best scent ever&nuthin comez close.lol) and now its not forsale on this site for semi annual(only sh gel) plz plz bring back sheer freesia, i luv ur products & hate spendin a bunch of $ elsewhere finding a replacement because nothing youve came out with recently remotely compares to these too
Date published: 2018-01-04
Rated

1

out of

5
by
ASHL
from
WHERE IS SHEER FREESIA?!
I got this hoping it would be the same as sheer freesia, but it is not the same scent. PLEASE bring back sheer freesia.
Date published: 2017-08-24
Rated

4

out of

5
by
Lizzie
from
Nice floral
I really like the scent of this shower gel. It's perfect for spring. To me, I get a creamy white floral scent similar to a gardenia and I also get a grassy leafy scent that balances it out nicely. I like that it's a floral scent but it's different from most floral scents that are out right now. I also like that it's not too strong and the scent doesn't linger on you too long. I'm glad I picked this one up and I think I'll save it to use Next spring.
Date published: 2017-06-12
Rated

5

out of

5
by
candlegurl
from
LOVE IT!!
I LOVE the way this makes my skin smell and feel. Soft, silky and feminine. Thanks BBW!!
Date published: 2017-04-21
Rated

2

out of

5
by
Faithful to Sheer Freesia
from
Bring Back Sheer Freesia please...in all forms
I have been a Freesia only gal since 1993. Back then Freesia did not smell like this Freesia but since I thought it would be, I ordered quite a few bottles of lotion and bath gel and due to my recommendation, my caregiver and her daughter also ordered several. I am disappointed in the fragrance. It is not the original and it is sure not Sheer Freesia. I remember thinking, "oh, no! ", when Sheer Freesia came along because original Freesia had been "retired". I am so glad for Sheer Freesia, I miss it and want to go back to ordering large quantities of it again. Please make it available. Wall flowers in Sheer Freesia would also be awesome. Ratings are compared to Sheer Freesia.
Date published: 2017-01-31
Rated

1

out of

5
by
angiepro
from
Not the same sheer freesia
I was hopeful and bought the shower gel and body spray hoping it would be the original sheer freesia in a new bottle. There is a trace of freesia but the first scent is stronger, more floral scent. Definitely not the original, definitely not good. Sad, please bring back the original!
Date published: 2017-01-02
Rated

1

out of

5
by
clarnt4
from
NOT the same sheer freesia
Just know that this is NOT the same as the retired Sheer Freesia you may be looking for. This is quite different. Sadly I miss the original fragrance! I returned this.
Date published: 2016-12-29
Rated

2

out of

5
by
Fragrance Enthusiast
from
Funeral Flowers
Lather is averageSmell linger on skin better than averageIntensity of scent on skin better than averageScent in bathroom is okPurely floral. Smelling this at the store during the SAS I thought it would be another Cherry Blossom (soft but amazing scent). I was so wrong. This smells exactly like flowers at a funeral, so overpowering. Unfortunately, the smell lingers on your skin a bit longer and stronger than the average gel so I had to put up with this sickening scent for a while.
Date published: 2016-11-13
Rated

5

out of

5
by
Ruby lore
from
Not overpowering
A lot of Bath&Body Works fragrances are too strong for me. "Freesia" and "Rainkissed Leaves" are the only ones that are light enough and not overpowering. The fragrance is also very natural and simple and it doesn't try hard to be a "crazy scent". Hope BBW can keep this around, along with other lighter fragrances like this for more sensitive people.
Date published: 2016-09-15
Rated

5

out of

5
by
IloveFreesia
from
Favorite Scent Ever!
I loved Freesia when it first came out many years ago and then it was discontinued. It has a clean floral scent but not too flowery. I couldn't believe it when I saw it at the store recently! I'm so happy to have Freesia back again!!
Date published: 2016-06-22
Rated

4

out of

5
by
Reviewed
from
Classy Grandma
I mean... it smells good, but it was a bit too mature for me.
Date published: 2016-06-21
Rated

5

out of

5
by
Flobaby
from
Freesia Shower Gel
I am so pleased with all the wonderful floral scents during this SAS. I have found each one to be distinctive and lovely. I smell so fresh after showering with this, like I took a morning stroll through a flower garden, but not overpowering at all. I am in love! 5 stars PLUS+
Date published: 2016-06-20
Rated

1

out of

5
by
C2M2
from
Musky Floral
Between London Tulips & Raspberry Tea, Peony and Freesia Shower Gels, the Freesia one smells the most MUSKY, and is my LEAST FAVORITE of the three. It just doesn't smell PRETTY or FRESH. I really wanted to like it, but it just didn't work for me.
Date published: 2016-06-16
Rated

3

out of

5
by
meglove8768
from
Its okay..
I ordered this blindly not knowing the scent and although I don't dislike it, I don't love it. It is definitely a floral scent but there is a little too much of the musky notes in it for my taste. It is a nice scent though
Date published: 2016-06-10
Rated

5

out of

5
by
dmcrose
from
Why was this scent discontinued??
This scent is really pleasant! It is a clean floral scent and lasts!
Date published: 2016-06-09
bvseo_sdk, dw_cartridge, 17.1.0, p_sdk_3.2.0
CLOUD, getReviews, 41ms
reviews, product