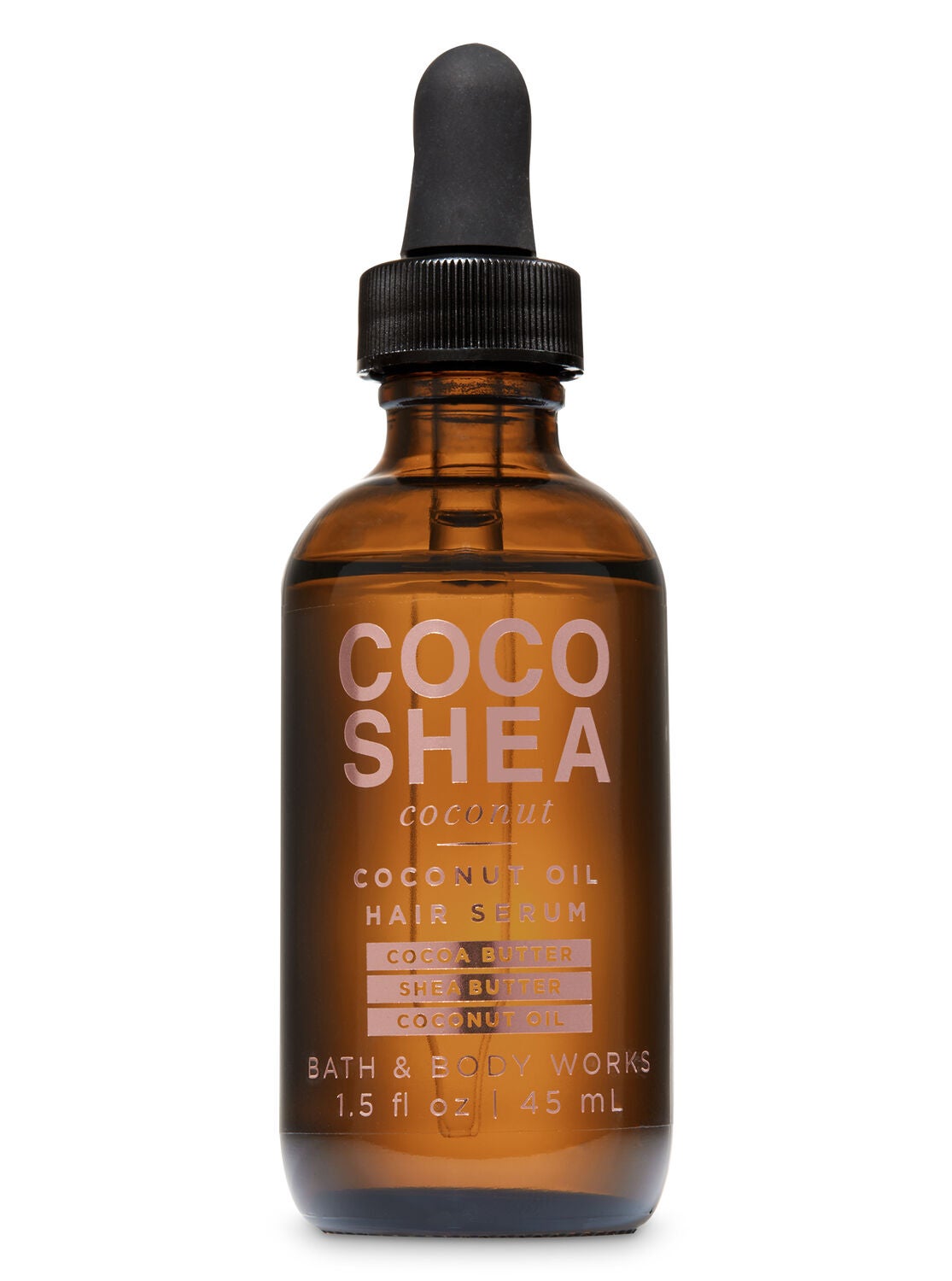 CocoShea Coconut
Coconut Oil Hair Serum
https://www.bathandbodyworks.com/p/cocoshea-coconut-coconut-oil-hair-serum-023630173.html
1.5 fl oz / 45 mL
Out of Stock
We're sorry, this item is out of stock. Please try back soon.
Details
Fragrance
Cocoa butter + shea butter moisturizes & replenishes while coconut oil nourishes & nurtures
Overview
CocoShea blends two of nature's most nourishing ingredients — vitamin-packed cocoa butter + rich, moisturizing shea butter — for the ultimate collection of skin-loving formulas. Infused with raw coconut oil, our Coconut Oil Hair Serum is a must-have for nourished, healthy-looking hair.
Rated

5

out of

5
by
tngalinbluegrass
from
New Go to
I love this. I was using Ouai leave in but ran out. This works great on my thick curly hair. Frizz was not problem with this even with rain. Curls still defined. Kept frizz at bay. Thank you BBW!!!
Date published: 2019-04-21
Rated

5

out of

5
by
Shannon B
from
Awesome
This product is amazing! I add some to my leave in conditioner and it makes my hair so shiny. A little goes a long way.
Date published: 2019-04-20
Rated

5

out of

5
by
KShakil
from
Works well for dry hair
Used it with Intense repair hair mask because I have really dry hair and both of the products together have changed the game for it. And the smell is great which is an add-on!
Date published: 2019-04-19
Rated

5

out of

5
by
whindletonsl8444
from
Great Product for ALL Hair Types
I was skeptical about this product; however, I decided to try it. As a black woman with naturally curly hair, who uses an curling iron, daily. There are products to oily for my type of hair; therefore, it weighs it down and does not curl or makes it flat. But, this oil is light and gives my hair enough shine without it being weighty. I must admit, I have to use more than two to three drops a couple times a week, especially after washing. In addition to this product, I paired it with CocoShea Honey Hair Mask and it smells GREAT!!! It is a little pricey but what hair product isn't but it is worthy it. #happyhair #cocosheahair #bathandbodyworkssale
Date published: 2019-04-18
Rated

5

out of

5
by
Sue567
from
For healthy looking hair
Adds a long lasting shine to hair. My hair looks glossy not greasy. It also looks healthy and nourished not dry.
Date published: 2019-04-16
Rated

3

out of

5
by
YayBBW
from
On the fence
I think maybe my hair isnt naturally dry enough for this. I'm going to try it a few more times to see if I can get it right. It says only 1-2 drops. This is no joke. The most I've used the couple times I've used it was 2 drops. I know how to use serum so this isn't an error of mine. I am going to try again tonight with just one drop and see how that fairs for me. Maybe I will skip conditioner. I will try a few more things and if I find the sweet spot then I will change the review. :) one thing I will say is that I was hesitant because of the price but you need so little of the oil and I don't see it going by very fast so I guess the price is fine.
Date published: 2019-04-15
Rated

4

out of

5
by
Teresa09
from
Good product, faulty bottle
This product works wonderfully, it smells great (though the scent is not as long lasting as I would like), it keeps my hair smooth and shiny and feels light on my hair, not heavy or greasy. Te bottle must be kept upright at all times or you will have some major leaks.
Date published: 2019-04-15
Rated

2

out of

5
by
Dozey
from
Poor Design
Rubber top comes off dropper. Oil itself is good.
Date published: 2019-02-19
Rated

5

out of

5
by
vintagekells
from
Smells and Works Wonderfully
My hair can be easily greasy, but I didn't have any problem in using the hair serum. I love the smell it leaves in my hair. I had really dry hair ends, but the serum really smoothed and hydrated it. You only need two to three drops
Date published: 2018-12-01
Rated

5

out of

5
by
Cathy29
from
Keeps hair manageable
I'm in love with the CocoShea coconut hair oil! A couple or three drops on my towel dried hair keeps my hair nourished and manageable. I only apply it on the hair away from the roots. I highly recommend this great hair product and the price is great!
Date published: 2018-11-29
Rated

4

out of

5
by
Tee Girl
from
Soft Silky Hair
I really enjoy using this product in my hair. It smooths my hair without weighing it down or making it appear greasy. Just a few drops is all you need. I use it to blow dry my hair and to have it air dry and scrunched or naturally dry wavy. Just be careful! It's made of glass!
Date published: 2018-11-18
Rated

5

out of

5
by
Graciela D
from
Fabulous
My hair come back to shine I'm in love with this serum with a little bit drops ur hair is perfect and alive
Date published: 2018-11-15
Rated

5

out of

5
by
Medicsteph
from
SOOOO IN LOVE!!
So in love with the newest line from Bath & Body Works called CocoShea Hair Serum. I have very coarse, thick, wavy hair and with just a few drops, not only does it smell AMAZING, it refreshes and wakes up my waves puts a shine back in and takes the frizz out. Would love to see a shampoo and conditioner line (hint hint) I'll wait... But all in all I will definitely be purchasing more very soon and stocking up.
Date published: 2018-11-15
Rated

5

out of

5
by
RLRB
from
Silky Smooth
I love this product because a small amount gives my hair shine and tames the frizz of my color treated hair.
Date published: 2018-11-10
Rated

5

out of

5
by
Lillers
from
LOVE LOVE LOVE
I got this oil because I have super dry, and overly dyed hair. And it has made it so soft and shiny, a little but goes a long way too so this will last me a while
Date published: 2018-11-08
Rated

5

out of

5
by
Jbjamk1995
from
Amazing for dry, fragile, and flyaway frizzy hair!
I absolutely love this hair serum! It tames my unruly frizzy, flyaway hair! My hair also smells good everyday!
Date published: 2018-11-05
Rated

5

out of

5
by
Emahlee93
from
My hair loves this!
I love this product so much! It soothes my frizz, smells so good, makes my hair shine, and soft to the touch! It's like a deep condition salon treatment in a bottle. A little goes a long way. I totally recommend!! Your hair will thank you!
Date published: 2018-11-01
Rated

1

out of

5
by
Tay717
from
Faulty top- 2nd time
I keep most of my staple products with me on the go, either in my car or in my purse. As a full time student, who also works full time I need products that work well, and are durable. This bottle's squeeze adapter has came off twice with extremely light use. I always screw it on tight to prevent leakage. The first time it leaked in my car after only a few weeks of purchasing, I returned the bottle assuming maybe its faulty and exchanged for a new one. This time it has leaked, again only a short few weeks later with light use in my $300 purse that I now have to get cleaned, along with my wallet and everything that was inside because its covered in an overpowering coconut aroma and slicked with oil. Ive had plenty of other hair and skin oils that Ive kept in my car or purse and have never had this issue. Im not throwing my purse around, theres no reason for this top to come off so easily. If you buy this and intend for it to be kept on your dresser and nowhere else it may work well for you. However, if you keep products with you or even in a hair or make up bag, do not expect this to last long as it will surely leak in no time.
Date published: 2018-10-16
Rated

4

out of

5
by
Rquarius
from
A Little Goes a Long Way!!
I've been using hair serum for a long time because my hair tends to get frizzy and I use a flat iron. When I saw this one online, I needed to try it! The first few times, I guess I used too much and my hair looked greasy. I noticed that only a couple of drops work fine! The coconut scent lasts long and it makes my hair smooth and shiny. I'm using it with the Cocoshea hair mask for extra hydration!! :)
Date published: 2018-08-27
Rated

5

out of

5
by
Coolevelyn
from
Awesome product
It smells very subtle and not overwhelming. Helps to smooth out my split ends and helps with my dry scalp.....
Date published: 2018-08-13
Rated

5

out of

5
by
Sammiesausage
from
Curly hair miracle
My curls ar always so dry and this has truly worked miracles
Date published: 2018-08-10
Rated

5

out of

5
by
Jenn jenn
from
Smells awesome
I use so many products on my hair, like serums, but this product is awesome! My hair just loved it. It did not weigh my hair down and controlled the frizzes. I used it after washing my hair while it was still damp and also after i styled it. I will get a bottle for both my daughters. Just love it.
Date published: 2018-07-31
Rated

5

out of

5
by
MindyC
from
I'm in love
It smells amazing and leaves my hair feeling great without looking oily
Date published: 2018-07-25
Rated

4

out of

5
by
Angelrs05
from
Great features
It smells good and makes my hair so soft!
Date published: 2018-05-20
Rated

3

out of

5
by
Marzdequeenbea
from
Have to give it another try
I read the other reviews and everyone seems to enjoy this serum. I tried it once I got my package. I found it to be extremely greasy looking. I was expecting more of a glossy look. Maybe I need to use it when my hair is damp or together with a leave in treatment as to not over use the oil and distribute it more evenly? The smell was great but not to strong and doesn't last very long. I tend to love extremely strong fragrances that last. This didn't and I'm sure if less is used the fragrance will be minimal.
Date published: 2018-05-17
Rated

5

out of

5
by
Mimirjones13
from
Many uses!
I bought this for my husband for his beard and boy does he love it! It's great on my hair as well...makes it shiny and smooth. My daughter has thick curly hair and this gives it just what it needs to aid in friz taming. Just be careful a little bit goes a very long way. Too much and your hair will be oily!
Date published: 2018-05-17
Rated

4

out of

5
by
Kittyoreilie
from
Really hydrating
The serum works fantastically, although I advise using less than you need because if you use more it can leave your hair feeling really greasy and you may need to take another shower to get half of it off. Aside from that, it makes my dry over-treated hair feel brand new again. Would definitely recommend!
Date published: 2018-05-16
Rated

5

out of

5
by
Bath Lover
from
This Product works AMAZINGLY!
I was a bit skeptical when purchasing this product because the hair closest to my scalp always feels oily to me but the ends of hair are so dry. I used the hair serum right after my shower and it doesn't make my hair oily at all! Also, in the past i have had my hair permed twice with bad results, this serum somehow allows the perm to "reappear" in my hair when I use it, (an added bonus)!
Date published: 2018-05-08
Rated

5

out of

5
by
CowgirlScentLover
from
Super Soft Hair
I love how this product makes my hair feel. It's smooth and soft and smells amazing!
Date published: 2018-05-07
Rated

5

out of

5
by
Kiersty18
from
Great for hair
I use this after my hair has air dried for a bit but is still damp, works miracles. Anyone know the ingredients or if it's safe to buy on the face?
Date published: 2018-05-05
bvseo_sdk, dw_cartridge, 17.1.0, p_sdk_3.2.0
CLOUD, getReviews, 9ms
reviews, product