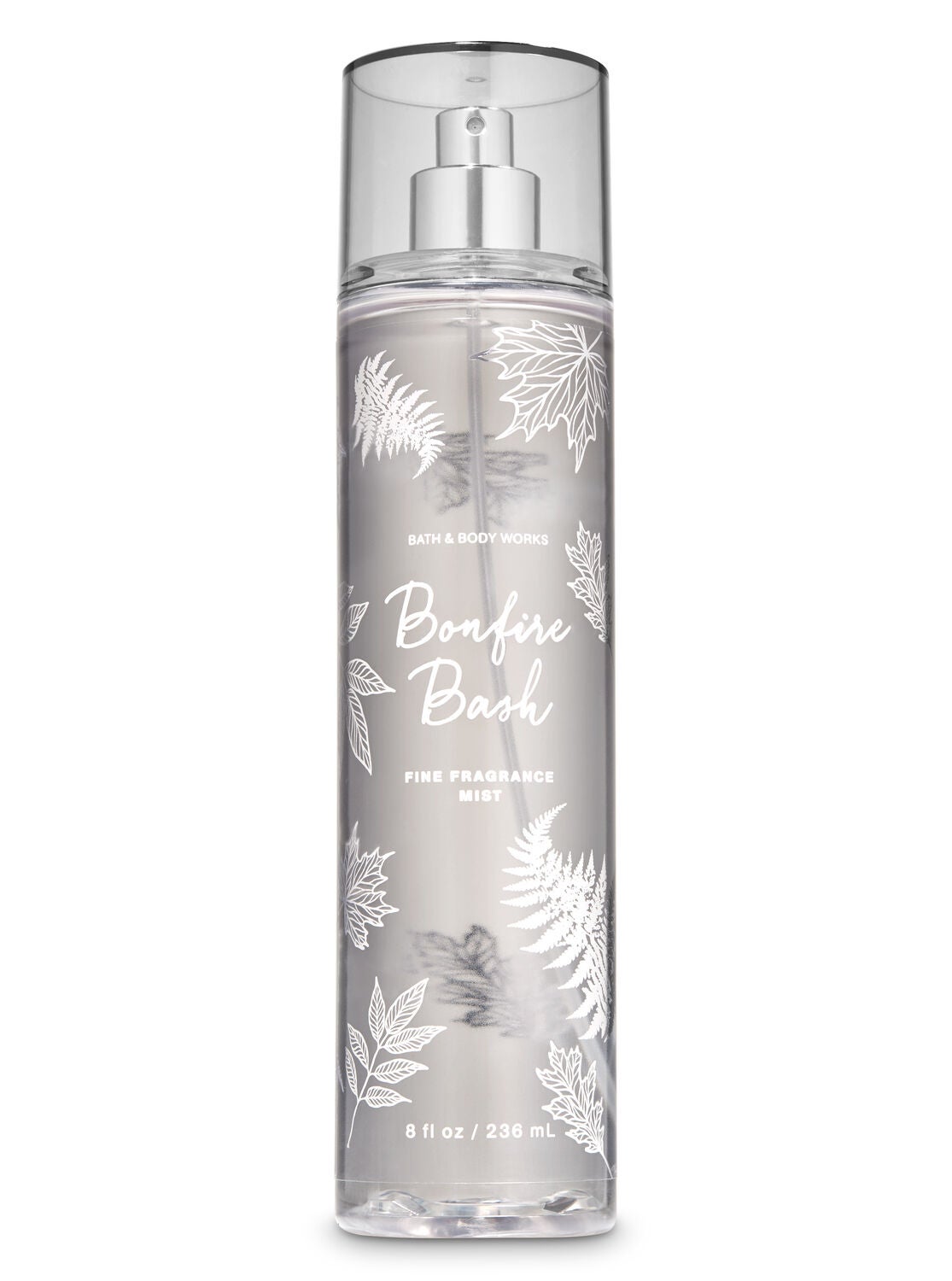 Bonfire Bash
Fine Fragrance Mist
https://www.bathandbodyworks.com/p/bonfire-bash-fine-fragrance-mist-024464154.html
8 fl oz / 236 mL
Fragrance
A sweet, subtly smoky blend of vanilla bourbon, creamy sandalwood & cashmere musk
Overview
A crackling campfire. Cozy flannels all around. Marshmallows toasting to gooey perfection. Our classic Bonfire Bash is in full swing, and you're invited! Whether you lavishly splash or lightly spritz, you'll fall in love at first mist. Our carefully crafted bottle & sophisticated pump delivers great coverage while conditioning aloe mist nourishes skin for the lightest, most refreshing way to fragrance!
Rated

5

out of

5
by
Lulu102
from
Omg this is one of my many favorites! I
I always buy from the fall fragrances every year because it's my favorite season and I love what they offer the (cozy scents) This one is so good I love the smoky and warm combination of it, and it doesn't fade, which is a plus. Please BBW, bring this one back every fall, So I can stock up on this beautiful fragrance. Thanks BBW.
Date published: 2019-09-10
Rated

5

out of

5
by
Carol46
from
I'm Going to Stalk Up
This Smells AMAZING. Just like a bonfire and maybe s'mores thrown in. It's light but lasts especially layered with its lotion.
Date published: 2019-09-09
Rated

5

out of

5
by
Stephy81
from
In love with this scent!!
Last year I accidentally stumbled upon this fragrance. I only bought one bottle and didn't realize how much I would love the scent until it was too late. I went back to multiple stores and all of the bottles were gone. I was hoping they would bring it back and here we are! I barely used the bottle I bought last year because I was afraid you guys you wouldn't make it available. I'm going to ensure to stock up this time
Date published: 2019-09-09
Rated

5

out of

5
by
Iluvla28
from
Please keep year round!!!!
I love sweet scents and this one especially got me hooked. I get a ton of compliments and the smell is pure vanilla on me. I've tried the other ones Boardwalk, Marshmallow, Vanilla, etc.... but this one is waaaay better. PLEASE don't run out!!!!!
Date published: 2019-09-09
Rated

4

out of

5
by
Anita
from
Bonfire Bash a little different this year
I kept the lotion from 2018 and it smelled really good especially the "marshmallow toasting to gooey perfection". I don't smell that with the spray this year its less intense if at all in it. However, last year many complained online of it and maybe that is why it was taken out. It still smells really nice just not the same as the original
Date published: 2019-09-08
Rated

5

out of

5
by
gypsysoul
from
Perfect!
I've been waiting for this! Its so close to the Marshmallow Fireside candle scent that I stock up on every September - but for the body! YES!!!!
Date published: 2019-09-06
Rated

5

out of

5
by
SunniBunni42
from
Gourmet Smore
This is absouluty dreamy! Soo in love with this. At first, the smokyness surprised me and threw me off just a tad but I gave it a chance and it only took maybe an hour till I realized how amazing this was. The opening is a smoky vanilla but quickly dries down to toasted vanilla bourbon soaked Graham cracker with a vanilla marshmallow. Lots of vanilla here but the smokyness makes it a unique vanilla. Smells like a smore you would pay $500 for. hehe. Also this is one of the longest lasted B&BW smells I've ever had!
Date published: 2019-09-06
Rated

5

out of

5
by
Jssac
from
Great fall scent
I was surprised that this scent would smell so great. I layered the spray and body cream and love the smell. Works well with my body chemistry. Smells like a fall night with roasted marshmallows. The vanilla tone stands out. Definitely a fall must have for me.
Date published: 2019-09-06
Rated

5

out of

5
by
Emmy Kay
from
Nice marshmallow essence
I'm always partial to yummy marshmallow scents, and BBW has had some good ones. I like this scent because it's sweet and very slightly musky, but also has a very subtle outdoorsy note. They go together really well, and I think the name is fitting. My favorites over the past year (Marshmallow Flurries & Lavender Marshmallow), haven't been available in body care products, just hand soaps, which I love too, but I was so happy to find this scent in body care. I'll definitely be getting more!
Date published: 2019-09-01
Rated

5

out of

5
by
samnelson
from
LOVE
I just purchased this today and I am inlove with it. It smells so good. My go to before was warm vanilla sugar but this is going to be my new go to. it's just the right amount of sweet but it's also a more mature scent as well. I am going to have to purchase another bottle before the season is over.
Date published: 2019-09-01
Rated

5

out of

5
by
Kristycat
from
Love it!
So glad you brought this back! I bought this last year and i love the smell. I smell more of a marshmallow-y vanilla scent and that is what i loved about it!
Date published: 2019-08-30
Rated

5

out of

5
by
MarianisJ
from
I'm in love!!!
I'm obsessed with this fragrance. Is subtle, romantic, soft, elegant with a little sensuality touch. I hope never stop selling it!!
Date published: 2019-08-28
Rated

5

out of

5
by
Arielsmeriel
from
So beautiful and calming !
This reminds me of Birch and Argan, kind of funny because I just sent an email requesting it make a come back, It has such a nice warm scent. With a beautiful creamy-ness. I absolutely love it ! I'll be using this all through fall and winter. It's absolutely beautiful! (Also still bring back birch and Argan)
Date published: 2019-08-26
Rated

4

out of

5
by
SamBammerson
from
Dig it!!
Love fall scents, but come on who doesn't. If you said me, well you are a strange one ;) The name describes this scent exactly! When you first spray it, the vanilla really pops out and mixes well with the sandalwood and musk. After a while the the sandalwood lingers with a hint of vanilla, which is quite enjoyable if you like the smell of sandal wood. The best thing about this scent is I find myself smelling it on me through out the day and thinking about the cold nights that are on the way! I certainly dig it and I hope it is a scent that stays right along with the other fall scents, which if you like this one you should really check out Marshmallow pumpkin latte and sweater weather!!
Date published: 2019-08-25
Rated

1

out of

5
by
jan6
from
weak
I returned this as it was very weak and did not go well with my chemistry
Date published: 2019-08-25
Rated

4

out of

5
by
Kamie
from
Smells amazing
Smells really good. Only thing is it doesn't last too long. But it is a nice marshmallow scent!
Date published: 2019-08-25
Rated

4

out of

5
by
loveallmoss
from
A Beautiful Autumn Vanilla
Bonfire Bash is (I'm sorry everyone) the fall version of Vanilla Bean Noel. The same vanilla though just a tad smokier with the bourbon vanilla, slightly woodsy (not a vanilla woods scent however), but does not have the cupcakiness like Vanilla Bean Noel. It is most definitely not a regular marshmallow scent either due to the cashmere musk. It creeps in and smothers everything, leaving a hint of burnt sugary musk. Throw is quite strong and lasts all day. I am glad I have tried it! I also love the hardiness of the cap, if I ever wanted to take it on a trip for a quick spritz, as it will not fall off the bottle in my bag. The bottle art is cute too!
Date published: 2019-08-25
Rated

5

out of

5
by
Qweeny
from
Nice scent
Smells really nice, reminds me of birch & argan from 2017.
Date published: 2019-08-24
Rated

5

out of

5
by
Danielle817
from
Smells Amazing!
A perfect warm vanilla scent with a hint of musk. Light and not overpowering.
Date published: 2019-08-24
Rated

5

out of

5
by
CallMeAshley
from
Unique
This scent captures the warm, comforting scent of toasting a marshmallow by the fireside; and the cashmere note transforms the scent into a wearable perfume. It's so sweet and delicious, yet somehow it's not at all childish. Perhaps its that touch of smokiness that creates a more sophisticated smell. If you're familiar with Vanilla Bean Noel, that fragrance smells like a cookie. You smell like something that everybody wants to eat. Bonfire Bash is sweet, but it doesn't make you hungry. I think it invokes the feeling of wanting to wrap yourself in the softest blanket you can find. This scent is extremely cozy and approachable. I always feel at ease when I use it. In fact, I use this scent as a "pillow spray" because it's so soothing and comforting. 10/10 highly recommend if you're into gourmand fragrances. As far as longevity goes, this scent lasts the entire day on me.
Date published: 2019-08-24
Rated

5

out of

5
by
FoxyBrown007
from
This is my favorite fragrance
Last year I purchased this fragrance and fell in love with it. I was heart broken when I was told that the fragrance may not return. I am very pleased this fragrance came back this year. I love the combination of the woody fragrance and marshmallow. I get compliments everytime I wear this fragrance. I hope this continues to be a regular fragrance at bath & body works.
Date published: 2019-08-24
Rated

5

out of

5
by
Wyllowdaemon
from
Toasted Campfire Marshmallow
This smells exactly like toasted marshmallows around a campfire. It's sweet, smoky vanilla marshmallow scent plain and simple. If you like Beach Nights, this is the Fall version of that scent. I LOVE this.
Date published: 2019-08-24
Rated

5

out of

5
by
Angela Wahl
from
Smells so good!
I was so disappointed that I missed out on the Boardwalk Marshmallow Clouds at the SAS so I had to order some from a private seller. I read the description of the Bonfire Bash and not gonna lie anything with marshmallow or vanilla is gonna come home with me. This smells just like BMC! Smells so yummy and delicious I can't wait to stock up!
Date published: 2019-08-24
Rated

5

out of

5
by
AutumnB
from
Gingerbread Latte / Boardwalk Marshmallow Clouds
This is a repack of Gingerbread Latte and Boardwalk Marshmallow Clouds! I recognized the scent right away. It's especially noticeable in the body cream, which is stronger. I still have both and was able to compare. Also, another reviewer still had some GL, and was able to compare it to BMC, and ageed that they are the same. There's marshmallow, but I do not get a smokey scent. I do get that same spice note that's in GL. No wonder Bonfire Bash is so popular! People have been asking for the return of GL for years. Why do you think it has not returned? Because they keep bringing it back as repacks! They do this all the time with the fragrances! If you still have some GL or BMC, do a side by side comparison, and you'll see! Now let's see how long it will take for this review to get posted! My review for Twilight Woods was held back, while others that were submitted after mine, got posted. So, by the time my review was posted, it got buried!
Date published: 2019-08-23
Rated

3

out of

5
by
AmberLynn31
from
disappointed
I wanted to love this one. it's not my least favorite, but its not the best. I do plan on exchanging it soon. definitely a strong smokey smell.
Date published: 2019-08-23
Rated

5

out of

5
by
BevA
from
Great Smell
This is marshmallow fireside in body care, and the smell is so good. The spray doesn't last quite as long as the body cream does, but compared to most this scent lasts quite a while.
Date published: 2019-08-23
Rated

5

out of

5
by
KaydenJ
from
Favorite scent
Smells so good and you can wear it all year not just for fall!! Every time I use it I always get asked what perfume I'm wearing
Date published: 2019-08-23
Rated

4

out of

5
by
Suter12
from
Sweet and cozy
I loved this when I sprayed it on me in the store. It dries to a very sugary sweet smell that will be great for the cozy nights by the fireplace. Not sure how long it will last. It's been about 3.5 hrs and it's fading, but still there.
Date published: 2019-08-22
Rated

5

out of

5
by
Momma
from
Great scent
I absolutely love Bonfire Bash. It is my go to body mist, for that warm cozy feeling all day long. I'm a several times a day spritzer just because I love it so much. When you put it on first thing in the morning, it truly lasts all day.
Date published: 2019-08-22
Rated

5

out of

5
by
Summer Lynn
from
Love Love Love
Bonfire Bash is an amazing scent for the fall smells amazing and the new packaging is awesome !!!
Date published: 2019-08-22
bvseo_sdk, dw_cartridge, 17.1.0, p_sdk_3.2.0
CLOUD, getReviews, 8ms
reviews, product