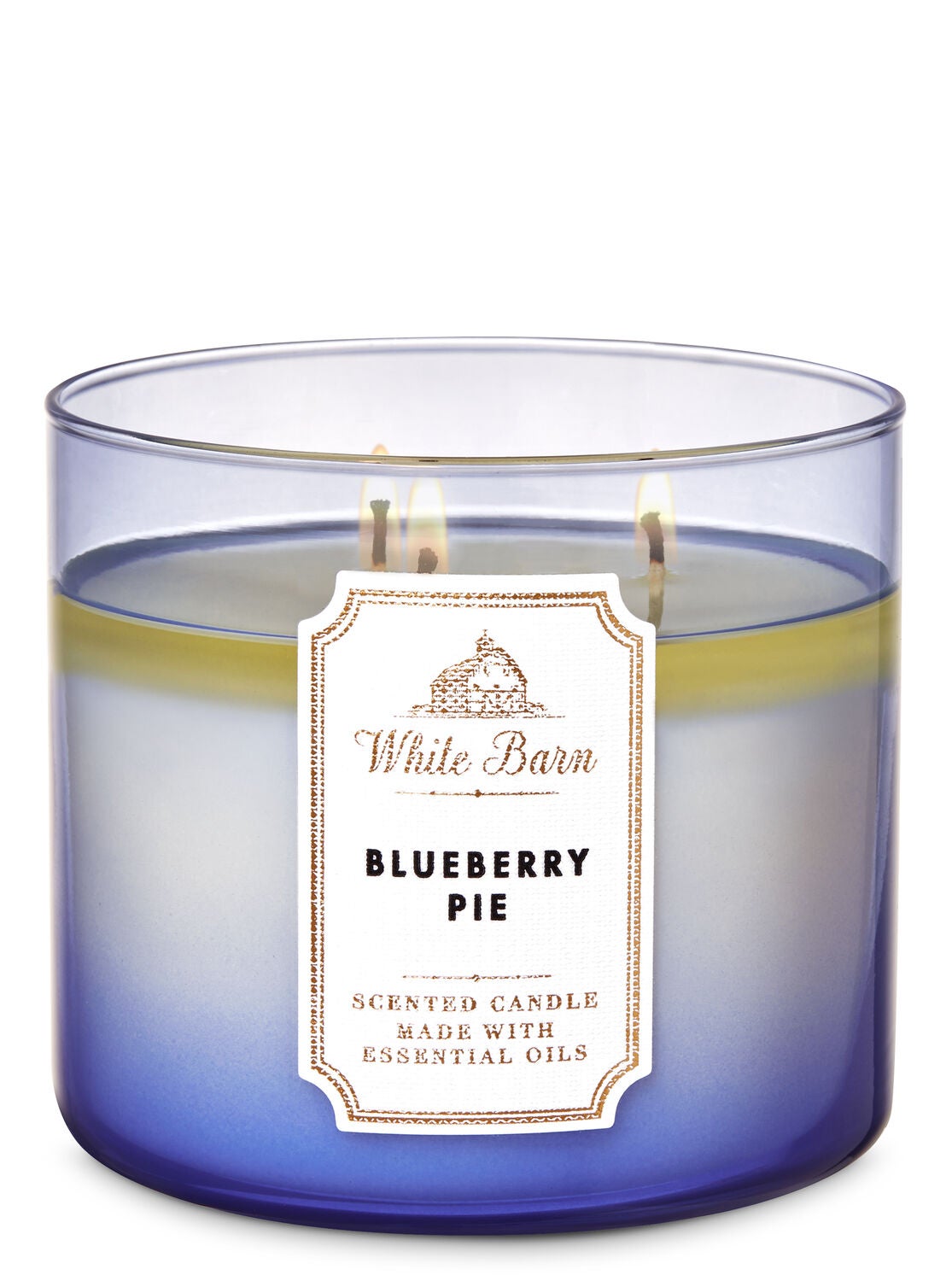 White Barn

Blueberry Pie

3-Wick Candle

https://www.bathandbodyworks.com/p/blueberry-pie-3-wick-candle-024631314.html

14.5 oz / 411 g
Fragrance
Juicy Blueberries, Flaky Crust, Sugar Crystals with Essential Oils
Overview
This fruity, just-baked treat will make your guests think you're serving pie later. Candle comes topped with a decorative lid.
Some good-to-knows about our 3-wick candles:
Made with essential oils
Beautiful room-filling fragrances
Amazing quality from beginning to end
Every candle is 100% guaranteed
More Info
To prevent fire and serious injury:
Always trim wick to 1/4 inch before lighting and keep debris out of wax pool. Never burn longer than 4-hour intervals. Set candle on heat-resistant surface and avoid drafts. Always burn within sight and extinguish before leaving room. Don't burn near things that catch fire. Keep away from children and pets. Don't extinguish with water. Always let wax harden before relighting, touching or moving.
Rated

5

out of

5
by
Breeze
from
Seriously the best candle
I absolutely love this candle had to get 4 of them. The smell is amazing just like a blueberry pie sweet love & would definitely recommend it.
Date published: 2020-03-22
Rated

5

out of

5
by
randi07052011
from
Absolutely Amazing!!!
This candle has become one of my absolute favorites! I love the jar's ombré effect, and the cold sniff had me as soon as I opened the lid! It was actually so strong that I could smell it as soon as I opened the box! It smells exactly like an actual blueberry pie! The blueberry is wonderful but the baked smell that it holds brings it full circle! And the throw is excellent! So many visitors have commented on how wonderful our home smells! Would definitely recommend and will definitely be buying more!
Date published: 2020-03-22
Rated

4

out of

5
by
Pfunk25
from
Wonderful fragrance
Oh I have loved this scent!! Nice strong throw, at least a 7. It makes my whole living room smell delicious. Fresh pie! I'm knocking off a star because the burn isn't good. Wimpy wicks, not fully pooling out.
Date published: 2020-03-21
Rated

5

out of

5
by
Land7932
from
Incredible, Must Have Scent
I was so excited to try this scent since I havent seen favorites like Warm Apple Pie in awhile. While I still hope Bath and Body Works brings that one back in the future, this candle definitely lives up to it. This scent is so unique and delicious and my favorite thing about this company's pie candles is the ability to smell that flaky crust! AMAZING scent and throw! Please keep and bring back!! I seriously need to stockpile this for all of spring and summer. Only request that this has more store presence.
Date published: 2020-03-21
Rated

5

out of

5
by
missniffy
from
great everything, besides the pleasant scent
what can I say.i didn't like it on cold sniff in store and I don't like gourmands and for some reason after reading everyone's review and suggestions, I thought I would order online and it would be great.Boy was I wrong. Omgash it's so very awful. Burns great,looks great,has amazing throw.smells so bad I think I may"throw" out the window haha. But all seriousness though my problem with this scent is I can't detect the fruit not 1 bit...smells like all crust,ick!!! Candle should be accurately renamed "Pie Crust" LoL.Of course I'm still going to burn it and hope it grows on me.This gets 5 stars cuz it's a perfect Candle in every way possible,cuz it's not anybody's fault I don't love the scent
Date published: 2020-03-20
Rated

5

out of

5
by
WinterWhyte
from
One of my top 5 favorite scents!
This candle is dabomb.com! I first bought it last summer at their SOS sale. They were mixed in with all the other scents and weren't supposed to be deeply discounted. The sales associate gave me the discount anyway. I was thrilled! I only bought one at the time because I was unsure if it would have throw. It had fabulous throw! The scent is very realistic and smells like blueberries and pie crust. You can smell both of those scents quite well. The one I bought is not the one featured in this picture. It's the one that had the dark blue label with the cut-outs that made it look like sparklers or fireworks when lit. When those eventually went on sale, I stocked up. I also stocked up on the wallflower bulbs. I only have 5 left. PLEASE, PLEASE, PLEASE bring the wallflower fragrance back in this scent. This and Strawberry Pound Cake are my 2 favorite scents for spring/summer. Oh...and make a car scent in this. Please!!!!
Date published: 2020-03-17
Rated

3

out of

5
by
crazycrabmd
from
Wanted to love it
I know this candle has amazing reviews and it does smell good with good throw but I find it to be too overpowering. I love the scent of fresh baked goods, who doesn't?! However, I could not help but feel as though it smelled extremely artificial. I know it's a candle. I did burn it for several hours to try and get used to it but in the end it was not my favorite. If you are looking for that extra fruity pie and pie crust scent, then this is the one. The throw is good but for me it burnt my nostrils a bit with overpowering scent.
Date published: 2020-03-15
Rated

5

out of

5
by
SarahSmile
from
Get it!
Absolutely delicious! Great throw. Burns well. One of my favorite candles!
Date published: 2020-03-15
Rated

5

out of

5
by
Rbtg
from
Perfect transition to spring!
I loved this scent when it was released last summer, and I'm glad it back for spring. It's similar to Sweet Cherry Pie, but the berry note isn't quite as tart. ( I do like Sweet Cherry Pie a bit more). It's a great transition from winter to spring, when you want something still warm and comfy but with a fruity kick. This packaging is a nice pop of color while matching lots of decor styles too!
Date published: 2020-03-15
Rated

5

out of

5
by
indigogirl
from
BLUEBERRY PIE IS MAGIC
I'm not usually a big fruity scent candle burner.... Until I met the Blueberry Pie Candle. WOW! I really enjoyed every single second of burning this. I will be purchasing in bulk. One of my top faves.
Date published: 2020-03-08
Rated

3

out of

5
by
Grandma G
from
Needs Stronger Scent
The problem with most of these candles is that they smell so good before being lit and than they are lit and have little or no scent.I could really smell the blueberry scent when I first lit it, but after an hour or two ,there was only a very faint scent.The candle pooled well,no problems with the wicks,but some of the wax turned a grayish color.I am seriously considering not buying anymore White Barn/Bath and Body Works candles.They are not cheap candles and should really be much better than they have been.
Date published: 2020-03-08
Rated

5

out of

5
by
JessLevi
from
my favorite scent ever
I LOVE THIS CANDLE SO MUCH! I'm pretty sensitive when it comes to fragrances and get headaches if scents are too strong so I'm always pretty skeptical about sweet,warm smells and prefer cleaner scents. This candle had such great reviews though so I decided to try it and I'm in love!!! The throw is amazing and the smell is just the perfect mix of sweet and tart so it's not overbearing. The jar is super pretty too!
Date published: 2020-03-08
Rated

5

out of

5
by
Hayley76
from
Amazing!!
There are not enough words to describe how amazing this scent is. Smells like I've been baking all day! Throw is wonderful, I'm stocking up on this one!
Date published: 2020-03-08
Rated

4

out of

5
by
Mello57
from
A Bit Too Strong
I got 2 of the originals with the cutouts- I really enjoyed it but it was super strong, which sometimes isn't a good thing. I bought this one awhile back hoping the strength was toned down a bit. Maybe- but for me, not enough. It still just causes a bit of throat irritation. I would say I love it for awhile, then have to shut her down. I know I'm in the minority here but I still give it 4 1/2 stars for the scent itself. Maybe next time I'll put a vanilla candle alongside it.
Date published: 2020-03-07
Rated

5

out of

5
by
April A
from
MY ABSOLUTE FAVORITE
to be honest I was VERY skeptical about this particular flavor. I have tried a lot of different blueberry flavors and they always smelt so artificial. This blueberry pie candle is so amazing!!! The smell is soooo exact its insane!! Even my fiancé was shocked at how amazingly close it smells to a blueberry pie!!! I will be ordering more!!! If you are hesitant to purchase DONT BE!! I'm telling you EXACTLY LIKE A BLUEBERRY PIE :) :)
Date published: 2020-03-06
Rated

3

out of

5
by
Dahlia
from
Mehhh..
I purchased this online because the reviews are great. Unfortunately I was a little underwhelmed when I got it. The scent isn't as good as it sounded. Not terrible but not my fav.
Date published: 2020-03-05
Rated

1

out of

5
by
JodiZ
from
Way to strong
This candle is way to strong, I had it burning for an hour before it started giving me a headache. Not my favorite, won't purchase this one again. Strawberry Pound Cake is much better in my opinion.
Date published: 2020-03-05
Rated

5

out of

5
by
Gal726
from
Can't go wrong
If you love sweet delicious scented candles then this is for you! All notes are very noticeable when burning this candle. Smells exactly like the cold sniff. Throw is a 6/10 and it burns evenly. Would buy again!
Date published: 2020-03-03
Rated

5

out of

5
by
Jalapenopupper
from
Best smell ever
This has become my absolute favorite scent!! It smells so delicious, perfect blend of berry and pastry sweet. Please please please make a wallflower oil of it.
Date published: 2020-03-02
Rated

5

out of

5
by
Squidly
from
Amazing!
This is my absolute new favorite fragrance! I have the apple pie candle as well and I cant believe how good these smell!
Date published: 2020-03-01
Rated

5

out of

5
by
karina1
from
Amazing!!
Thought I loved blueberry maple pancakes and blueberry sugar UNTIL I smelled this candle. This has the truest blueberry scent of all. Not artificial To me it smells like Blueberry muffins right out of the oven. Have two -will get more
Date published: 2020-03-01
Rated

5

out of

5
by
Sybilnana1
from
AMEN!!!!
This Blueberry Candle is a home run in the THROW! Absolutely everything the reviewer's stated, plus more! The candle smells like blueberry muffins with the crumbly topping! Kudos to B&BW for such a fantastic smell!!
Date published: 2020-03-01
Rated

5

out of

5
by
Ooof
from
Fantastic
This smelled so true to the description. My kids thought I was baking, which was very disappointing for them when they realized I wasn't!
Date published: 2020-02-29
Rated

5

out of

5
by
Fiona
from
The hype is real!
This candle is amazing! It smells more like a blueberry muffin to me than pie but the bakery, gourmand scent is very strong and it's definitely a blueberry candle. It is a very realistic blueberry scent and I love it! I can smell the fresh blueberries, a buttery bakery note that could be pie crust or a muffin and I can smell the sugar crystals too. The only downside is that it makes crave blueberry muffins! The throw is amazing, a 10/10 and the glass is super pretty. Honestly, mine hasn't been burning evenly so far so I plan on trying the aluminum foil trick. Please keep this candle around B&BW! It's a winner!
Date published: 2020-02-29
Rated

5

out of

5
by
Nata16
from
Amazing
Such a strong yummy scent. you'll start smelling this candle within a minute of lighting it. 10/10
Date published: 2020-02-28
Rated

5

out of

5
by
Smokeyy
from
I LOVE IT!
This candle smells like sweet blueberry heaven! The smell stays in your room even after it's stopped burning. Would 1000% make this purchase again and recommend it to anyone who loves sweet pastry smells.
Date published: 2020-02-26
Rated

5

out of

5
by
JerseyJac
from
Once Again Fantastic!
I have more than enough of this scent from the summer. Between loving the scent and the cutout design, I stocked up! When I saw this design, I decided to get one more. It's just too pretty to pass up. Thankfully, this one is a winner too! I don't even like to eat blueberries or pie, but the smell is absolutely scrumptious! The bakery note is outstanding! The burn is great so far. It does burn a little slower than the previous version. The throw scared me during the first burn. It didn't seem quite as strong. That has changed for the better with each subsequent burn. It's now throwing a 9 in my largest room! Thank you Tee78 and birdflower for sharing your batch number! I was quite surprised to see almost 100 5 star reviews and only 2 people were kind enough to share their's! It's great if B&BW actually made more than one good batch, but as we all know that doesn't happen very often! My batch, for what it's worth, is 9326AGA7. I might just have to get 1(or 2) more!
Date published: 2020-02-24
Rated

5

out of

5
by
LisaD219
from
My new fave
This candle is everything. Literally smells like blueberry muffins, pie, scones, etc cooking in your oven. It's not too sweet smelling... there were only 3 left in the store and I bought them all! Get one and you wont be disappointed!
Date published: 2020-02-23
Rated

3

out of

5
by
Krissyk75
from
It has a great throw!
The only thing I can't handle with this candle is the smell was too strong and it made me nauseous! I loved it at first but too much of it for me is a no no!
Date published: 2020-02-23
Rated

5

out of

5
by
Lildowns19
from
OBSESSED
Omg, the reviews are spot on with this one! I would consider stock piling blueberry pie. Ombre design is cute, scent is perfect, burns evenly, throw is probably a 9, I could go on for days. Just buy it.
Date published: 2020-02-21
bvseo_sdk, dw_cartridge, 17.1.0, p_sdk_3.2.0
CLOUD, getReviews, 6ms
reviews, product