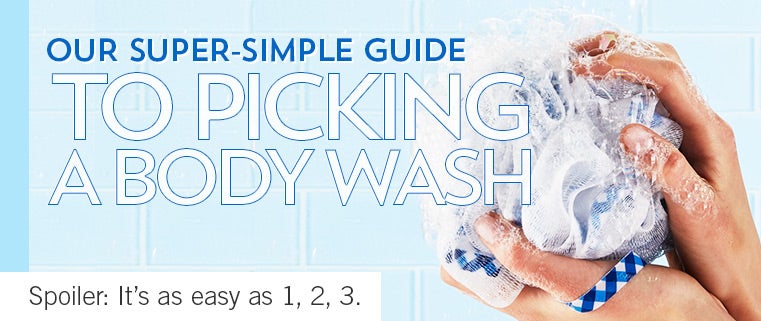 The best body wash? We've got you covered from head to toe.
We get it: there are so many different body wash options that it's a little bit overwhelming, making it hard to know where to start. Thankfully we've done all the hard work for you. Just follow these three simple steps and you'll find exactly what you (and your skin) need. And by the way, your body wash collection's about to grow exponentially.
Listen to your skin (it's wiser than you think)

When you're thinking about changing your body wash routine, it's super-duper important to have a little one-on-one talk with your skin – it's the best at telling you exactly what it needs. Think about how your skin feels most of the time (Is it constantly dry? A little too oily?). Then think about how you want your skin to feel. Our guess: You're looking for more hydrated, silky-smooth skin. With those things in mind, it's time to…

Decide between our two amazing cleansers (or don't!)

And by don't we mean…pick up both! As the seasons change throughout the year, your skin will need more or less hydration, so having two different kinds of cleansers can do you some good. Now, let's get into our body wash heroes.

• Shower Gel
Our original cleansing goodie made for all skin types. This sudsy shower gel combines nourishing vitamin E, skin-loving shea butter and essential oils to create a super-rich, bubbly lather. Basically, it's perfection in a bottle and your extra fresh and clean skin will thank you every wash. Bonus: it doubles as a fantastic bubble bath mix.

• Moisturizing Body Wash
The newest cleanser on the block with a hydrating kick. It's infused with shea butter, hydrating coconut oil, cocoa butter and essential oils. If you have dry skin or just need a moisture boost during the winter, this moisturizing body wash is for you, since it's clinically tested to moisturize after just one shower. Bonus: the creamy formula really adds to its spa-like vibe.

Pick a fragrance (it's literally the best part)

The most important part, too! A lot of times your body wash fragrance will end up being your signature scent, so this is a pretty big deal. When picking out a fragrance, there are a few things you could take inspiration from…like the season you're in or your current favorite candles (or body sprays). Plus, there's plenty of unique fragrances to choose between, from fresh or citrusy to woodsy or sweet and everything else. If you need a little more help, read How to Find Your Perfect Scent.
Bonus: Throw in a body scrub (or a few)
Why add a body scrub to your routine? It's simple. They gently exfoliate dead skin and dirt from your body, letting all the good-for-you ingredients in your body wash and body lotion (or cream) to soak in deeper. (Your skin will love you for it.)