| | |
| --- | --- |
| | Bath & Body Works Gift Cards never expire and can be used in our U.S. stores, by phone or online! |
How to Purchase Gift Cards
Visit our Gift Cards page to get started. Gift Card purchases do not apply toward promotional offers.
Delivery & Shipping:
Gift Cards arrive tucked in our signature gift box with your customized message.
Gift Cards will receive free standard ground shipping.
When other items are ordered along with Gift Cards, sales tax and shipping will be applied to the value of the other items, not the Gift Cards.
Express shipping options are available for Gift Cards shipped within the lower 48 states, excluding PO Boxes, for an additional fee. Please refer to Shipping & Handling page for more details.

Note: Funds may take up to 48 hours to appear on your Gift Card.
Returning Gift Cards:
Gift Cards and E-Gift Cards can be redeemed for cash only if the total balance is $10 or less. Gift Cards may be returned in Bath & Body Works stores if original receipt is presented and the Gift Card number matches that shown on the receipt.
Bath & Body Works Gift Cards can be redeemed in our U.S. stores, by phone or online.
In Stores:
Present your Gift Card to a store associate when checking out.
Online:
During checkout, look for the section marked "Gift Card/E-Gift Card" on the Payment page. Enter your Gift Card number and PIN, then click APPLY.
Gift Cards purchased at Bath & Body Works stores in Canada are not redeemable online.
If your Gift Card is lost, stolen or destroyed please contact Customer Care at 1-800-756-5005 (TDD #: 1-877-215-5245)
How to locate the PIN: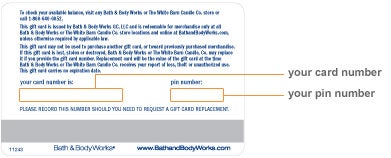 In order to redeem your Gift Cards online, you must enter both the Gift Card number and PIN for each card during checkout. Your PIN is located underneath a scratch-off field on the back of the Gift Card.
If you are having trouble locating your PIN, please contact us at 1-800-756-5005 (TDD #: 1-877-215-5245).
Any unused balance will remain on your Gift Card and can be applied to future purchases.
Gift Card Balance
To check your available balance, (1) visit any Bath & Body Works (BBW) or White Barn (WB) store or click here; (2) call 1-800-640-6052; or (3) text BBWGIFT to 95035; message & data rates may apply; reply BBWHELP for help; terms & conditions here.
Terms and Conditions
Gift Cards are issued by Bath & Body Works GC, LLC and are redeemable for merchandise only, and for cash when the balance is under $10 (this amount could change, based on future revisions to applicable laws, in which case such a change will be reflected on our online and in-store return policies, and on subsequently issued gift cards), at all BBW or WB USA & Puerto Rico store locations and online at BathandBodyWorks.com.
Gift Cards may not be returned, applied to previously purchased merchandise, used to pay down a credit card balance or buy another gift card. If your Gift Card is lost, stolen or destroyed, BBW or WB may replace it if you provide the card number. Replacement card will be the value of the card at the time BBW or WB fully processes your request. Gift Cards have no expiration date.
PLEASE RECORD YOUR GIFT CARD NUMBER(S) SHOULD YOU NEED TO REQUEST A GIFT CARD REPLACEMENT
For all other Gift Card inquiries, please contact us.